The 2023 AiMed Global Summit will focus on artificial intelligence (AI) in healthcare, and will offer valuable insights into the latest use cases, perspectives and novel approaches in healthcare AI. The event is scheduled to take place June 4-7 at the San Diego Convention Center in San Diego, Calif. Throughout the summit, attendees will have the opportunity to network with 1,500 healthcare game-changers and hear from top AI key opinion leaders, gaining expert insights, proven best practices and real-world success stories.
This year's program includes seven summit tracks, more than 200 speakers, over 10 keynote presentations, and pre- and post-summit partner events, all included in an immersive environment conducive to education and business. You can view the full agenda here.
New This Year
New this year is an open floor plan, which builds all the stages in the exhibition area right amongst the exhibitors, offering an immersive experience to help maximize exposure between sponsors, exhibitors, speakers and attendees alike.
The AiMed Abstract Competition aims to recognize and support the development of cutting-edge technology that will help improve patient outcomes and build efficiencies in healthcare. These innovative ideas focus on how AI will transform the future of healthcare delivery, and is open to all young scientists, students, early career clinicians, data scientists and seasons clinicians. The competition focuses on presenting a problem in healthcare, and showing how it can be solved using AI solutions. More information can be found here.
The Shark Tank will put health AI startups business plans to the test, where they will pitch these ideas to AiMed's panel of experts. The competition is open to start-up companies which have raised no more than $2m in seed funding to date. Awards will also be presented in the categories of Use of AI for Patient Safety, Quality Improvement, Process Improvement and Research. Interested? You can find out more here.
Headline Summit Partner
The College of Healthcare Information Management Executives (CHIME) has formed a strategic partnership with AiMed for an executive education program hosted at the AiMed Global Summit. More information, and a full list of summit partners — which includes Imaging Technology News and Diagnostic and Interventional Cardiology — are listed here.
To register, and for more information: https://ai-med.io/all-events/global-summits/aimed-23/register/
Find more AiMed 2023 Global Summit coverage here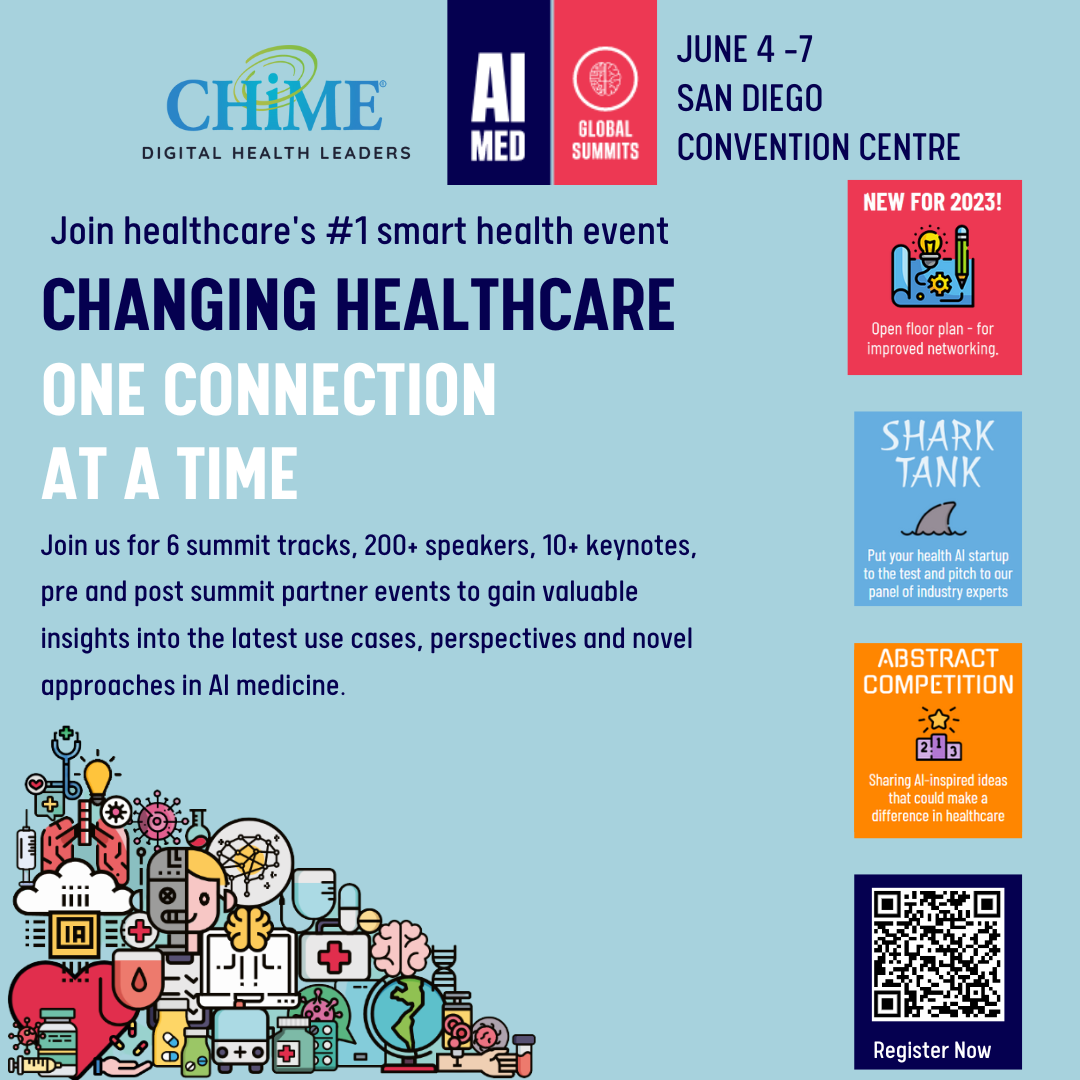 ---
If you enjoy this content, please share it with a colleague