Bilateral pulmonary embolisms seen on spectral CT. Photo courtesy of Siemens Healthineers.
May 4, 2020 — A committee comprised of vascular surgeons, medical physicians and technologists from the University of Michigan has provided an evidence-based algorithm for the treatment for venous thromboembolism (VTE) without confirmatory imaging during the pandemic. The manuscript is available online from the Journal of Vascular Surgery: Venous and Lymphatic Disorders and is freely available on the COVID-19 Collection on the Journal of Vascular Surgery (JVS) website.[1]
"The COVID-19 pandemic has caused a massive challenge to the diagnosis and treatment of positive patients at risk for VTE," said senior author Peter K. Henke, M.D., University of Michigan. "For a variety of reasons during the crisis, the surge of patients has resulted in delays in diagnosis and therapy for these critically ill patients. Facing mounting requests for vascular ultrasounds and CT imaging, we formed an ad hoc committee of venous thrombosis experts to review our existing protocols, including that used during the H1N1 crisis, alongside current guidelines from the American College of Chest Physician and the National Institution for Health and Care Excellence."
Guidelines for Treating VTE Under COVID-19
The guideline's key points include:
   • All patients with or suspected of COVID-19 should be treated with thromboprophylaxis.
   • Elevated D-dimer is expected with severe infection and should not be a determinant in the decision to obtain imaging. However, a negative test in combination with a low clinical score safely excludes VTE.
   • Current guidelines recommend empiric treatment for those suspected of pulmonary embolism (PE) and deep vein thrombosis (DVT) if computed tomography (CT) is delayed more than four hours and venous duplex more than 24 hours, respectively. During the pandemic, however, the benefit of empiric therapy outweighs risk even if imaging is delayed more than one month.
   • Duplex ultrasound is indicated when the following exist simultaneously:
       1. High bleeding risk,
       2. Results will change management, and
       3. Clinical suspicion for PE is high and CT unavailable or clinical suspicion for DVT is high (modified Wells and Wells scoring).
   • Most patients with confirmed or suspected VTE, not at high bleeding risk should receive therapeutic doses of anticoagulation.
   • In patients with adult respiratory distress syndrome (ARDS), low-dose heparin infusion may reduce the risk of major bleeding while protecting from thrombotic events.
   • Patients treated with low-dose anticoagulation protocols should be transitioned to full-dose anticoagulation when they are no longer in intensive care status.
   • Referral for CT or duplex may be performed upon recovery as an inpatient; however, this may be delayed to an outpatient setting in a resource-scarce environment.
   • Unilateral upper extremity limb swelling should be imaged according to the fourth guideline above.
"In this treatment paradigm, we emphasize preventing VTE-related morbidity and mortality at the expense of bleeding complications over a short term, while imaging is delayed, and also utilizing therapy that has shown benefits for other severe viral states (including H1N1)," Henke added. "With such an approach, the commitment to providing follow-up – the DVT scan that would normally be obtained in 24 hours and now will be delayed two to four weeks – must be absolute, meticulous and unwavering."
To download the complete article, visit http://b.link/JVS-VLGuidelines.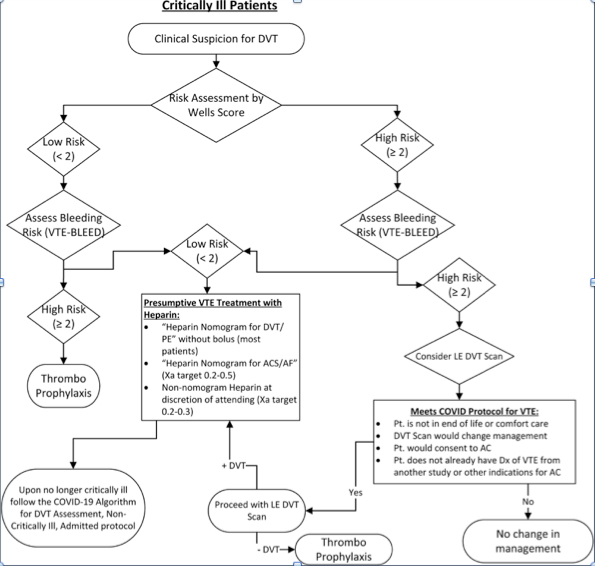 The guideline algorithm for critically ill patients with VTE under the COVID-19 pandemic.
Reference:
1. Andrea T. Obi, Geoff D. Barnes, Thomas W. Wakefield, Sandra Brown, Jonathon L. Eliason, Erika Arndt, Peter K. Henke. Practical diagnosis and treatment of suspected venous thromboembolism during COVID-19 Pandemic. Journal of Vascular Surgery. https://doi.org/10.1016/j.jvsv.2020.04.009.