Judy Hung, M.D., speaking with DAIC Editor Dave Fornell during a video interview at the 2019 American Society of Echocardiography (ASE) annual meeting. Hung took over as ASE President in June.
July 8, 2020 – Judy W. Hung, M.D., FASE, took the helm as president of the American Society of Echocardiography (ASE) in late June. She has served on the ASE Board of Directors as vice president and president-elect prior to ascending to her one-year presidency. 
Hung will share her vision for the future of ASE on Saturday, Aug. 8, during the opening session of the ASE 2020 Scientific Sessions Virtual Experience. 
"I see tremendous opportunity for ASE to advance its mission to be the leader of quality, education, innovation, research, and advocacy in the field of cardiovascular ultrasound," Hung said. "ASE is currently well-positioned to adapt to the changing and challenging healthcare environment and to lead innovation in echocardiography through its international reputation, organizational infrastructure, and commitment to quality and research. I have a deep admiration and belief in the goals and mission of the ASE and the dedication of my ASE member colleagues."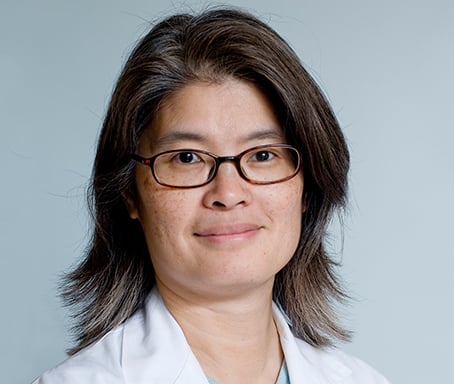 Hung is director of the echocardiography lab, Division of Cardiology, at Massachusetts General Hospital and professor of medicine at Harvard Medical School. She has a special interest in valvular heart disease, coronary artery disease, and optimizing noninvasive cardiac imaging techniques to improve diagnosis and treatment of heart disease. Her research involves understanding mechanisms of valvular heart disease and development of novel therapies to treat valve disease. Hung received her undergraduate degree from Harvard University and her medical degree from Tufts University. She completed her internship in medicine at UCLA Medical Center in Los Angeles before becoming a cardiovascular research fellow at the University of California San Diego (UCSD) Medical Center, where she also completed her medical residency training. Hung moved to Massachusetts General Hospital in 1994 where she completed a two-year general cardiology fellowship and then obtained subspecialty training completing a two-year clinical and research advanced echocardiography fellowship. This fellowship included training in Adult Congenital Heart Disease at Children's Hospital in Boston. Upon completion of her clinical and research fellowship training, Hung joined the Cardiology Division in the Department of Medicine, at Massachusetts General Hospital as an attending cardiologist.
Hung has a long record of service to the society. She has served in a number of roles across the organization including chair of the 2013 Scientific Sessions Committee, chair of the Education Committee 2014-2017, and a member of the Journal of the American Society of Echocardiography Editorial Board, the Workflow and Lab Management Task Force, and the Finance Committee. In 2001, she presented the 11th Annual Feigenbaum Lecture titled, "A Tale of Two Leaflets: Innovation in Echocardiography." In addition to committee work, Hung has also served on the writing groups of a number of ASE guideline publications. Most recently she was the lead author on the ASE statement on the Reintroduction of Echocardiography Services During the COVID-19 Pandemic.
Joining Hung as new members of the 2020-2021 Executive Committee are Vice President, Stephen H. Little, M.D., Houston Methodist DeBakey Heart and Vascular Center, Houston, (his term begins Sept. 1, 2020); and Council Representative, Meryl Cohen, M.D., FASE, Children's Hospital of Philadelphia, Philadelphia.
Continuing ASE officers include: President-Elect Raymond Stainback, M.D., FASE, Texas Heart Institute, Baylor St. Luke's Medical Center, Houston; Treasurer Carol Mitchell, Ph.D., RDMS, RDCS, RVT, RT(R), ACS, FASE, University of Wisconsin Hospital, Madison, Wis; Immediate Past President Madhav Swaminathan, M.D., FASE, of Duke University Medical Center, Durham, N.C.; and Secretary Matt Umland, ACS, RDCS, FASE, Aurora Health Care, Milwaukee, Wis.
In addition to the new officers, the ASE membership has elected the following new board of directors members to two-year terms: Keith A. Collins, MS, RDCS, FASE, Northwestern Medicine, Chicago (Council on Cardiovascular Sonography Representative); Danita Sanborn, M.D., MMSc, FASE, Massachusetts General Hospital, Boston; Vincent Sorrell, M.D., FASE, University of Kentucky, Lexington, Ky; Ritu Thamman, M.D., FASE, University of Pittsburgh Medical Center, Pittsburgh; and Bryan Wells, M.D., FASE, Emory Healthcare, Atlanta, Ga. (Council on Circulation and Vascular Ultrasound Representative).
Board members continuing with their final year of service include Piers Barker, M.D., FASE, Duke University Medical Center, Durham, N.C. (Pediatric Council Steering Committee Chair); Alina Nicoara, M.D., FASE, Duke University Medical Center, Durham, N.C. (Perioperative Council Steering Committee Chair); Alan S. Pearlman, M.D., FASE, Seattle, Wash. (past president representative); Peter Rahko, M.D., FASE, University of Wisconsin, Milwaukee, WI; Jennifer Schaaf, BS, ACS, RDCS, FASE, The Christ Hospital Health Network, Cincinnati, OH; Vandana Sachdev, MD, FASE, National Institute of Health, Bethesda, M.D.; and Cathy West, MSc, DMU (CARDIAC), AMS, EACVI CHD, FASE, Royal Brompton Hospital, London, U.K. (International representative); and Geoffrey Rose, M.D., FASE, Sanger Heart and Vascular Center, Charlotte, N.C.
This announcement underscores the organization's commitment to reflecting the talent and diversity of the cardiovascular field. With the new members, the leadership's gender makeup now comprises 47 percent women and contains representatives from major sub-specialties in the field including circulation, pediatrics, anesthesiology, sonography, and interventional echo.
ASE is the Society for Cardiovascular Ultrasound Professionals. Over 17,000 physicians, sonographers, nurses and scientists are members of ASE making it the largest global organization for cardiovascular ultrasound imaging and as such the leader and advocate, setting practice standards and guidelines for the field. The society is committed to advancing cardiovascular ultrasound to improve lives. 
Video interviews with Judy Hung at the ASE 2019 meeting:
VIDEO: Echocardiography Guideline Updates for Aortic Valve Evaluations
VIDEO: Artificial Intelligence for Echocardiography at Mass General
For more information: ASEcho.org 
---
If you enjoy this content, please share it with a colleague