Washington Health System (WHS) provides healthcare services at more than 40 offsite locations across three counties in southwestern Pennsylvania. These sites include diagnostic centers, outpatient care facilities, and a community hospital. 
The health system's flagship facility, WHS Washington Hospital, has been in operation since 1897 and currently treats about 250,000 patients a year. The hospital's specialties include cardiovascular diagnostics and surgery, orthopedics, neurosciences, women's health, cancer care, pediatric therapy, and rehabilitation and advanced imaging. WHS Hospital has been a recipient of the Stroke Gold Plus Quality Award from the American Heart Association/American Stroke Association for eight consecutive years. 
The Challenge: Insufficient Data Access and Limited Scalability of Cardiology Data
In the early 2000s, the cardiology department at WHS Washington Hospital needed to replace an outdated paper reporting system with a modern system that could streamline workflows, reduce redundant data entry, and balance workloads.
Disparate systems made it difficult to access data, and duplicate documentation processes increased the risk of error. In addition, WHS leadership realized that lack of a unified system would make it difficult to onboard new facilities as the health system grew. 
WHS began looking for a solution that would support patient care initiatives while also increasing operational and clinical efficiency.
The Solution: A Single-Database Cardiology Platform that Provides a Holistic Patient Record
WHS Washington Hospital partnered with Change Healthcare in 2006 to update its reporting systems with Change Healthcare Cardiology, an end-to-end cardiovascular information system (CVIS) solution that uses a single-database architecture. 
"We've been building a high-performing cardiovascular service, and it's pretty much complete now," said Kathi Jennings, director of cardiology for WHS Washington Hospital. "We started out very small with just our hemodynamic system, and then we added different modules as we progressed." 
After implementing Change Healthcare Cardiology Hemo to aggregate hemodynamic data, waveforms, and images into a single cardiac patient record, WHS Washington Hospital implemented Change Healthcare Cardiology Echo to get complete imaging and reporting support for transthoracic, transesophageal, and stress echocardiography. 
They then added Change Healthcare Cardiology ECG Management to streamline ECG analysis by allowing cardiologists to read 12- or 15-lead rest, stress, and Holter ECGs and other procedures on their mobile devices. Lastly, the WHS team implemented Change Healthcare Cardiology EP Solutions for peripheral vascular reporting, followed by Change Healthcare Cardiology Charge Manager and Change Healthcare Cardiology Analytics.
The Change Healthcare Cardiology solutions use a single database, so all data is fully synchronized, giving clinicians a unified cardiovascular record that tells a holistic story for each patient. Care team members can input data more efficiently from a single access point, and can easily find the information they need at the point of care. 
"At our facility, the interventional cardiologist can sit down and with one login, look at every study that a patient had, whether an EKG or an echocardiogram. It's all there at their fingertips," said Alan McVicker, cardiovascular information systems coordinator at WHS.
The Results: Unified Cardiology Data That Increases Efficiency and Improves Care Delivery 
Organizations relying on multiple cardiovascular systems might find it difficult to onboard new facilities because disparate systems don't easily communicate with each other. Analytics might remain siloed as well, making it hard to identify data trends and report key progress indicators. By switching to a single-database solution, WHS Washington Hospital eliminated these obstacles.  
In 2017, the health system acquired a facility with cardiology services, WHS Greene. Leadership soon integrated the community hospital's reporting system into Change Healthcare Cardiology. Once done, the entire network could access the site's reporting, which helped WHS improve patient care delivery and make more informed treatment decisions. 
"If a patient has an echocardiogram or an EKG at our satellite facility, the physician is able to access that report under the patient's record," said McVicker. "We have a lot of patients that come from that second facility to have a cath procedure or other procedures, and the physicians can access that as well." 
WHS clinicians can access all available reporting — including ECG results, stress tests, echocardiogram results, cath lab reporting, and medications — from all connected facilities. Data is shared immediately with referring and ordering physicians, as well as the health system's EHR. This streamlined access to data often eliminates the need for dictation, because doctors and nurses work collaboratively in the system to update records in real time, as procedures progress. 
"If I'm a provider or a clinician, I can sit down at any computer in the hospital, and I can pull up my patient and see their whole cardiovascular story," said Jennings. "Our team members can see the big picture from their one vantage point within our network. That perspective helps them make faster and better patient care decisions."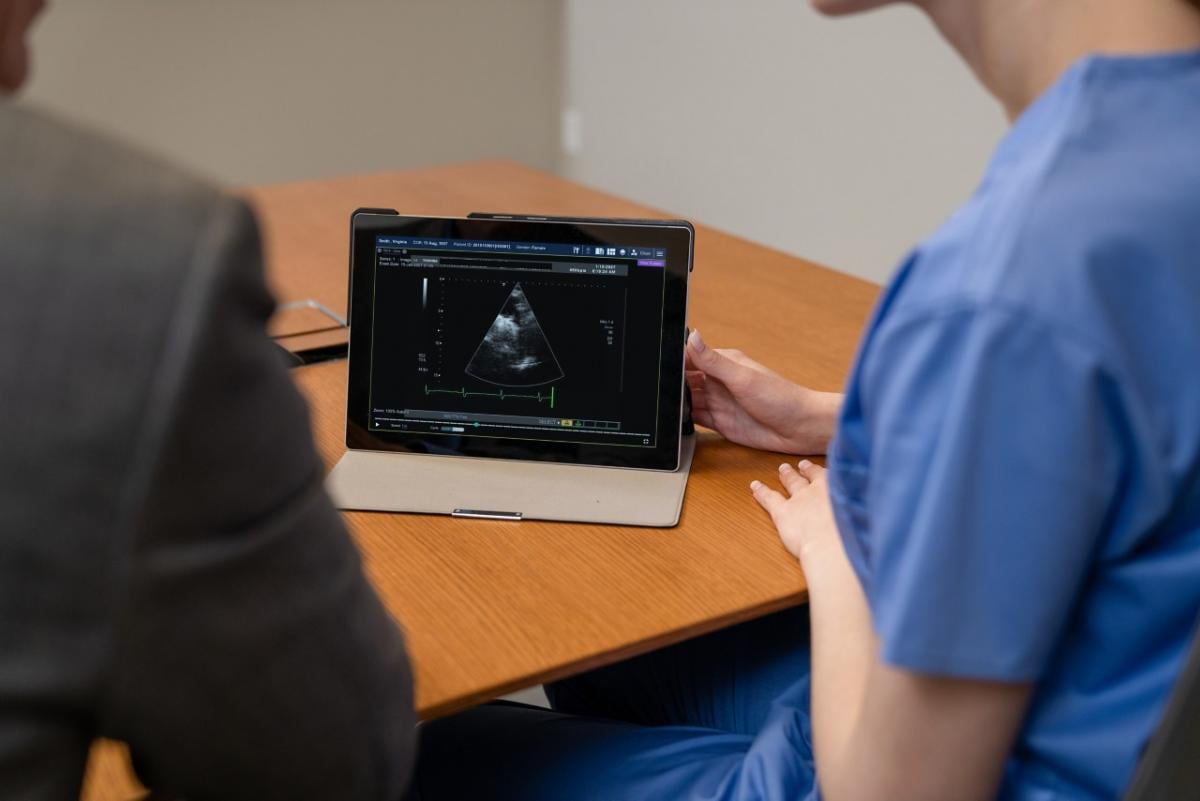 Timely Cardiology Documentation Means Improved Compliance 
As patients progress through the various touchpoints of a procedure, WHS Washington Hospital's staff records relevant information into the Change Healthcare Cardiology database. Keeping accurate, up-to-date records throughout the clinical workflow is crucial for maintaining compliance for registries and reimbursement. 
Change Healthcare Cardiology helps the health system streamline its registry submissions and documentation process, as no additional aggregation of datasets is needed to complete reporting. Registry, procedural, and physician reporting requirements are frequently updated, and the accuracy of reimbursements are often dependent on the documentation the organization creates.
For example, reimbursement requirements for electrophysiology (EP) procedures stipulate that reporting must include an attempt to obtain the optimum level of medication. By adding this documentation requirement to Change Healthcare Cardiology user interface, the health system was able to increase its compliance with ICD guidelines from 65.6% to 100% in just six months.  
Robust Analytics Drive Operational Improvements in Cardiology
The health system now finds it easier to analyze its data across departments and facilities. Change Healthcare Cardiology makes it easier for the WHS Washington Hospital cardiovascular team to visualize its results, track departmental goals, and make data-driven decisions. McVicker relies on the platform's reporting system to automate and generate department reporting, monitor volume levels, and effectively manage resources such as staff and inventory. 
"I can tell how many EKGs, echocardiograms, and stress tests were done within any period," said McVicker. "We use the biweekly numbers to determine our staffing levels." Indeed, recently, analytic reports identified changing volumes in the Cardiac Diagnostics department, leading WHS Washington Hospital to reassign nurses to other departments. 
The platform's automated analytics reporting also gives WHS leadership deeper insights into departmental trends and opportunities. When a physician wanted to implement same-day discharges for percutaneous coronary intervention (PCI) patients, WHS Washington Hospital developed a report to monitor PCI volume and identify how many patients were eligible for early discharge. The report revealed that the cath lab successfully doubled its same-day discharges in the first quarter of 2021. 
In another example, WHS used Change Healthcare Cardiology to develop a report that monitored how many ECGs are completed after hours, to determine if its hours of operations needed adjustment. As result, the 3:00-11:00 p.m. cardiology shift was reallocated to the health system's respiratory department, without increasing overall FTEs.  
"Change Healthcare Cardiology helps the health system refine its data analytics," said Ori Garini, executive director for product management at Change Healthcare. "By selecting that one insightful piece of information, WHS can easily see the potential impact of a change on their resources, patterns, and operations." 
For more information: www.changehealthcare.com/solutions/enterprise-imaging/cardiology/
---
If you enjoy this content, please share it with a colleague