Change Healthcare Cardiology Hemodynamics is an integrated hemodynamic monitoring system for monitoring vital signs and performing measurements and calculations. The system documents procedure and patient data, and interfaces with other systems and devices before, during, and after procedures.
Change Healthcare Cardiology Hemodynamics helps streamline workflow in the cath and EP labs and shares images and information in a single system. This hemodynamic monitoring and recording system is designed as part of the same database as the Change Healthcare multimodality cardiovascular information system.
The system provides comprehensive hemodynamic monitoring and recording for cardiology, cardiac catheterization, electrophysiology, radiology and invasive radiology procedures.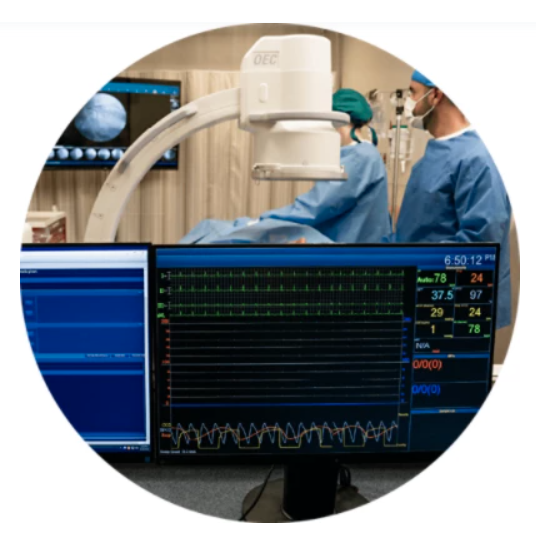 The monitoring system also imports patient data from other hospital information systems and shares hemodynamic data in return.
The system seamlessly interfaces with hospital information systems as well as image management, archiving, and reporting systems via Change Healthcare Cardiology solution.
Providers can use the Change Healthcare Cardiology Hemodynamics system in one of three configurations.
Hemo + Change Healthcare Cardiology CVIS (Cath and EP reports) + CPACS to provide a comprehensive solution.

Network Hemo + Change Healthcare Cardiology CPACS which provides a hemodynamic monitoring solution.

Stand-alone Hemo which enables a limited interface and file export.
The system's new PB-3000 front end unit takes advantage of the latest technology to help improve patient care and quality outcomes with enhancements to security, administration, and interoperability. The simplified hardware design has a smaller footprint, improved usability and reduced potential failure points to improve robustness and make troubleshooting easier.
Updates to the PB-3000 and Change Healthcare Cardiology Hemodynamics 15.0.1 include:
Procedure room controls (IBP zeroing, NIBP start/stop) that enable the physician or nurse to perform IBP zeroing and start/stop NIBP measurement from within the procedure room;

All the parameters that were available in the previous front-end units (PB-1000, PB-2000), including ECG, NIBP, IBP (4 channels), body temperature, cardiac output, SpO2, and CO2, are now in a smaller device footprint;

LED indicators that highlight a certain module (IBP, NIBP, ECG, Battery, etc.) state to the user in the control room;

Buttons for additional control in the procedure room (Start/Stop NIBP, Zero IBP (P1-P4), Zero CO2, Device on/Off);

Two additional analog outputs for communicating signals to 3rd party devices in the procedure room; and

New SpO2 settings and optimizations to help improve accuracy and sensitivity.
Change Healthcare Cardiology allows for the unique parallel workflows key to improving the adoption rate of structured data reporting for cardiac and peripheral catheterization, hemodynamics monitoring, electrophysiology, echocardiography, vascular ultrasound, nuclear cardiology, and ECG/stress/holter management.
The single database design gives the entire care team access to the complete cardiovascular EMR when and where it's needed.
To learn more about the Change Healthcare Cardiology Hemodynamics system click here.  
---
If you enjoy this content, please share it with a colleague