Cardiac MR can offer data above and beyond anatomical imaging, which is the main reason why this system was installed at Baylor Scott White Heart Hospital in Dallas. The system is a dedicated heart MRI scanner.
Magnetic resonance imaging (MRI) has been described for the past few decades as a futuristic imaging technology that will one day become the one-stop shop for cardiac evaluations. However, its expense, complexity, long imaging exam protocols and long post-processing times have presented a barrier to wider adoption. That might be about to change with the help of new MR technologies released in the last few years, which experts say will change cardiac MRI's fortunes and make it much more widely available. 
"Over the last 15 to 20 years, cardiac MR has been present, but has operated more in the research realm. But I think it is now coming into maturation and we are now seeing cardiac MR play a major roll in the diagnosis of common cardiac conditions, such as cardiomyopathies, heart failure and ischemic heart disease," explained James Carr, M.D., chair of the Department of Radiology, Northwestern University, and incoming 2020 President of the Society of Cardiac Magnetic Resonance (SCMR). He spoke with DAIC at the at the 2019 Radiological Society of North America (RSNA) meeting.
"I think some of the biggest obstacles to its adoption to date have been the complexity of the exam, the availability of expertise for people who really know how to run the exam and know how to read the exams, and also in the processing of the information," Carr said. "We seem to be at a point now where people know about cardiac MR, and the technology is such now where you can more easily do the exams, and it is becoming clear as to what clinical indications are best suited for cardiac MRI."
He said there have been a lot of advances in MRI technology the past few years, with a concentration in new ways to speed up the image acquisition. This includes techniques like compressed sensing, parallel imaging and echo sharing. 
"In the past, a cardiac MRI exam would take about an hour to an hour and a half, but with current acceleration strategies we can now do a cardiac exam in probably about 30 minutes or less, and there are some papers out there saying it can be done in 15 minutes or less," Carr said. "So now we are at a time scale which is much more comparable to echocardiography or other techniques that are faster and simpler to acquire."
Automation of Cardiac MRI Analysis
Another barrier to wider use of cardiac MR is the time required to post-process images. But vendors have recently introduced new technologies to greatly speed up this process.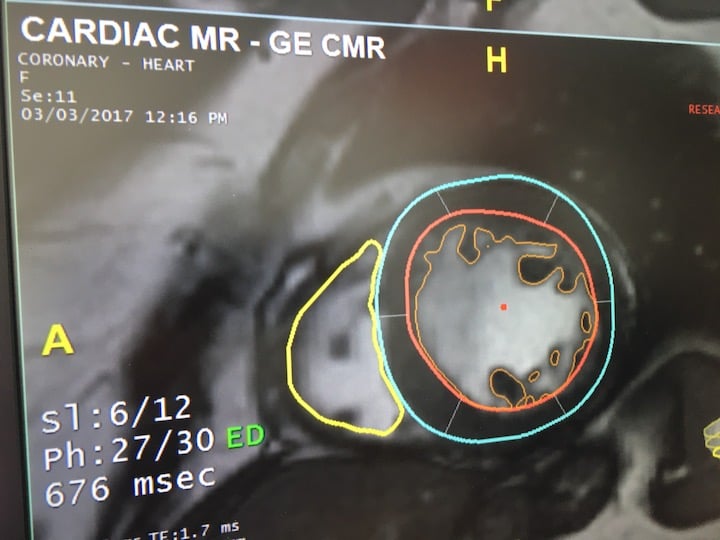 This is an example of artificial intelligence automation for cardiac MRI using an AI app from TeraRecon's Envoy AI marketplace. This GE MRI image has been countoured, anatomy labeled and all quantification automated by the AI, greatly reducing post-processing time. See this and other new AI imaging technologies from the 2019 RSNA meeting.
"The analysis side has always been an area that is somewhat laborious for the practitioners because you need to sit down and spend maybe another hour or so analyzing all the data," Carr explained. "But now, with some of the new software platforms, especially more recently using artificial intelligence, you now have a much more automated way of analyzing the images. And not just for more common parameters like ejection fraction, but also for tissue characterization to look for fibrosis." 
Artificial intelligence (AI) is playing a significant role in cardiac MRI automation to speed workflow and quantification. Carr said these technologies will become mainstream in the next few years. 
AI is now incorporated into several MRI functions, including the third-party Arterys MRI post-processing software offered by several MRI and advanced visualization vendors. AI is also being incorporated into image reconstruction software being developed by vendors such as Philips, GE Healthcare and Canon. Examples of these works-in-progress to remove common MR image artifacts and improve resolution were shown at RSNA 2019.
Automation and Simpler, Faster Exams Making Heart MRI more Widely Available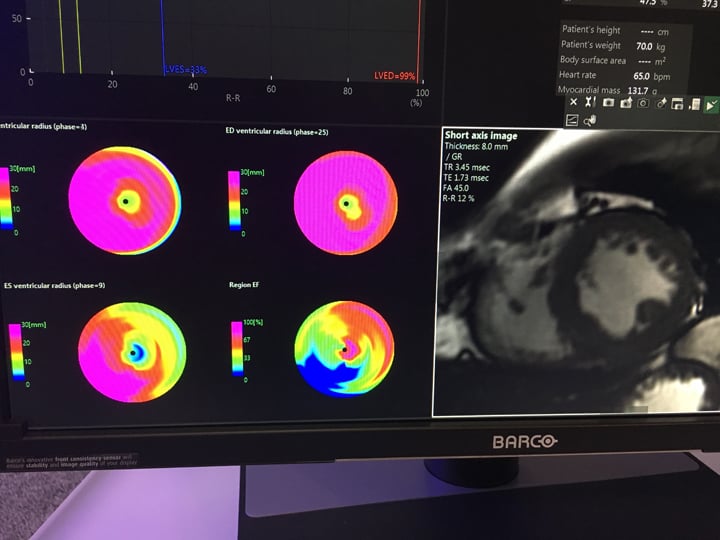 "MR has historically been known as being very complex, so people have been scared by that, Carr said. "But I think it is now much simpler than what we have been used to in the past. I think you will find more imaging specialists will adopt and use the technology."
Carr stated this wider use at more hospitals outside of the research setting will make it more accessible to referring physicians. 
"With the combination of much more accelerated imaging techniques, plus with the addition of automated post-processing, we now have a much simpler task," Carr explained. "I think this really puts cardiac MR at the precipice of being easily adopted by a practitioner who maybe is not an expert in the field of MR. So people can now use it on a more universal level."  
The Society of Cardiac Magnetic Resonance (SCMR) believes cardiac MR will soon be offered to more patients and recently created a patient-facing information website at www.heartmri.org to answer patient questions. 
Advantages of Cardiac MRI Over Other Imaging Modalities
MR has unique characteristics compared to computed tomography (CT) and echocardiography. Carr said CT is pretty good at anatomical imaging to look at structures and coronary artery disease. MR on the other hand can also look at morphology, function, metabolism and perfusion all in one imaging exam, he explained. MRI can look at the T1 and T2 mapping (which highlights either the water or fat in the body) and identify the content of the extra cellular spaces within the heart heart muscle. He said this can help identify fibrosis, which is a marker of disease in cardiomyopothies such as hypertrophic cardiomyopathy (HCM) and amyloidosis. 
"We also now have new techniques to look at fibrosis, water content in the heart to look at edema in the setting of inflammation like myocarditis, so it gives you a lot more information about the disease in one single exam protocol," Carr said. "With this T2 mapping capability, MRI is now becoming the first-line  imaging for diagnosing myocarditis for patients who are presenting to the emergency room." 
MRI Ideal for Women and Congenital Heart Patients
The use of cardiac MRI in congenital heart disease is common in serial imaging of patients with tetralogy of Fallot (TOF), one of the most common congenital heart diseases for which patients are referred for post-operative magnetic resonance imaging evaluation. In the past few decades, surgery has proved successful, but most patients require repeat imaging throughout their lives and MRI can offer more detailed soft tissue imaging without the use of radiation. 
"While congenital patients are surviving into adulthood and doing much better than they did 30 years ago, there are complications that are expected after the correction of the congenital defects," explained Karen Ordovas, M.D., MAS, professor of radiology and cardiology at the University of California San Francisco (UCFS) School of Medicine and a SCMR board member. "MRI is a wonderful test to identify these problems early and allow clinicians to do interventions, a second surgery or intensify medical treatments to help these patients live a better life and live longer. These patients need several imaging tests throughout their lives, so the lack of radiation really adds a lot of value." 
Ordovas specializes in cardiac and pulmonary imaging, and has particular expertise in using CT and MRI techniques in cardiovascular imaging in women. She said MR can be particularly helpful in looking at the differences of presentation in imaging between male and female cardiac patients. She is helping advance education around heart disease in women and to help bring awareness of quality tools to diagnose heart disease and how heart MRI can help.
"Women who have heart disease have a completely different pathophysiology than males," Ordovas explained. "They typically don't have obstructive coronary lesions, so the tendency to look at the coronaries is not what we should be doing for females. We should be looking at the muscle itself and the blood supply to the muscle, and MRI is the key method to do that."
She said heart MR is a very comprehensive assessment of ischemia in females. It comes without radiation and brings very precise mapping and quantification of the myocardium, which is where to focus on the cause of women's disease.
Related Cardiac MRI Content:
Cardiac MRI Delivers Accurate Diagnosis for Frontline Chest Pain Evaluation
VIDEO: Advances in Cardiac MRI Technology — Interview with James Carr, M.D.
Advantages and New Applications of Cardiac MRI
VIDEO: Dedicated Cardiac MRI Use at the Baylor Scott White Heart Hospital — Interview with Haojie Wang, M.D.
VIDEO: Use of Cardiac MRI in Congenital and Women's Heart Disease — Karen Ordovas, M.D., 
---
If you enjoy this content, please share it with a colleague