The first all-women panel discussion on structrual heart cases was held at TCT 2019. Rebecca Hahn, M.D., foreground, was the co-organizer of the Women in Structural Heart (WISH) evening session.
My observation over the 13 years covering cardiology is that it is a heavily male-dominated field. This is more pronounced in interventional cardiology conferences I attend, where less than 5 percent of operators are women. The divide is less at imaging conferences, particularly in cardiac ultrasound. So it should not be surprising that women appear to have found the most momentum over the past decade in imaging, and have made a rapid entrance into the intervention world. 
This was highlighted at the 2019 Transcatheter Cardiovascular Therapeutics (TCT) meeting in the first Women in Structural Heart (WISH) event. It was a packed, standing-room-only evening session made up of nearly all women speakers, structural heart patient case presenters and panelists. The only exception was Martin Leon, M.D., director of the Center for Interventional Vascular Therapy at NewYork-Presbyterian/ Columbia University Medical Center, who has helped raise the bar for women in structural heart.
Unlike interventional cardiology, where the operator can largely work independently with their live fluoro in the cath lab, the advent of transcatheter structural heart interventions over the past decade requires a heart team approach where cardiac imaging plays a central role. This fact was driven home a few years ago at the Transcatheter Valve Therapeutics (TVT) meeting where Leon opened the meeting by stressing the need for a team, with one of the most valuable players being the interventional imager. He showed images of Rebecca Hahn, M.D., director of interventional echocardiography, NewYork-Presbyterian/Columbia University Medical Center and a professor of medicine at Columbia. Leon said without her, there is no way he could perform transcatheter structural heart procedures. 
Over the past decade, Hahn rapidly rose to become a sort of interventional imaging superstar with her work at Columbia. She is a top speaker at TCT, the American Society of Echocardiography (ASE) and several other conferences. Hahn has been author or co-author of more than 170 peer-reviewed articles in the last 10 years, and is the national principal investigator for the SCOUT clinical trial, an early feasibility study examining a percutaneous tricuspid valve annuloplasty system.
Working with the Cardiovascular Research Foundation (CRF), the sponsor of TCT, she co-organized the WISH session to showcase the accomplishments of women in structural heart. She worked with Vivian Ng, M.D., assistant professor of medicine and an interventional cardiologist at the NewYork-Presbyterian/Columbia University Medical Center Structural Heart and Valve Center, to bring together a who's who of women in structural heart for the event. 
"Women really are in the forefront of structural heart, and we are sometimes lost amongst the crowd," Ng explained. "Because this is such a multi-disciplinary field, there are women involved in imaging, interventional cardiology, surgery, nurse coordinators, heart failure specialists, and we really haven't had a way to come together as a community. WISH was created to be able to bring this community together and to show the contributions of women in the field to the community act large. We wanted to say 'here we are,' and that we are at the forefront and we have made large contributions to this field."
Ng said she has received positive feedback from female trainees at TCT, who said they never expected to see a large session and panels filled with thought-leading women. "I think it is great that we are able to highlight these role models and show the generation in training that we are here to help them," Ng said. 
Ng shares more about WISH in the VIDEO: Highlighting Women Involved With Structural Heart Interventions.
To help promote women in interventional cardiology, the Society for Cardiovascular Angiography and Interventions (SCAI) has created the Women in Innovations (WIN) program to foster professional development and collaboration among women.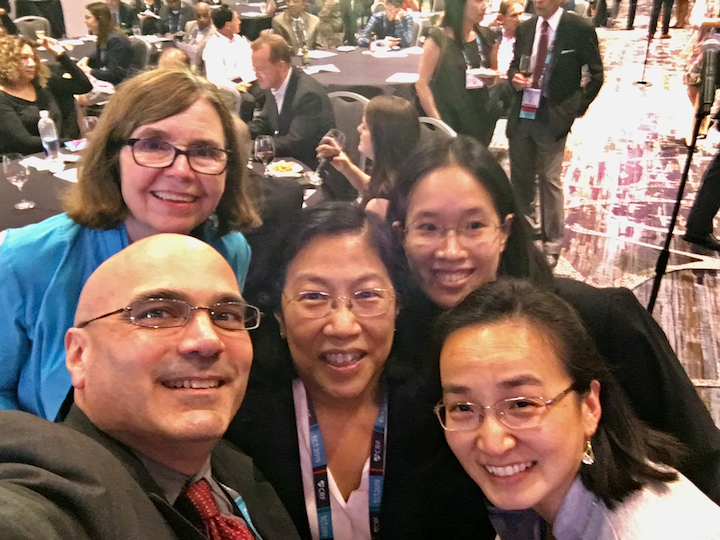 DAIC Editor Dave Fornell with some of the faculty of the Women in Structural Heart (WISH) - Breaking the Glass Ceiling session TCT 2019. Left to right are doctors Linda Gillam, Morristown Medical Center; Rebecca Hahn, Columbia University; Vivian Ng, New York Presbyterian; and Dee Dee Wang, Henry Ford Hospital.
Related Content With WISH Presenters:
Women: Cardiology Needs You! — Blog by Linda Gillam, M.D.
VIDEO: What is Required for Interventional Echo — Interview with Rebecca Hahn, M.D.
VIDEO: The Importance of the Neo-LVOT in Transcatheter Mitral Valve Replacement — Interview with Dee Dee Wang, M.D.
VIDEO: The Value of the Cardiovascular Service Line — Interview with Linda Gillam, M.D.,
VIDEO: Can We Live in 3-D Echo? — Interview with Lissa Sugeng, M.D.
VIDEO: Tricuspid Valve Imaging and Interventions Developing Hand-in-hand — Interview with Rebecca Hahn, M.D.
VIDEO: Strategies to Avoid Acute Kidney Injury Caused by Cath Lab Contrast — Interview with Roxana Mehran, M.D.
VIDEO: Applications in Cardiology for 3-D Printing and Computer Aided Design — Interview with Dee Dee Wang, M.D.
VIDEO: TWILIGHT Trial Shows Benefit to Ticagrelor Monotherapy After Stent Implantation — Interview with Roxana Mehran, M.D.
 
---
If you enjoy this content, please share it with a colleague