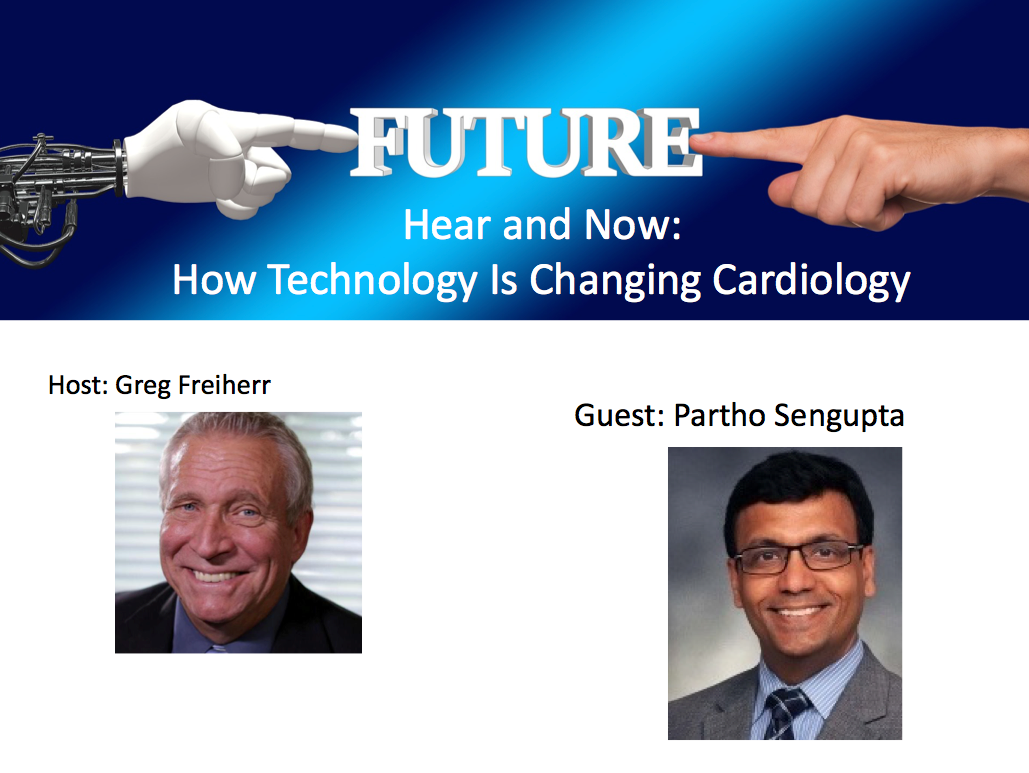 Technology is reshaping not only our understanding of cardiac disease but what motivates patients to visit doctors. Both trends are likely to intensify in the coming years, vastly expanding our understanding of cardiac disease and indelibly changing the practice of medicine, according to Partho P. Sengupta, M.D., chief of cardiology at West Virginia University in Morgantown, W. Va.
In an ITN podcast, Sengupta, who also directs cardiovascular imaging and chairs the Center for Innovation at the University's Heart and Vascular Institute, described how the analysis of big data by smart algorithms is uncovering truths about cardiac disease. Many of these truths, he said, have been buried for years in the volumes of data generated by ultrasound based echocardiography, a widely practiced form of cardiac imaging.
"Echo is full of information that we have not even mined," Sengupta said in the ITN podcast. In the Podcast, he discusses the impact of smart algorithms, as well as other technologies on medical practice now and in the years ahead. 
Sengupta is scheduled to speak about related topics at #ACC.19, the annual meeting of the American College of Cardiology, which will run from March 16 to 18.  He will be speaking March 16 in sessions titled:
"Man vs. Machine: Current and Future Applications of Machine Learning in Cardiovascular Imaging;" and
"Imaging Innovation Hub for Congenital Heart Disease."
Also that day, he will moderate a panel discussion at Future Hub entitled "Are Clinical Virtual Reality and Augmented Reality Ready for Prime Time?" On March 17, he will be a presenter during the session entitled "Current Controversies in Echocardiography."
Sengupta is listed on 10 posters scheduled for display at ACC.19. Many will describe how echo may enhance physicians' ability to diagnose cardiac disease.
Watch an interview with Sengupta in the VIDEO: Artificial Intelligence in Cardiac Ultrasound.
 
Impact Of Machine Learning On Cardiology
Sengupta and colleagues are currently researching machine-learning algorithms in echocardiography. ML algorithms can analyze data sets that would otherwise overwhelm people, he noted. The information that can be pulled by them from medical data might lead to new knowledge about heart disease. And there is plenty more to learn. "We are just scraping the surface of what we understand of cardiology," he said.
Meanwhile technologies other than smart algorithms are affecting other facets of medical imaging, Sengupta acknowledged in the ITN podcast. The output of wearable and home sensors that monitor vital signs, for example, is already changing the doctor-patient relationship. This is seen in the questions that patients pose to physicians, he said.  Rather than seeing a doctor because of shortness of breath, for example, a patient today might ask about the significance of what these devices have reported.
"It is a new type of reason the patient wants to see a doctor. The whole taxonomy of how we define cardiac disorders is going to change. People are not going to present with symptoms," Sengupta said in the ITN podcast, noting that this "is opening up myriad other ways that we need to look at disease."
Greg Freiherr is a contributing editor to Imaging Technology News (ITN). Over the past three decades, Freiherr has served as business and technology editor for publications in medical imaging, as well as consulted for vendors, professional organizations, academia, and financial institutions.
Related Content:
A 40,000 Foot View of Trends in Cardiology, DAIC
The Future of Cardiology: 17 Technologies to Watch, DAIC
Applications for Artificial Intelligence in Cardiovascular Imaging, DAIC
---
If you enjoy this content, please share it with a colleague