The reSept ASD Occluder is the first transcatheter ASD occluder with a metal-free frame.
May 5, 2022 – Joe DiMaggio Children's Hospital recently announced the successful treatment of a patient with atrial septal defects (ASD), or opening defect in the wall of the heart that separates the top two chambers of the heart, using the first transcatheter ASD occluder with a metal-free frame. The novel device has been implanted as part of the ASCENT ASD U.S. Investigational Device Exemption (IDE) pivotal trial, which will evaluate the safety and efficacy of the transcatheter reSept ASD Occluder in patients with clinically significant secundum ASDs. It was the hospital's first patient with ASD enrolled in this trial.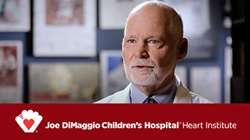 Dr. Larry Latson, MD, Medical Director, Pediatric & Congenital Interventional Cardiology Program Co-Medical Director, Adult Congenital Heart Disease Program at Joe DiMaggio Children's Hospital is National Co-Principal Investigator for this study, and part of the pediatric cardiac team that performed the transcatheter procedure. The prospective, single-arm study will enroll up to 250 patients at multiple sites globally Primary endpoints will be compared with established performance goals for previously FDA-approved transcatheter ASD occluders.
"We are pleased to be part of this global study and provide an innovative treatment to our pediatric patients who are suffering from this condition here in South Florida," Dr. Latson said. "With studies of this kind and world-wide collaboration, we are able to give our patients access to the most innovative treatments that will transform the way we treat congenital heart disease in the future."
Current ASD occluders have metallic frames that could place patients at risk for complications associated with long-term presence of metal in the heart and may limit future transseptal interventions. Initial clinical experience demonstrates effective closure of the ASDs treated with the novel investigational device.1
"The metal-free frame of the reSept ASD Occluder provides a low-profile that over time is replaced by the patient's tissue, leaving a minimal implant behind and restoring a more natural septum when compared to current occluder devices," stated Saibal Kar, MD, Interventional Cardiology at the Los Robles Regional Medical Center in Thousand Oaks, California and Co-Principal Investigator of the IDE trial. "This provides a unique opportunity for physicians to effectively address ASDs while being mindful of any patient's potential transseptal procedures later in life."
The reSept ASD Occluder is the first transcatheter ASD occluder with a metal-free frame. It is an investigational medical device manufactured by atHeart Medical.
"It is incredibly exciting to have the participation of Joe DiMaggio Children's Hospital to this important pivotal trial," said Laurent Grandidier, CEO of atHeart Medical. "I commend the team's diligence to expanding the body of evidence supporting our reSept ASD Occluder and dedication to delivering innovation to patients with ASDs around the world."
Reference:
1. Sievert K, et al. Transcatheter closure of atrial septal defect and patent foramen ovale with Carag bioresorbable septal occluder: first-in-man experience with 24-month follow-up. EuroIntervention. 2021 Nov 1:EIJ-D-21-00740. doi: 10.4244/EIJ-D-21-00740. Epub ahead of print. PMID: 34726601. 
---
If you enjoy this content, please share it with a colleague