Transesophageal echo (TEE) being used to guide the deployment of a MitraClip device during a structural heart procedure at the University of Colorado Hospital. The center has performed more than 200 MitraClip mitral valve repairs over the past decade. Photo by Dave Fornell
 
The resounding success of transcatheter aortic valve replacement (TAVR) has led the creation of hundreds of structural heart programs across the country in recent years. The 2019 decision by the U.S. Food and Drug Administration (FDA) to expand the indication to all patients also fueled the creation of additional programs. Similar success is also expected from transcatheter mitral and tricuspid valve repair and interventions devices in the coming years. It is widely expected there will be a shift in open heart surgical volumes over to these types of minimally invasive cath lab procedures.  
Hospital systems across the country are now creating structural heart programs as a way to attract new patients, show they are cutting edge and because it is clear that the historically strong cardiac surgical programs may not be as viable as they once were in the next few years. 
However, creating these programs is not as simple as retraining cath lab staff, it requires a whole new team approach to cardiac patient care. This includes a partnership between cardiac surgeons, interventionalists, radiology, echocardiography, anesthesiology and nursing. It also means making investments for the right imaging systems, software and skill sets needed to enter this new realm of cardiac care. 
Advice From the Experts on Starting a Structural Heart Program
"It's very exciting to start a new program, or expand an existing program, but it is not always easy," explained John Carroll, M.D., director of interventional cardiology at the Cardiac and Vascular Center at the University of Colorado Hospital, a program that has been performing structural heart procedures for 20 years. "One has to be realistic about what resources you need, what partnerships you need and what patient population you are serving in your area."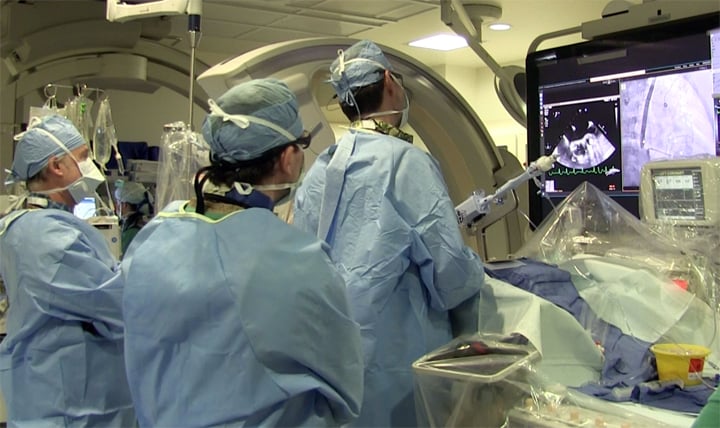 Like the adoption of all new technologies, it is best if there is a champion physician who can spearhead the effort. Often this means bringing in an expert from another hospital who has expertise in transcatheter structural heart procedures. Or, a champion physician at the hospital learns the procedures, gets proctoring and researches how to organize and run these programs. However, it is important that the entire program is not dependent on one person, Carroll said.
"It is not about one individual, it really, truly is a team, and it is a team that involves a lot imaging expertise, there is no doubt about that," Carroll explained. "You need pre-procedural imaging training so everyone understands the anatomy, planning an intervention and you need the image guidance. You certainly need the collaboration of your general cardiologists because they are going to the source of your referrals, both inside and outside of your institution, so you better focus on quality and a good patient experience." 
This was echoed by the staff at the structural heart program at Henry Ford Hospital in Detroit. 
"As a practitioner, I was used to seeing the patient and taking care of them individually and you could practice cardiology as an individual, as a lone practitioner," said William O'Neill, M.D., medical director, Henry Ford Hospital Center for Structural Heart Disease. "Now that is completely gone and there is no way you could possibly do all that work [for structural heart procedures] without colleagues that have expertise in all the areas you need — in echo, in CT, nuclear imaging and thoracic surgery. This whole idea of a team is not just lip service, you absolutely live or die by it."
This team approach also includes incorporating nursing staff at the table.  
"When we talk about a team and approach to a patient, it is an inter-professional team, and not just interdisciplinary specialties. Our nurses will contribute to the process and discuss the challenges they may face with a particular patient," explained Janet Wyman, NP, structural heart program manager at Henry Ford Hospital. 
"To put together one of these programs, you have a whole circle of these team members who need to be involved," Wyman said. "You need radiology dramatically engaged and completely rethinking how they look at a CT image and how can we plan from the time we enter a vessel, to the time when they put that valve in place. They need to look at every slice in the imaging along the way to see if there is anything that might be a problem."
She said nursing also has to be rethought for how to care for structural heart patients. "These patients are different from what we have done before. None of these things are different from what they have done before, but we had to rearrange all the pieces so they fit differently than before," Wyman said.
O'Neill said this collaboration and getting nurse input helped overcome an issue they had early on in the program where they found recovering structural heart patients are more prone to falling. Henry Ford's team redesigned its post-procedure management on the floor with private rooms that include a pull-out coach so a family member can stay with the patient and help them. He said this was especially important at night when the patient wants to get up to use the bathroom and the family member can orientate and help them. Since implementing this, Henry Ford eliminated issues with patient falls.   
The Importance of Medical Imaging in Structural Heart Programs
From an imaging prospective, radiologists and cardiologists need pre-procedural imaging and training to understand what is needed in a patient workup for each type of procedure. This starts with  evaluating patient echo and CT scans for any anatomical limitations that may cause problems during the procedure.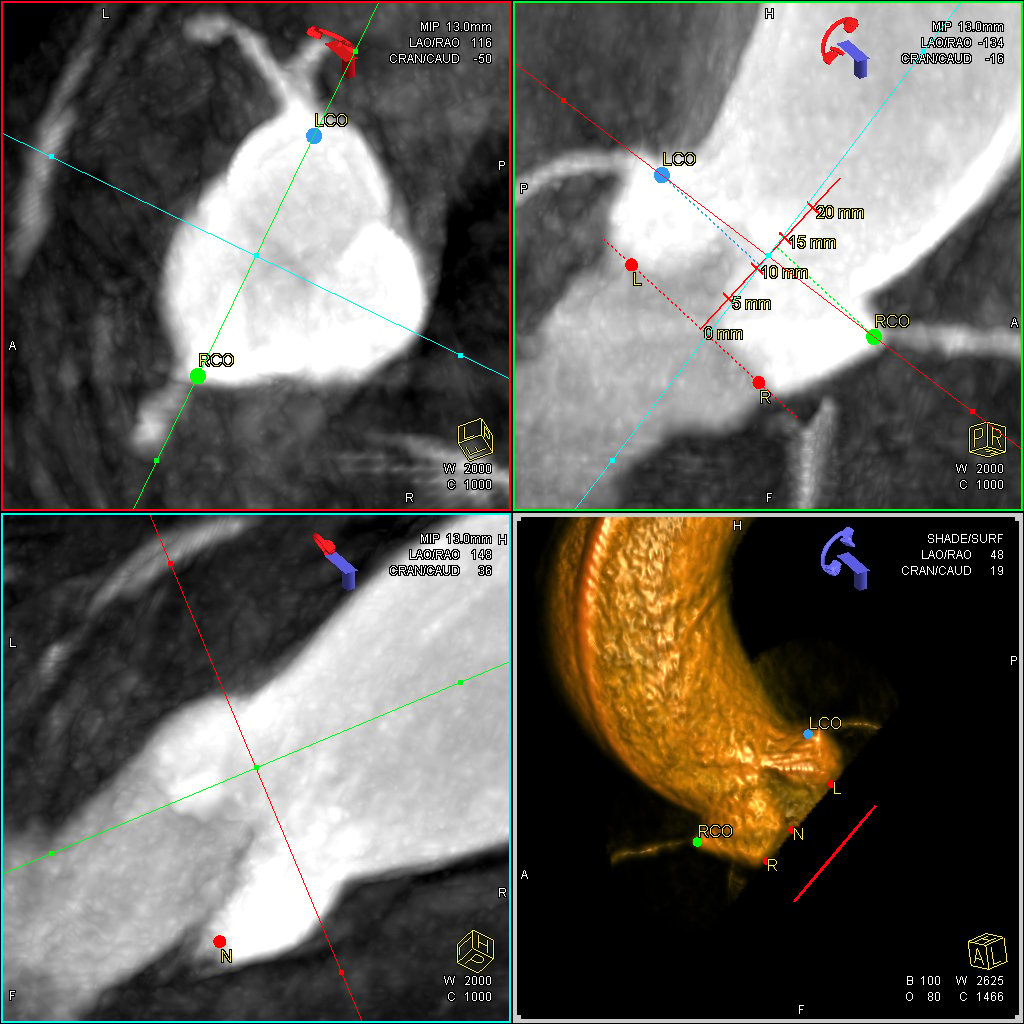 "Pre-procedural CT scans for structural heart procedures, such as TAVR or perivalvular leaks or large ASDs, we have done a fair amount of work on characterizing these beforehand and look for the key features that will make the procedure successful, versus unsuccessful," explained Robert Quaife, M.D., director of advanced cardiac imaging at the University of Colorado. 
Quaife said access route assessment are also key for these procedures. This includes evaluating access vessels to ensure they are big enough to accommodate the larger bore device catheters. This also includes where the best landing zone is for a transeptal puncture to allow proper device placement during a MitraClip or LAA occlusion. Measurements are also crucial for all the access vessels, landing zones and for proper device sizing before the procedure. During the procedure, he said the entire process, start to finish, is all image guided. This is by angiography, transesophageal echo (TEE) and fusion imaging, either with echo or 3-D CT reconstructions.
TAVR and Structural Heart Programs Require Collaboration With Cardiac Surgery 
It is mandated by the FDA that all TAVR candidates have their cases reviewed jointly by a cardiac surgeon and interventional cardiologist so they can jointly determine the best therapy option for the patient. But beyond that, structural heart teams require the expertise from various subspecialists, especially the surgeons, who can bring different viewpoints on patient cases being reviewed. 
"You need collaboration with your cardiac surgeons," explained Carroll. "You can look upon many things in structural heart as competitive, but really in a structural heart program they are more collaborative and the program can help expand the types of patients you both can treat. Sometimes you treat them together in hybrid procedures, and that is critical."
Carroll added that transcatheter structural heart programs are likely the way of the future and cardiac surgeons and surgery departments will have to adapt and work with transcatheter programs in the years to come. "If you are not involved in structural heart disease in the valvular area, you are going to be out of business in a decade or so because the transcatheter approaches to valve repair and replacement are expanding," Carroll said. 
TAVR is a good example of trends that are likely to be seen for all areas of structural heart. TAVR surpassed cardiac surgical volumes for aortic valve replacements in 2019. With FDA indications now expanded to all surgical risk groups of patients for both FDA-cleared TAVR valves on the U.S. market, the transcatheter share is expected to continue to grow at a more rapid pace.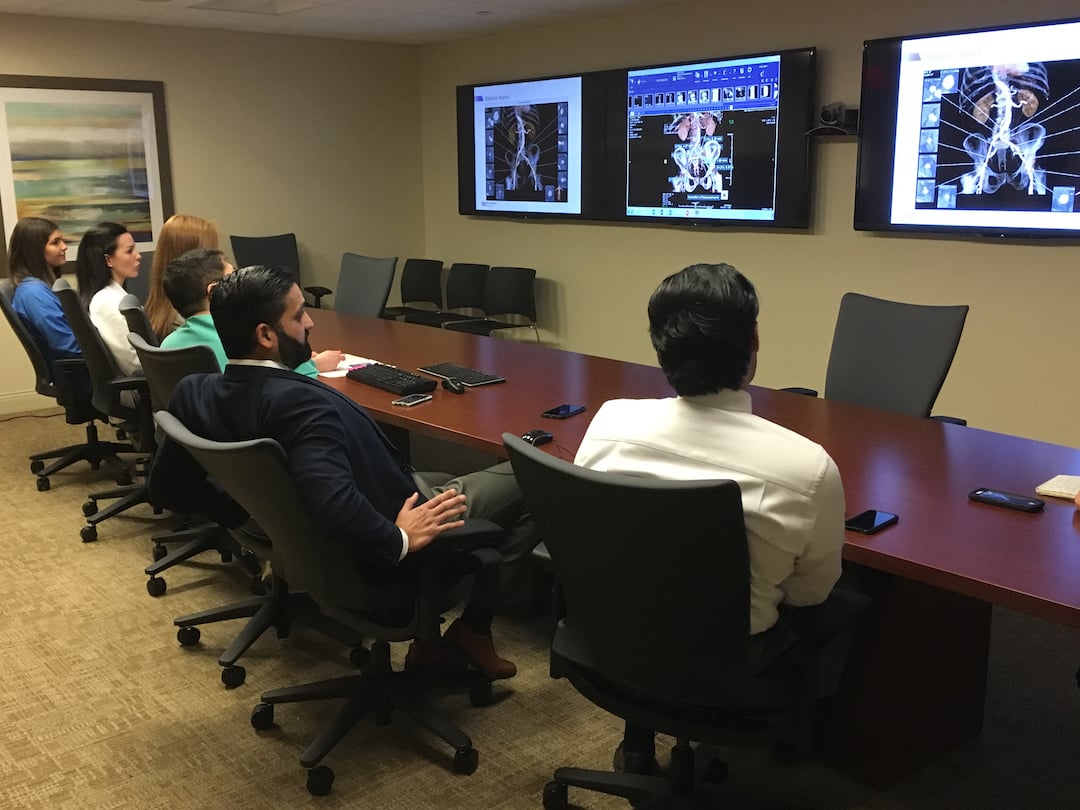 The heart team at Northwestern Medicine's Central DuPage Hospital in Winfield, Ill, assessing a TAVR patient case to plan the procedure. The cardiac surgeon and the interventional cardiologist discussed issues with femoral access and discussed the possible need for a transapical approach if the femoral route proved too difficult to navigate the larger TAVR catheters. Photo by Dave Fornell
Justification to Start a New Structural Heart Program
A structural heart program needs to be able to maintain enough volume so that the operators become proficient and the program can maintain quality outcomes. There also needs to be a plan to get referrals for the program from outside your own hospital. Hospitals also should research population statistics from their region to help understand and predict coming trends with aging patients. Are there are sufficient numbers of potential patients to support a program? In larger metro areas, a hospital should also assess the level of competition and saturation of similar programs in the area. 
"We looked at population-based health statistics and realized the epidemic of acute coronary disease is really on the decline and we wanted to understand our population and what the next big cardiovascular issue that we would be facing with these folks," explained O'Neill. "We realized that as the population ages and they do not have coronary disease, they will be developing other issues with their heart. So we developed our structural heart program to look at aortic valve disease, mitral valve stenosis, and left atrial appendage occlusion because of the increasing incidence of atrial fibrillation." 
Moving Beyond TAVR and Market Saturation
In the late 1980s and early 1990s, there was an explosion of cath labs as hospitals across the country wanted a piece of the interventional cardiology market. But after statins and drug-eluting stents entered the market and began reducing PCI cases and repeat customers, procedural volumes across the country slumped. The market was also saturated with cath labs so all centers started seeing fewer of the patients that remained.
TAVR procedures have rapidly expanded and hundreds of new structural heart programs have come online in recent years.TAVR now makes up more than 50 percent of the aortic valve replacement market, rapidly replacing surgery as a standard-of-care. Many expect the market saturation of structural heart programs will lead to a similar procedural volume slow down in the next few years, similar to what was seen with cath labs. For this reason, many established structural heart programs have already moved beyond TAVR to treat the mitral valve, tricuspid valve, septal occlusions, left atrial appendage (LAA) closure and PFO closures to expand or maintain their volumes. 
"TAVR started out early on as a very niche procedure with only a handful of centers doing it, but it has expanded and there are more than 500 centers in the country now, so it has become a commodity," O'Neill explained. "So we started looking at other new treatments we can do. We believe in a few years the number of TAVR procedures will plateau, but we believe the number of mitral valve interventions will continue to increase. The mitral market is about three times greater than the aortic market."
O'Neill said it could be five or 10 years before transcatheter mitral valve interventions become the standard of care rather than surgery.  
Movement to Transcatheter Mitral Valve Repair and Replacement
TAVR developed as the first wide-spread transcatheter valve procedure mainly because the aortic valve was the easiest to access and design a valve for. However, in the surgical realm, there is about three times more volume for mitral valve repairs and replacements than for aortic valves. Experts in structural heart say this space will see much wider growth in the coming years as new transcatheter mitral valves and repair system gain FDA approval. 
O'Neill said the mitral valve involves much more complex anatomy and potential pitfalls when placing a device in that position. He said a lot of work remains before a commercial transcatheter mitral valve replacement (TMVR) device will become commercially available in the U.S.
For patients who are too sick to undergo surgery, both the Medtronic CoreValve and Edwards Lifesciences Sapien TAVR valves are used in the mitral position, mainly because there is nothing better at this point.
"The valves are going to have t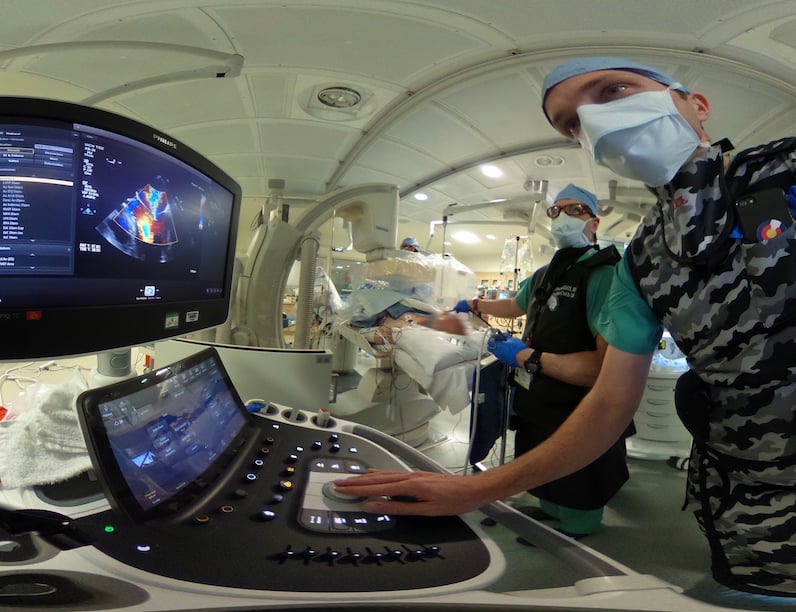 o improve, and they will. Right now we are just at the early start of it, and we are where we were in 2005 with TAVR. Talk to us again in 2025 and we will tell you more about the progress we have made, and I think there will be a lot of progress," O'Neill explained.
What is currently FDA-cleared for TMVR (in this case the "R" is for repair) is the Abbott MitraClip, used for edge-to-edge repair of the leaflets to treat regurgitation. This is the primary device used by structural heart centers for mitral interventions. Its use is also expected to increase, with a recent FDA indication expansion for use in some types of heart failure patients. 
Tufts Medical Center in Boston already performs a sizable number of MitraClip procedures, using the device in both the mitral and tricuspid valves. Like all structural heart procedures, Tufts physicians said it is important to have enough volume to become good at these procedures and know how to overcome any problems.
"Mitral volumes are very important so you need a sizable referral based to generate a certain institutional comfort level with the procedure," said Charles D. Resor, M.D., MSc, assistant director, cardiac catheterization lab at Tufts Medical Center. 
He added that you also need a very close relationship with the echocardiographers or anesthesiologists who perform the TEE used to guide these procedures. "The interaction between the echocardiographer imaging the procedure and the interventional cardiologist is really paramount to achieving an optimal result," Resor said. 
He said many of their program's MitraClip referrals are coming from their surgical program, where the patients are too high risk to perform surgery. 
 
Related Structural Heart Program Content:
BLOG: Creating a Structural Heart Program is an Investment in the Future of the Hospital
VIDEO: Advice For Hospitals Starting a Structural Heart Program — Interview with John Carroll, M.D.
How to Build an Integrated Heart Team
VIDEO: Overview of the Structural Heart Program at Tufts Medical Center — Interview with Charles D. Resor, M.D.
Hospital Consolidation May Increase Access to TAVR, New Cardiac Technologies — Northwestern Medicine experience
VIDEO: Transcatheter Mitral Valve Replacement Planning — Interview with Joao Cavalcante, M.D.
Interventional Imagers: The Conductors of the Heart Team Orchestra
VIDEO: Applications in Cardiology for 3-D Printing and Computer Aided Design — Interview with Dee Dee Wang, M.D.
Requirements for Interventional Echocardiographers
VIDEO: What to Look for in CT Structural Heart Planning Software — Interview with  Jonathan Leipsic, M.D.
VIDEO: The Essentials of CT Transcatheter Valve Imaging — Interview with  Jonathan Leipsic, M.D.
VIDEO: Overview of University of Colorado Structural Heart Program
VIDEO: Overview of the Henry Ford Hospital Structural Heart Program — Interview with William O'Neill, M.D.
Requirements for Interventional Echocardiographers
VIDEO: How to Build An Integrated Heart Team — Interview with Brijeshwar Maini, M.D., and Brian Bethea, M.D.
VIDEO: Overview of the TAVR Program at Tufts Medical Center — Interview with  Andrew Weintraub, M.D.
VIDEO: How Consolidation Into Larger Health Systems Can Improve Access to TAVR
VIDEO: Transcatheter Mitral Valve Interventions at Henry Ford Hospital — Interview with Marvin Eng, M.D. and William O'Neill, M.D.
VIDEO: Evolution of Transcatheter Mitral Valve Repair at the University of Colorado
---
If you enjoy this content, please share it with a colleague