June 2, 2021 — The startup company HLT is a part of the Bracco Group, which is developing a new transcatheter aortic valve replacement (TAVR) device. Its Meridian II valve is designed to be an improvement over the current FDA-cleared Edwards Sapien and Medtronic CoreValve TAVR heart valve devices.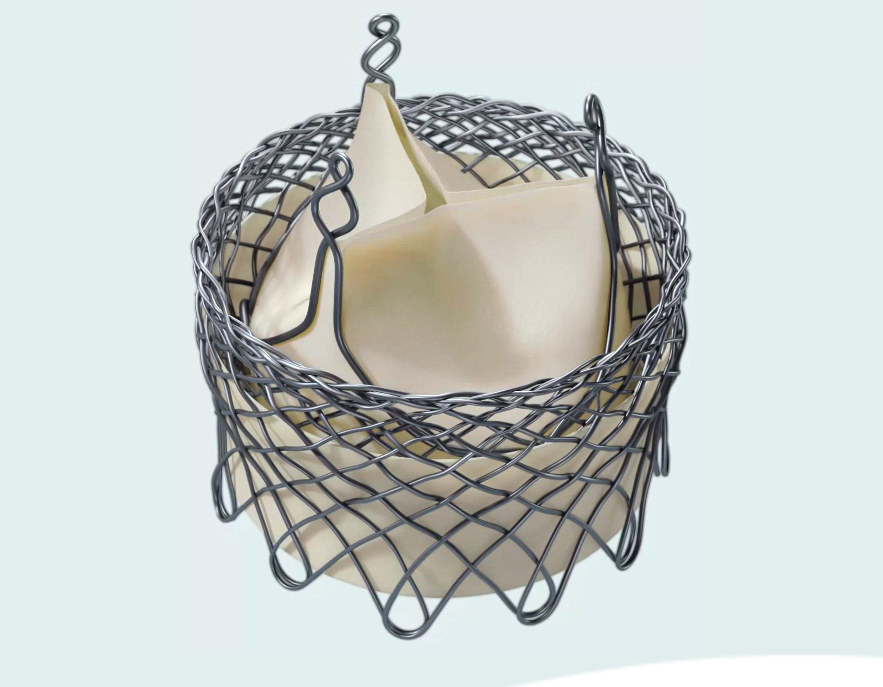 The HLT Meridian TAVR Valve System is designed to conform to the native anatomy with intra-annular placement and flexible, commissural support of the leaflets. These features are intended to reduce stress and extend durability. It is also designed to enhance procedural control and flexibility, particularly in optimizing implant position. 
It also has a very low profile, which avoids interfering with surrounding cardiac structures such as the coronary arteries, enabling future coronary interventions. The CoreValve has larger openings in its wire scaffold to allow blood flow to the coronaries, but there have been concerns about catheter access through the scaffold if future coronary interventions are required. Bracco said the lower profile may also mitigate rhythm disturbances.
The valve can be repositioned and retrieved multiple times during delivery to achieve delivery in the optimal landing zone. The valve fully opens during initial deployment, so hemodynamic function can be assessed before prior to final valve release. It is fully retrievable prior to final release. The company said this will help lower complications and help optimize patient outcomes.
The Meridian is designed to achieve natural leaflet coaptation and reduced commissure stress, regardless of native annulus shape. This is accomplished through an independent flexible tissue wire form that supports each of the three valve leaflet corners.
The valve leaflets are also coated with TriVent anticalcification treatment to help prevent leaflet stenosis.
Watch video animations of how the valve works and how it is deployed.
The RADIANT Trial is Evaluating the Safety and Efficacy of the Meridian TAVR Valve
The Transfemoral Replacement of Aortic Valve With HLT MeriDIAN Valve Early Feasibility Trial (RADIANT) trial is a prospective, non-randomized, single-arm, multicenter study that will enroll patients with severe aortic valve stenosis and evaluate safety and performance outcomes of HLT's Meridian II Valve and Pathfinder II Delivery System. The trial will follow patients out to five years. The study completion date is expected in April 2023.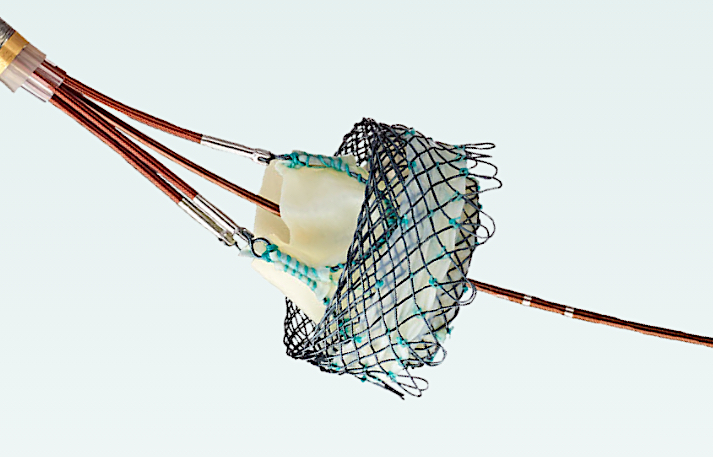 HLT said the study will evaluate safety and performance of the Meridian II valve in patients with severe aortic stenosis who are at intermediate or high surgical risk.
The primary U.S. centers and principal investigators in this trial include Mathew Williams, M.D., NYU Langone Medical Center, and James Hermiller, M.D., St. Vincent Heart Center of Indiana.
The initial results from the trail were published in August 2019.[1]  
A total of 25 patients (mean age, 85±6 years; 80% of men) were included. The valve was successfully implanted in 22 (88%) patients (annulus too large and extreme horizontal aorta in 2 and 1 unsuccessful cases, respectively). Valve retrieval because of an initial nonadequate positioning was attempted and successfully performed in 10 (40%) patients. Echocardiography post-transcatheter aortic valve replacement showed a low mean residual gradient (10±4 mm Hg) and the absence of moderate-severe aortic regurgitation (none-trace and mild aortic regurgitation in 76% and 24% of patients, respectively).
Mortality at 30 days was 8%, with no cases of disabling stroke, valve embolization, or major/life-threatening bleeding complications.
At 6-month follow-up, the cumulative mortality rate was 12%, with no changes in echocardiographic parameters and no cases of valve dysfunction. The majority of patients (89%) were in New York Heart Association class I-II at 6 months.
The invesigators concluded the Meridian valve was associated with acceptable early and 6-month clinical results. Valve retrieval after full valve deployment was successfully performed in all attempted cases, and valve performance was excellent, with low residual gradients, no cases of moderate-severe aortic regurgitation, and none-trace residual aortic regurgitation in the majority of patients.
The company was in the middle of enrolling patients for the HLT Meridian Valve CE Mark Trial (RADIANT CE), when HLT terminated enrollment in May 2020.
Another trial, Transfemoral Replacement of Aortic Valve With HLT MeriDIAN Valve Feasibility Trial CANADA (RADIANT CANADA), is looking at the device in Canadian patients.
This device is not approved for sale in any geography. It is limited as an investigational device in the U.S., Canada and the European Union.
HLT Appoints President and CEO
On June 2, 2021, HLT appointed David Elizondo as president and CEO. Elizondo will lead the development and execution of HLT's operational and strategic business objectives and milestones.
Elizondo has more than 30 years of medical device and business expertise through a range of different career experiences. As part of the HLT family, he transitions from the role of senior vice president, research and development and general manager to president and CEO. Focused in the areas of structural heart, he has served as chief operating officer at Direct Flow Medical Inc., vice president of research, development, and clinical affairs at ATS Medical Inc., and has held various leadership positions within the United States, Europe and South America in technology, research, and business development at Coloplast Inc., St. Jude Medical and Boston Scientific Corp.
"Our team has made tremendous progress over the past year. We have the right technology, people, and plan in place to provide improved care for our patients," said Elizondo. "We are very encouraged by the current testing and excited to start our upcoming clinical phases as we obtain the necessary approvals. I am proud to be part of this strong, highly experienced medical device team as we move into our next phases. This is a very exciting time to be leading HLT."
 
Find more structural heart technology news 
Reference:
1. Josep Rodés-Cabau, Mathew R Williams, Harindra C Wijeysundera. Transcatheter Aortic Valve Replacement With the HLT Meridian Valve. Circ Cardiovasc Interv. 2019 Aug;12(8):e008053. doi: 10.1161/CIRCINTERVENTIONS.119.008053. Epub 2019 Jul 31. DOI: 10.1161/CIRCINTERVENTIONS.119.008053.
---
If you enjoy this content, please share it with a colleague