The 2023 AIMed Global Summit focused on artificial intelligence (AI) in healthcare, and offered valuable insights into the latest use cases, perspectives and novel approaches in healthcare AI. The event took place June 4-7 at the San Diego Convention Center in San Diego, Calif. Throughout the summit, attendees had the opportunity to network with 1,500 healthcare game-changers and hear from top AI key opinion leaders, gaining expert insights, proven best practices and real-world success stories.
This year's program included seven summit tracks, more than 200 speakers, over 10 keynote presentations, and pre- and post-summit partner events, all included in an immersive environment conducive to education and business.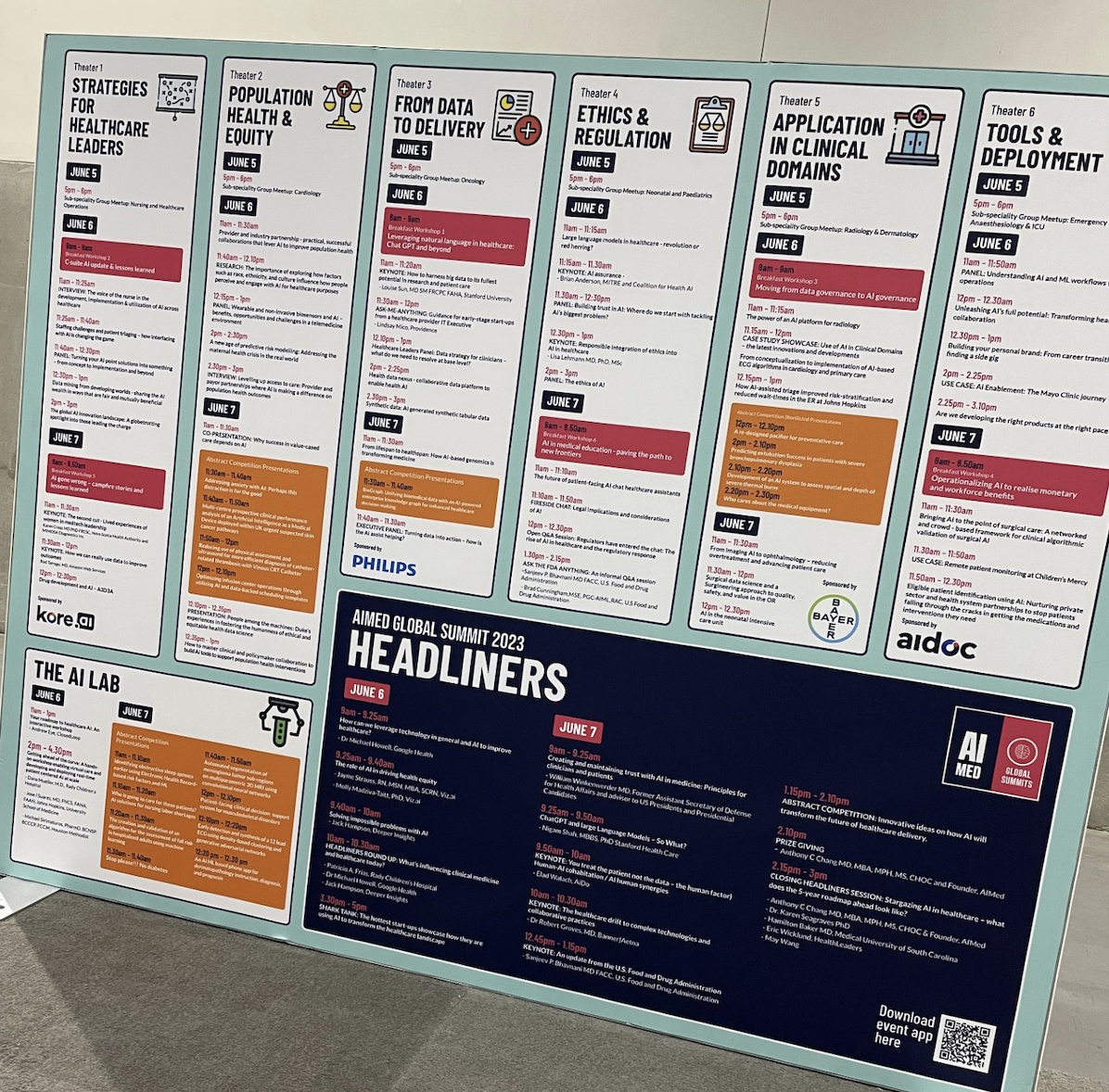 This year's program included seven summit tracks, more than 200 speakers, over 10 keynote presentations, and pre- and post-summit partner events, in an immersive environment conducive to both education and business.
An Evolving Mission
The mission of AIMed is to take the mystery out of AI and show what it can do today, while also giving a glimpse of what the future holds. It was created with the purpose of advancing data science and artificial intelligence in medicine around the world. Today, the organization hosts numerous in-person and digital events throughout the year to discuss the emerging advancement of AI in medicine. Anthony Chang, MD, MPH, MS, MBA, is the chairman and founder of AIMed, and director of the Medical Intelligence and Innovation Institute (MI3), which is based at the Children's Hospital of Orange County, Calif. MI3 is funded by the Sharon Disney Lund Foundation with the purpose of advancing data science and artificial intelligence in medicine around the world. 
Freddy White, CEO of AIMed, shared the story of how the conference came to be during the summit's opening remarks. "Anthony and I actually met back in 2017 in Palo Alto, and I got to hear about the work that he was doing. I was blown away with his passion and enthusiasm to use artificial intelligence to improve patient outcomes and run healthcare systems more efficiently. In the beginning of 2018, he and I went into partnership together to start running AIMed. It's been a really fun journey from 2018 to today, and the growth of the show and where it's going is exciting."
The unlikely duo, Chang, the chief intelligence innovation officer of the Children's Hospital, a pediatric cardiologist, and White, an "events guy" with a background in performing and acting at the Royal Shakespeare Company, Royal National Theatre, have found a synergy together, aligning with the theme of the paradox of duality. "I think it's so important that we try to, despite differences, come together and function as one. I believe this is more important than ever before, that we recognize this, and work through the challenges," said Chang in reference to this year's summit.
The Paradox of Duality
To introduce his concept of the paradox of duality, Chang showed the illusional image of the rabbit … or was it a duck? This famous, ambiguous image was meant to show that people can see things in different ways, but to move forward in AI, it is best to learn how to see both and develop a deeper sense of duality. "I do think that it's important that we start thinking that this is both," Chang said, referring again to the image. "And the reason is that I think when this sketch first came out it was a test of your creativity, your innovation ability and your ability to be very flexible. So as you look at this picture, try to imagine this as a duck and the rabbit and switch back and forth to the point where we actually can see both. And it's not easy, is it? Because your mind is trying to play a trick on your mind, trying to decide if it's a duck or a rabbit. But I think once you get to the point where you see both sides, I think that's where there's a geometric increase in dividends."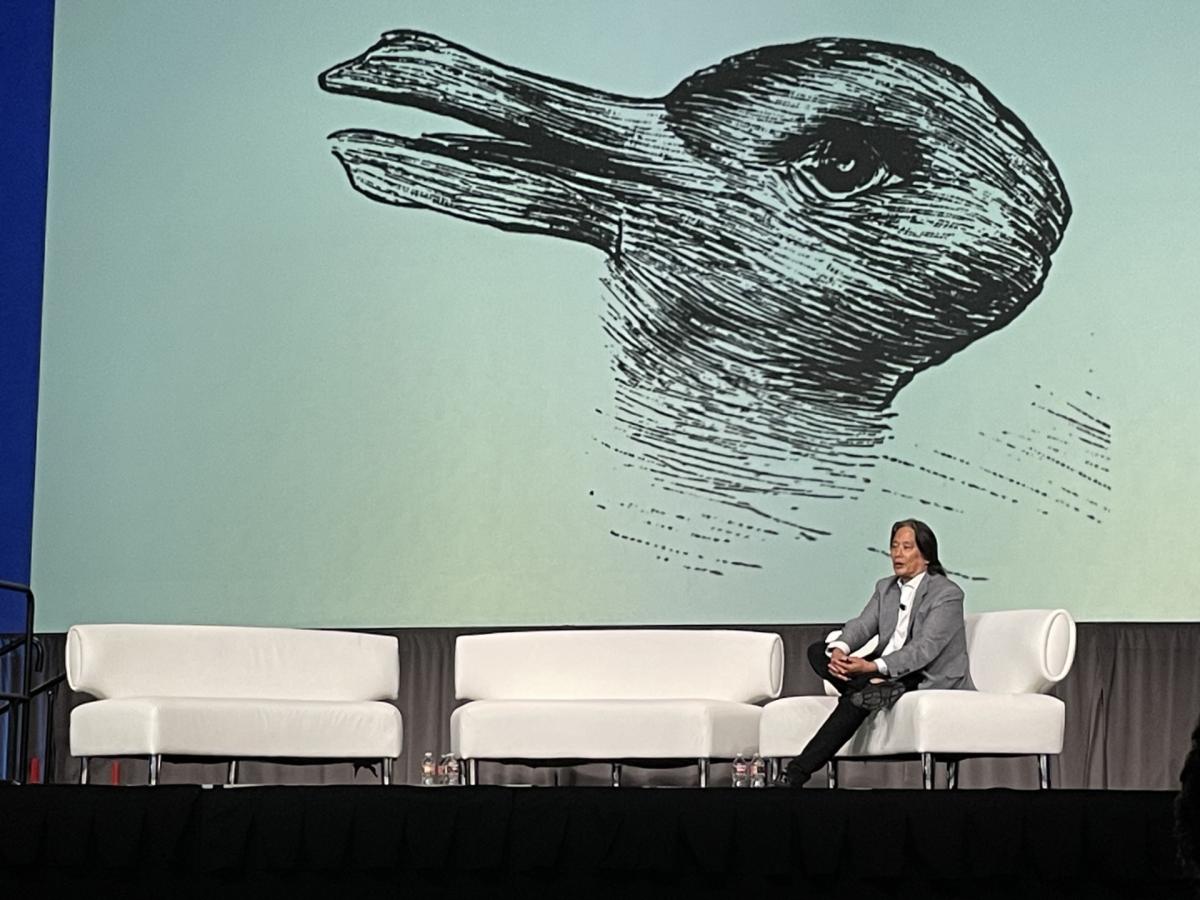 Anthony Chang, MD, MPH, MS, MBA, uses an ambiguous image to define duality.
Chang went on to explain that the obvious duality at AIMed encompasses AI — the data science side and the clinician side. "I think that one of the highlights of this meeting is that the real value of coming together is going to be the important thing in AI and healthcare. And right now, we're still seeing a pretty big divide," he stressed. "A lot of AI and data science projects and papers end up getting published, but are not getting into practice. I call that the project paper to practice dilemma, that we're not seeing enough in practice. So, I think that's going to take more work, and meetings like this will help to really improve the connection between the two. That's going to be so important. Today, we're seeing something that we predicted five years ago at one of these meetings, which is the beginning of a cohort of people that want to do both. And I think that's going to be very valuable for the future. And the younger generation, particularly, are taking that on."
William Anders, an astronaut on the Apollo 8 mission, made the statement: "We came all this way to explore the Moon, and the most important thing is that we discovered the Earth." Chang used this analogy to make the point that if you travel outside of your comfort zone, the dividend can be enormous, noting that it is definitely food for thought in the journey to understanding AI.
Reality and certainty. Chang went on to say that a second duality is reality and certainty. "The challenge of healthcare and AI is that there's a lot of uncertainty, and it's hard to couple that to reality," he explained. "So when you think you have certainty, then you're losing reality. And when you think you have reality, the certainty decreases also. I think this is a good duality to appreciate."
Another duality that's getting a lot of discussion, especially with ChatGPT, is how is the human brain going to reconcile with the capabilities of artificial intelligence. "Obviously, my answers always think about the synergy between human and artificial intelligence, and not have this sort of desire to compete with artificial intelligence," said Chang. "And hopefully we can reconcile that. Artificial intelligence in and of itself is a little bit of a misnomer. It's really human-enabled machine intelligence. So that's the exciting thing. I see that duality becoming less and less of an issue as we're trying to combine both resources. Human and clinician cognition is more important than ever before, to deliver what we need in healthcare. So, paradoxically, in a way, the advances in artificial intelligence make it more important than ever before that clinicians get in the game of artificial intelligence, healthcare, because your experience and wisdom is actually the big missing piece that we need to move forward in this domain."
The old and the new. There is also the duality of the old and the new. Chang offered this insight: "I recently had a senior clinician say to me, 'You will never get me to use artificial intelligence, I will go to my retirement without ever having touched artificial intelligence.' Like that's something to be very proud of. I was very saddened by that comment, because I feel like even if you're a senior clinician, this is the best time to use this new resource to perhaps leave something behind for the younger generation. Artificial intelligence can be a tool to really reconcile the differences between the senior generation and the younger generation," said Chang. "We can all benefit together to improve patient care. And I think, again, Charles Darwin had this quote, that the best of the species is actually the animals that can adapt to change the fastest. It's not the fastest, strongest, or the most intelligent even, it is the one that can adapt to change the most. So I think perhaps that's something to think about. And particularly as we get involved in educating the younger generation, we also need to convince our deans and professors that the younger generation deserves the hope of a new paradigm and clinical care, which is artificial intelligence."
Gender duality. There is also gender duality, male and female. "We tried to really encourage women and young women, particularly, to get into the sciences, especially data science. There are also ethnic and sexuality differences, dualities that we should really promote, and perhaps use artificial intelligence, to decrease the bias that we have, and improve the equity of healthcare delivery," stressed Chang.
Technology. "Lastly, I would like to think the duality here of a lot of sophisticated technology in very big healthcare centers, that we also don't forget the human aspects of delivering better healthcare, not just in certain countries, but around the world, and to deliver this somehow to countries that are desperately in need of healthcare, and perhaps artificial intelligence is one of those important resources," said Chang. "So the duality is hopefully less and less of an issue between high tech, sophisticated healthcare and global healthcare," he added.
In ending, Chang stressed the importance of recognizing the paradox of duality, to spend time thinking about the duality, and finally embrace the duality as a very positive force that we can all share to improve healthcare. 
Related Artificial Intelligence Content:
AiMed Global Summit 2023 to Focus on "Changing Healthcare One Connection at a Time" in San Diego
AiMed Global Summit's Lineup Announced
AiMed 2023: Changing Healthcare One Connection at a Time
Find more AiMed23 conference coverage here
The Pros and Cons of Using ChatGPT in Clinical Radiology: An Open Discussion
ChatGPT Passes Radiology Board Exam
RamSoft Harnesses ChatGPT to Supercharge Their Medical Imaging Patient App, Blume - Launch at HIMSS 2023
JNM Explores Potential Applications for ChatGPT in Nuclear Medicine and Molecular Imaging
New Research Suggests AI Image Generation Using DALL-E 2 has Promising Future in Radiology
---
If you enjoy this content, please share it with a colleague