Getty Images
I work at Emory University in a multidisciplinary group that is employing medical technologies to improve our understanding of cardiovascular disease autonomic physiology and behavioral mechanisms. We incorporate measurements of physical activity, stress and sleep into our research. This directly applies to my work at the Veterans Affairs Healthcare System where I manage a cardiovascular disease prevention program. We work with veterans to address the root behavioral causes of their heart disease, and I have witnessed first-hand the potential for remote patient monitoring in helping to guide their care. The data from wearables provide motivation and feedback to participants, as well as insights to their clinicians. This is made possible by the collaborative relationships we have built with scientists at both Emory and Georgia Tech.
RPM and Monitoring of the Heart, Brain and Lifestyle
Remote patient monitoring (RPM) with mobile health technologies such as blood pressure monitors, portable electrocardiograph devices and scales are particularly relevant in my work as a cardiologist, as many of the treatments and lifestyle modifications I prescribe can be measured by these devices. Data quality is extremely important as I counsel my patients on healthy behaviors and medication choices. Medical-grade sensors with a sound evidence base and regulatory clearance are the most valued, and I'm excited by the potential for a new era in RPM that includes exercise, sleep and stress-related metrics which underlie heart disease at its roots and are difficult to address with current clinical models. Such technologies support our cardiac rehabilitation group, who monitors patients through weekly telehealth visits as they recover from a cardiac event and become healthier and more active. Although the work is intense, we are thrilled to have this opportunity to deliver cardiac rehabilitation remotely while still maintaining a certain minimum level of safety with remote monitoring and have already found in our preliminary analyses that patients are more likely to stay out of the hospital, and that the hospital system may substantially reduce their costs.
Our program, like others, evaluates weight, blood pressure and pulse-rate, as well as steps, but a growing number of programs are also offering ECG monitoring for atrial fibrillation (AF) surveillance. This is an exciting development that has the potential to prevent worsening heart failure and stroke, which are two downstream consequences of atrial fibrillation. Continuous ECG monitoring offers the most sensitivity for detecting atrial fibrillation, although in most cases long-term monitoring for AF requires an implantable loop recorded to be implanted. Nonetheless, low-burden, inexpensive ECG patch technologies play an increasingly important role in AF surveillance given the low up-front costs and burden on the patient compared to implanted devices. Although they do not monitor patients for as long, they can be re-applied as needed at the discretion of the patient and provider.
In our studies, we use the Vivalink ECG patch, a programmable lightweight ambulatory ECG monitor, for applications in heart disease surveillance. Much of our work involves focusing on heart rate variability (HRV) to examine autonomic nervous system activity, which can provide early warning signs of worsening health status. We recently published a paper that shows the ability of HRV to predict myocardial ischemia, a marker of heart disease. This is important because heart disease may worsen without overt clinical symptoms, and patients may become hospitalized or die without any opportunity for intervention. For example, in heart failure, approximately 20% of patients who are discharged from the hospital are readmitted within 30 days. RPM with monitoring of autonomic activity may also have applications in post-surgical patients who may be at risk of infection. Overall, novel use of RPM technologies in monitoring autonomic function may help fill an important gap in the post-discharge period for hospitalized patients who are at high risk and offer a preventive strategy to save both cost and lives.
Monitoring of autonomic function in the ambulatory setting also has applications in psychiatric diseases. We recently published a study looking at low frequency heart rate variability and PTSD, and we found that, during certain parts of the day, the low frequency heart rate variability and a couple of other heart rate variability measures were predictive of PTSD status. We have also found that a combination of heart rate variability and movement data can, with a high degree of accuracy, distinguish between schizophrenia and control cases. As such, RPM offers additional benefits in psychiatry through known biological mechanisms between the heart and brain and may be useful in evaluating treatment efficacy and even preventing emergencies with early interventions.
The ability to measure the heart-brain relationship with ECG patch technologies also allows us to examine physical activity and sleep in a rigorous way that provides insights into health status and potential treatments. Cardiorespiratory fitness, for example, can be estimated with passively measured heart rate and movement data, and provide important prognostic information in a variety of situations. Sleep disordered breathing is another prognostic and actionable behavioral biomarker. We can also leverage important research that has emphasized the importance of a healthy circadian rhythm. Overall, the potential for such technologies to understand and manage our patients' health needs is wide and deep, although more research and developmental work is needed to bring these scientific discoveries into clinical practice.
Increasing Rigor to Move Wearables Forward into Clinical Workflows
RPM applications in contemporary clinical practice are restricted to measurements and treatment protocols that are well-established with the FDA and clinical trials, and include blood pressure, pulse rate and glucose monitoring. Consumer devices with wearables such as Fitbit and Apple Watch provide a preview of novel applications in psychological health, exercise and sleep, but the level of evidence and scientific rigor need to be increased before we can consider their data as part of formal RPM programs. ECG patch technologies offer a potentially higher level of accuracy as it relates to monitoring the heart rate through ECG (rather than pulse), and movement of the chest (rather than wrist). As such, it may be considered as a prescribed, intermediate monitoring strategy that helps to bridge the gap between the hospital, where bedside monitoring occurs, and the home, while also having similar breadth of applications in lifestyle and stress monitoring as consumer-grade wearables.
As we consider the future of RPM, another important consideration is the workflow for providers and integrations into the EMR. Although relatively few algorithms have received FDA clearance for use in clinical workflows, we can potentially benefit from visualizing raw data that are derived from medical grade home wearables. This is particularly relevant, for example, in home exercise ECG monitoring in which there may be a concern for arrhythmias during exercise. We have been fortunate to work with partners such as Vivalink on this, as they offer software development tools that allow us to create custom applications for our needs in the cardiac prevention space.
As we consider making data more readily available, we should also consider the clinical teams that will be managing the data and acting on it. Unfortunately, the current model in which patients are seen in scheduled appointments does not offer clinicians the bandwidth for RPM. New teams and programs, such as the VA Home Telehealth Program, are needed to provision this pro-active model of care. Although the current program is focused on blood pressure and weight management in heart failure, it may eventually benefit from expansion into ECG monitoring technologies. Nonetheless, as we consider an expanded array of monitoring that includes lifestyle monitoring and interventions, we will need to create multidisciplinary teams that include, for example, nurses, mental health providers and social workers. Some patients may also require in-home support due to various health or socioeconomic factors. While the road is long, we are already moving in this direction, propelled by the rising healthcare costs of recurrent hospitalizations and overall worsening health trajectories in the United States and beyond.
Medical Grade Wearables in a New Era of Care
In part, the increased interest in RPM is supported by the improved payment models from CMS that are also adopted by private insurance companies. Accountable care organizations are also attracted by the potential cost savings. In addition, hospitals are incentivized to avoid readmissions in order to avoid penalties from CMS. These trends have inspired companies to participate in this slowly evolving paradigm shift and improve their technologies. We are particularly excited by the transition of sleep and fitness tracking with more medical grade ECG patches such as the Vivalink, which can help combine traditional markers of risk, such as high blood pressure, with nontraditional risk factors such as poor sleep and sedentary activity. The end result will not only be better tracking of health status in between clinic visits, but also more complete care in which a broader array of risk factors can be followed and managed by a multidisciplinary healthcare team.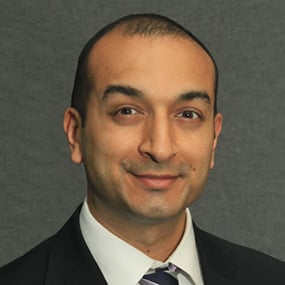 Amit Shah, MD, MSCR is an Assistant Professor of Epidemiology with an adjunct appointment in Medicine (Cardiology) and is Chief of Preventive Cardiology at the Atlanta Veterans Affairs Healthcare System. His areas of expertise include stress psychophysiology research, ECG signal processing, cardiac physiology, arrhythmia risk, population-level risk prediction, mobile health technologies, vascular biology, genetics, and risk prediction. Shah has been funded by the National Institutes of Health, American Heart Association, and Veterans Affairs Administration. The views expressed here are his alone and are not representative of the federal government.
---
If you enjoy this content, please share it with a colleague