GE Healthcare Vscan with artificial intelligence (AI) automated left ventricular ejection fraction assessment with the Dia LVivo EF app.
August 12, 2020 — GE focused on the latest innovations from the handheld ultrasound, Vscan Extend system, which is about the size of a cellular phone. Advances include the LVivo EF app from DiA Imaging Analysis for AI-based automated ejection fraction analysis. This artificial intelligence app makes left ventricular (LV) ejection fraction (EF) fast and reproducible using a hand-held point of care ultrasound system, even for inexperienced sonographers.
Watch a demonstration of the technology in the VIDEO: AI-Assisted Automatic Ejection Fraction for Point-of-Care Ultrasound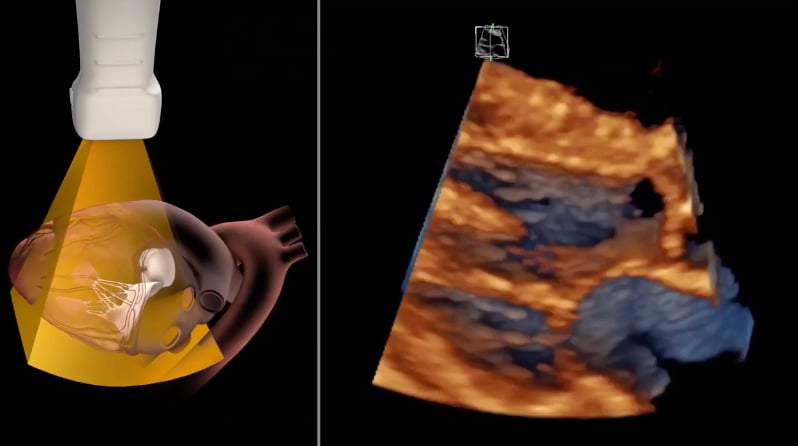 The cSound 2.0 imaging technology introduces new beam forming algorithms in combination with state-of-the-art image graphics processors to increase image processing power and improve echo image quality. This also increases 3-D/4-D echo frame rates. 
Another innovation displayed this year is the new 4Vc-D transthoracic imaging probe, which uses new technology to reduce the size of the crystals and works in combination with cSound 2.0 to enhance image quality. The probe offers very good 2-D, 4-D color, and 4-D image quality performance. 
GE also highlighted case studies for ultrasound enhancing agents and cardiovascular IT solutions to help enhance efficiency. 
As the industry looks at more virtual options for training, GE's Digital Expert was showcased as a mobile solution that delivers virtual face-to-face training for clinicians and their team. 
VIDEO: Automated Cardiac Ejection Fraction for Point-of-care-ultrasound Using Artificial Intelligence
---
If you enjoy this content, please share it with a colleague