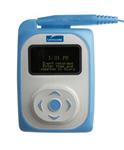 June 24, 2010 – A new recorder upgrade will provide extended recording time for physicians, increasing their detection of abnormal heart rhythms in patients that could otherwise be missed. Midmark Corp. this week announced the release of an upgrade kit providing 48- and 72-hour recording capabilities for its IQholter recorders.
IQholter recorders shipped after May 3, 2010 will be equipped for the upgrade kit that reprograms the compact 24-hour recorder with 48- and 72-hour periods of patient monitoring. The upgrade kit can be purchased together with the IQholter System, or separately later if the customer chooses.
Midmark's IQholter System combines a compact digital recorder with three software applications (IQholter, IQholterEX and IQholterEP) providing the complete information and analysis required. Midmark's three tiers of Holter solutions are specifically designed to meet the needs of various types of practices from family physicians to cardiologists. All Midmark IQholter systems come standard with two recorders, allowing physicians to double their monitoring abilities for the price of a single system.
For more information: www.midmark.com