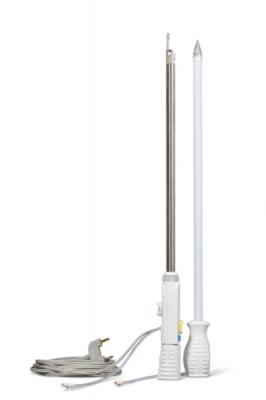 October 2, 2012 — Terumo Cardiovascular Systems has announced the introduction of the VirtuoSaph Plus Endoscopic Vessel Harvesting System following clearance by the U.S. Food and Drug Administration (FDA).
The VirtuoSaph Plus system provides an endoscopic approach to vessel harvesting, and is used for coronary artery and peripheral artery bypass graft procedures. The system offers the cardiac surgery team a device that, when used in conjunction with the 'Terumo Method' of vessel harvesting, consistently delivers bypass grafts with a new standard of care.  The Terumo Method, developed by Terumo's team of engineers and dedicated clinical specialists, is a comprehensive set of guidelines designed to aid vessel harvesters in their pursuit of consistently high conduit quality.
Proven features retained from the original VirtuoSaph system include a completely integrated design, open CO2 insufflation and one step sealing and cutting capabilities.  Key new features of the VirtuoSaph Plus system include:
Improved recyclable packaging features tray-in-tray design, offering easy access to the sterile tray and an ergonomic grip for better circulation of device
Patented PTFE dissector rod, designed to reduce the force required to create a tunnel and now with extended working length, allowing dissection of longer vessels
Precise control of spot cautery, with a safety switch available when needed
First of its kind integrated bipolar cord, minimizing the number of connections and improving electrical conductivity
Unique endoscope wiper now available on an all access 360 degree ring switch
"We find that use of the VirtuoSaph Plus system has given us an enhanced feeling of control. The longer PTFE dissector rod requires the use of less force and has reduced resistance during dissection.   We also value the time that Terumo's Clinical Specialists devoted to us and our CVOR team as we learned about the capabilities of this impressive new product," said Timothy McCoy, PA-C, at The Toledo Hospital.  He added, "Since we began using the VirtuoSaph Plus system we feel more confident that our team is providing our patients with high quality conduits that offer the patency our patients require for a positive outcome."
Michael Moront, M.D., also at The Toledo Hospital, agrees, adding "The improved ergonomics and well-engineered new design of the VirtuoSaph Plus system will result in improved conduit quality and better outcomes for our patients."
For more information: www.terumo-cvs.com