In February 2020, the U.S. Food and Drug Administration (FDA) cleared artificial intelligence software to assist in the acquisition of cardiac ultrasound images. The Caption Guidance software from Caption Health is an accessory to compatible diagnostic ultrasound systems and uses artificial intelligence to help the user capture images of a patient's heart that are of acceptable diagnostic quality. It is aimed at point of care ultrasound (POCUS) exams, where users may not be regular sonographers.
The No. 1 overarching hot topic at all the medical conferences over the past couple years has been artificial intelligence (AI). What was once science fiction or far-fetched research projects are now starting to gain U.S. Food and Drug Administration (FDA) market clearance. Some AI elements are already being used without clinicians knowing it, being integrated into the backend of cardiology imaging systems and IT reporting systems to help speed workflow. 
However, beyond the hype of AI, there are practical concerns, including the need for validation, clinical evidence showing AI helps patient care, and the payment system based on how medicine did things 20-30 years ago needs to change.
ACC gets Involved in AI Development for Cardiology
"We have a huge gap between all this AI investment and how we actually take care of patients. We need to integrate it into our care, because if it is not part of how we take care of patients, this isn't going to work," explained John Rumsfeld, M.D., Ph.D., FACC, American College Cardiology (ACC) chief innovation officer, and professor of medicine at the University of Colorado School of Medicine. "The clinical evidence needs to be there, and right now there is way more hype for artificial intelligence. We need to build that evidence and we also need alignment with our payment models."
Rumsfeld said there is a need to reverse engineer the current cardiac care system used by most hospitals if AI is going to play a big role. The reimbursement system also needs to change in order for the investment in AI to be justified. For these reasons, the Rumsfeld is involved with an ACC project called the "Roadmap for Innovation," which is trying to coordinate cardiology AI efforts by working with AI vendors directly. He said there is a tremendous amount of investment in AI for healthcare, but to date there has been very little of this translating into changes in the way cardiology care is delivered. 
Rumsfeld also discussed the current ACC efforts to advance evidence-based implementation of AI in cardiac care, including applications for ACC National Cardiovascular Data Registry (NCDR).
The ACC has partnered with numerous AI companies to co-develop technologies useful for cardiology. He said this includes integrating AI-enabled smartphone apps and patient monitoring devices like Apple Watches directly with electronic medical record (EMR), a remote monitoring platform for heart failure patient management, and use of natural language processing to get more meaningful data out of the EMR than can be found in structured data. This last point is aimed at using AI to reduce the staff burden now involved in data collection for registries and trials. 
"What I am hoping is that we can get from where we are today to actually lead the digital transformation in healthcare," Rumsfeld explained. 
Another area where ACC offers an advantage to AI developers is its access to large amounts of data from its NCDR. For example, ACC is partnering with Yale University to use AI developed there and NCDR data to find where AI can make a difference in terms of outcomes. 
"The best technology is what they call 'quiet technology,' you don't even know it's there and it makes you more efficient and does a task. In the non-healthcare world we don't even realize when AI is being used," Rumsfeld explained. This includes use of AI to automatically create local weather forecasts based on your cell phone location, traffic congestion maps based on real-time AI analysis of big data, instant driving directions to any location with alternate routes and estimate travel times, or even intelligent algorithms that power internet search engines.
"As cardiologists we are comfortable with advances in technology, but we need it to be efficient, useful and make our lives better and not worse like many would argue the EMR has done, and it really should be in the background. But if it is going to run in the background, we need to know it has been clinically validated and that we have shown it is safe, effective and actually does what you need it to do," Rumsfeld said.
Hear more from Rumsfeld on this topic in the VIDEO: ACC Efforts to Advance Evidence-based Implementation of AI in Cardiovascular Care.
Deep Learning AI Will help Address Personalized Medicine for Complex Patients
Under the umbrella of AI is machine learning, which uses complex analytical software to problem solve, explained Anthony Chang, M.D., chief artificial intelligence officer, Children's Hospital of Orange County (CHOC), and founder of AIMed, an organization that is attempting to facilitate discussion, connections and collaboration between the various companies and hospitals developing AI. He said machine learning will eventually plateau with its abilities to solve more complex problems, which is where the newest iteration of AI, deep learning comes in. 
This technology uses convolutional neuro networks to learn from mistakes and experience gained as it performs tasks, operating very similar to the human brain. When it comes to AI in the future helping manage complex patients, this is the technology that can do it.
"Deep learning is harder to do and it requires a lot more data, but I think the dividends for particularly complex situations are going to be much bigger than anything we have seen before," Change said. 
For example, a complex heart failure patient might have several other chronic comorbities, take numerous drugs from different doctors that might have interactions, and they may have a long list of tests and past procedures. Chang said deep learning systems will be able to sort through all the patient's data, prior and current lab test results, radiology reports, ECGs, and procedure reports and very quickly offer suggestions for how to best manage the patient based on current guidelines or recent large clinical study data.
He said a big advantage of deep learning is that you can give the computer a lot of data where you know the outcome and then you let the computer sift through it. The AI then determines how to create a new algorithm needed to improve risk stratification.
"This is a paradigm, because we do not set the rules, we let the computers figure it out, and then we take that algorithm developed by the computer and apply it to new patients and see if it makes sense," Chang explained. "We should not let the algorithms be the only solution, there should be cognition as well, where there can be collaboration between humans and the machine to get the best outcome."
Many AI apps have been developed to aid identification of various radiological findings in medical images. However, the development of these automated detection algorithms are similar to training a computer to identify a cat or dog using thousands of photos. In cardiology, patient issues usually are much more complex than what is seen alone in the imaging. 
"Cardiology is one of the best fields to use AI, because it has this set of problems, like complex patients, the need for decision support, wearable technology and the AI needed for that. Cardiology certainly has the portfolio of problems with the solutions that can be engendered by artificial intelligence," Chang said. 
AI Already in Use in Cardiology
AI is already helping augment cardiologists and medical imaging. Examples of AI commercially available today include automated ejection fraction (EF) calculations for point-of-care ultrasound systems (POCUS), like on the GE Healthcare Vscan.  Premium cardiac ultrasound systems like the Philips Epiq and the Siemens SC2000 use AI to automatically identify the anatomy, segment, label it, identify the optimal echo views and perform automatic measurements before the physician begins to read the case.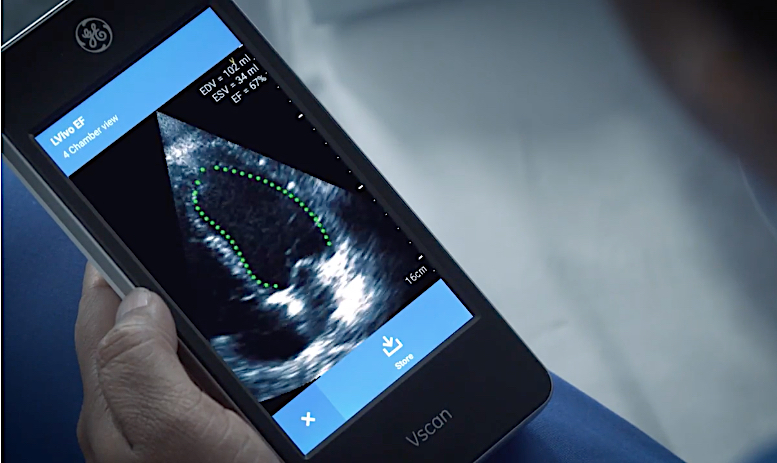 The GE Healthcare Vscan app LVivo EF offers AI-automated ejection fraction calculations. The vendor said this has been helpful in assessing COVID-19 patients at the bedside without the need to use full-sized echocardiography systems that need to be sterilized following an exam.
A couple CT software vendors now offer AI-automated calcium scoring software for cardiac CT scans, creating the report quantification information in seconds and color coding the calcium by vessel segment on the dataset slices. In the past year, GE healthcare and Canon gained FDA approval for AI-based CT iterative reconstruction algorithms to enable high diagnostic quality images from very low-dose CT scans. Siemens uses AI to isocenter patients on the scanning bed to aid in optimizing CT images.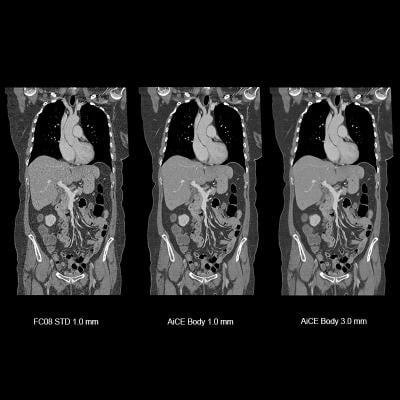 Comparison of a stabndard CT scan interative reconstruction method (left image) and artificial intelligence assisted CT image reconstruction for lower-dose CT scans using the Canon Aquilion Precision CT AiCE software.
Arterys AI-based cardiac MRI analysis software automates the quantification required to speed exam post-processing. AI is also being applied to speedup exam times and enable multiple protocol images to be created from a single scan, greatly reducing the time patients need to spend inside the MRI machine, allowing more patients to be scanned per day.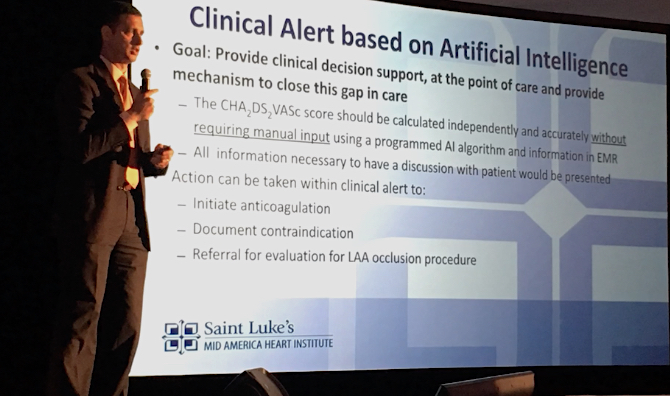 Another example is an AI app developed at St. Luke's Mid America Heart Institute to automatically risk stratify atrial fibrillation (AFib) patients. The Epic-based app stratifies patients into those who should be placed on anticoagulation, those who do not need anticoagulation, and those who are candidates for left atrial appendage (LAA) occlusion, explained Sanjaya Gupta, M.D., electrophysiologist, St. Luke's Mid America Heart Institute, and assistant professor, University of Missouri – Kansas City School of Medicine. He said this has greatly enhanced the patient selection process for LAA occlusion procedures.
"Most importantly, this helps us identify those patients that we did not realize had a problem, that's what is really key. This also helps us identify as risk patients between their regular clinic visits and allow us to call and intervene. That is really where the next level of this is going and will make a big impact on patient care quality," Gupta said. 
Watch an interview with Gupta in the VIDEO: Artificial Intelligence to Automatically Risk Stratify Atrial Fibrillation Patients.
AI algorithms are being used to automatically detect arrythmias and send alerts to patients using wearables or smartphone-based apps that record ECG. Examples of this technology are the Apple Watch and the Kardia Alivecor device. AI will likely see its biggest steps forward in cardiology for point-of-care (POC) triage apps and wearables cardiac monitoring technologies. This will speed the process of getting at-risk patients examined by a human cardiology specialist and aid in earlier detection of cardiovascular diseases. 
Related Artificial Intelligence in Cardiology Content:
Applications for Artificial Intelligence in Cardiovascular Imaging
VIDEO: Artificial Intelligence Applications for Cardiology — Interview with Anthony Chang, M.D.
Canon Medical Introduces Deep Learning-Based CT Image Reconstruction
VIDEO: ACC Efforts to Advance Evidence-based Implementation of AI in Cardiovascular Care — Interview with John Rumsfeld, M.D.
VIDEO: Example of Artificial Intelligence Integrated Into Cardiac Ultrasound
VIDEO: Use of Artificial Intelligence To Speed Cardiac Clinical Research — James Januzzi, M.D.,
How Machine Learning Empowers Echo Users Today
VIDEO: How Hospitals Should Prepare for Artificial Intelligence Implementation — Interview with Paul Chang, M.D.
How Artificial Intelligence Will Change Medical Imaging
PODCAST: Fitting Artificial Intelligence Into Cardiology — Interview with Anthony Chang, M.D.
How Will Artificial Intelligence Impact Healthcare?
VIDEO: Artificial Intelligence for Echocardiography at Mass General — Interview with Judy Hung, M.D.
VIDEO: Example of Artificial Intelligence Integrated Into Cardiac Ultrasound.
VIDEO: Overview of Artificial Intelligence and its Use in Cardiology — Interview with Anthony Chang, M.D.
Combatting the No. 1 Cause of Death With the Help of Artificial Intelligence and Advanced Technology
VIDEO: Use of Technology to Address Underserved Populations — Interview with Partho Sengupta, M.D.
Three High Impact AI Market Trends in Medical Imaging at RSNA 2019
---
If you enjoy this content, please share it with a colleague