Cardiac Imaging
The cardiac imaging channel includes the modalities of computed tomography (CT), cardiac ultrasound (echocardiography), magnetic resonance imaging (MRI), nuclear imaging (PET and SPECT), and angiography. 
Cedara's PET/CT Workstation allows the fusion of PET and CT medical images. With the assistance of PET/CT image fusion ...
Toshiba's Excelart Vantage ZGV MRI system offers new product sequences, enhanced image quality and features the Mach 8 ...
The Innova 3131IQ and 2121IQ digital flat panel biplane imaging systems cover the full size of the patient's lateral and ...
Discover the key features of cardiovascular structured reporting that drive adoption, including automated data flow, EHR ...
With a high performance portable ultrasound design, the echo Ultrasound System provides unique advantages in the field ...
Feature | Jeffrey J. Fine, Ph.D., M.S., and Michael C. Foster, M.D., FACC, South Carolina Heart Center, Columb
An asymptomatic 75-year-old woman with a history of coronary artery disease, angioplasty, coronary artery bypass ...
Novelists and playwrights might call it a cruel irony —  heroes who succumb to the powers of evil, true love tragically ...
Cardiologists need information from multiple sources to make accurate diagnoses and plan interventional therapies. The ...
Although healthcare budgets are tight, needs are expanding. Clinical facilities are continuously looking for ways ...
I only just heard the term "positive remodeling" for the first time last fall, and I assumed it was something ...
In the microscopic world of arterial plaque, the only positive thing about positive remodeling is that physicians can ...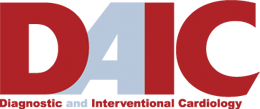 Subscribe Now