Computed Tomography (CT)
Cardiac computed tomography CT systems use a series of X-ray images to create an image volume dataset that can be sliced or manipulated on any plane using advanced visualization software. This channel includes content on CT scanners, CT contrast agents, CT angiography (CTA and CCTA), CT perfusion, spectral CT (also called dual souce or dual energy CT), and interative image reconstruction software that can reduce dose and make lower-quality CT images diagnostic.

The practice of cardiology is going through incredible changes. With more cardiologists interpreting CT data ...
New technologies adopted by cardiologists not only improve patient care but expand the role of these physicians ...
The Aquilion 64 CFX features advanced multidetector CT imaging technology and is currently being validated in the ...
Chest pain is a common complaint among ED patients, yet failure to diagnose acute myocardial infarction in the trauma ...
In the microscopic world of arterial plaque, the only positive thing about positive remodeling is that physicians can ...
Feature | Jeffrey J. Fine, Ph.D., M.S., and Michael C. Foster, M.D., FACC, South Carolina Heart Center, Columb
An asymptomatic 75-year-old woman with a history of coronary artery disease, angioplasty, coronary artery bypass ...
I only just heard the term "positive remodeling" for the first time last fall, and I assumed it was something ...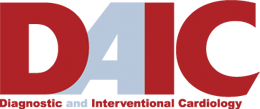 Subscribe Now