Hybrid OR
This channel includes news and new technology innovations connected with hybrid operating rooms, also referred to as hybrid ORs, hybrid cath labs or hybid interventional suites. These rooms combine catheterization lab and OR technologies and requirements fro both open surgical and transcatherer procedures.
September 14, 2012 — Barco announced the launch of its MDSC-2226, a 26-inch surgical display providing full ...
Sept. 4, 2012 — Medtronic has reached two clinical program milestones for its CoreValve transcatheter aortic valve ...
August 14, 2012 — The next five years will see many hospitals in Europe overcoming the high cost and complexity of ...
August 3, 2012 — GE Healthcare announced it has already received six orders for its Discovery IGS 730 system since ...
Feature | Suzanne Winter, general manager, GE Healthcare interventional systems, Americas
Interventional procedures are growing rapidly and becoming more specialized in diverse areas of care.  In the next ...
July 26, 2012 — Any exposure to radiation, no matter how small, has the potential of leading to future health issues ...
July 20, 2012 — Sony Electronics is announcing the world's first medical-grade monitor, model PVM-2551MD, based on ...
Each year, I find it interesting that some "new" technology being introduced by a vendor is actually an old, recycled ...
Cath lab volumes have gone down in recent years for several reasons, but one of the biggest reasons might be market ...
July 17, 2012 — Panasonic announced a new 3-D medical-grade 32-inch class monitor, the EJ-MDA32U-K. The new 3-D monitor ...
July 6, 2012 — With last year's U.S. Food and Drug Administration approval of transcatheter aortic valve replacement ...
Three big trends were seen in cardiovascular ultrasound during the American Society of Echocardiography (ASE) 2012 ...
June 18, 2012 — Epicardial ablation device maker Contact Inc. announced that new long-term physician data demonstrated ...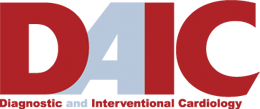 Subscribe Now