Stroke
This channel includes news and new technology innovations for stroke. It includes both diagnosis and treatment of stroke, stroke imaging, pharmaceuticals and interventional stroke technologies. Stroke comes in two forms, which have different therapies.
1. Ischemic stoke is a blockage of an artery in the brain, preventing blood flow and is offen referred to as a "brain attack" because it is a similar casue as a heart attack. This type of stroke is often treated with anti-coagulants, including use of tissue plasminogen activator (tPA). Interventional mechanical thrombectomy can also be used to remove the clot.
2. Hemorrhagic stroke is caused when there is bleeding due to a ruptured blood vessel in the brain caused by a brain aneurysm burst or a weakened blood vessels. These strokes are less common, but exact diagnosis is important, because use of tPA in these patients can have catastrophic consequences. Treatments include interventional embolization and surgical clipping of target vessels. 
April 5, 2018 — Medical imaging company Brainomix has attracted £7m ($9.8 million) of investment to bring its artificial ...
April 3, 2018 — Following the unprecedented Gore REDUCE Clinical Study conclusion that closure of patent foramen ovale ...
March 30, 2018 — The Marcus Foundation has donated $15 million to establish the Marcus Stroke Network, a coordinated and ...
There were several notable presentations of new data on cardiovascular technologies at the recent 2018 American College ...
March 20, 2018 — Patients with acute coronary syndrome experienced a substantially lower rate of heart attack, stroke ...
March 20, 2018 — Among people with a type of hole in the heart, known as patent foramen ovale (PFO), those who received ...
February 15, 2018 — The U.S. Food and Drug Administration (FDA) has expanded the indication for Stryker's Trevo ...
February 14, 2018 — The U.S. Food and Drug Administration (FDA) announced marketing clearance for Viz.AI's Contact ...
February 5, 2018 — Sacs of fluid in the kidneys may indicate there is also blood vessel damage in the brain and a height ...
January 25, 2018 – Penumbra Inc. today announced results of the company-sponsored PROMISE Study, demonstrating real ...
January 16, 2018 — Medtronic plc announced the company's Neurovascular business unit received U.S. Food and Drug ...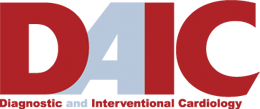 Subscribe Now