Stroke
This channel includes news and new technology innovations for stroke. It includes both diagnosis and treatment of stroke, stroke imaging, pharmaceuticals and interventional stroke technologies. Stroke comes in two forms, which have different therapies.
1. Ischemic stoke is a blockage of an artery in the brain, preventing blood flow and is offen referred to as a "brain attack" because it is a similar casue as a heart attack. This type of stroke is often treated with anti-coagulants, including use of tissue plasminogen activator (tPA). Interventional mechanical thrombectomy can also be used to remove the clot.
2. Hemorrhagic stroke is caused when there is bleeding due to a ruptured blood vessel in the brain caused by a brain aneurysm burst or a weakened blood vessels. These strokes are less common, but exact diagnosis is important, because use of tPA in these patients can have catastrophic consequences. Treatments include interventional embolization and surgical clipping of target vessels. 
April 24, 2019 — Stroke patients examined remotely by a teleneurologist were treated as quickly and effectively after ...
April 10, 2019 — According to a new research study, straight tip guidewires, with a current share of more than a third ...
March 19, 2019 – iSchemaView announced the company's co-founder Gregory Albers, M.D., has received the Distinguished ...
March 18, 2019 — The choices we make every day can have a lasting effect on our heart and vascular health. Adopting a ...
March 1, 2019 — iSchemaView announced the release of RAPID Angio, a complete neuroimaging solution for the angiography s ...
February 15, 2019 — Corindus Vascular Robotics Inc. is seeking premarket clearance from the U.S. Food and Drug ...
February 7, 2019 — Giving birth is associated with a 14 percent higher risk of heart disease and stroke compared to ...
February 5, 2019  — Stroke survivors have better quality of life three months after their stroke if the clot that caused ...
Catheter-based blood clot removal a decade ago was a standard of care for acute coronary revascularization, but declined ...
December 18, 2018 — Irish medical device company AuriGen Medical won the prestigious Global Innovation Award at the ...
December 12, 2018 — In stroke, time saved on imaging is time gained in the treatment window. The recently updated ...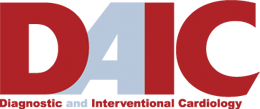 Subscribe Now