Stroke
This channel includes news and new technology innovations for stroke. It includes both diagnosis and treatment of stroke, stroke imaging, pharmaceuticals and interventional stroke technologies. Stroke comes in two forms, which have different therapies.
1. Ischemic stoke is a blockage of an artery in the brain, preventing blood flow and is offen referred to as a "brain attack" because it is a similar casue as a heart attack. This type of stroke is often treated with anti-coagulants, including use of tissue plasminogen activator (tPA). Interventional mechanical thrombectomy can also be used to remove the clot.
2. Hemorrhagic stroke is caused when there is bleeding due to a ruptured blood vessel in the brain caused by a brain aneurysm burst or a weakened blood vessels. These strokes are less common, but exact diagnosis is important, because use of tPA in these patients can have catastrophic consequences. Treatments include interventional embolization and surgical clipping of target vessels. 
February 3, 2020 — The U.S. Food and Drug Administration (FDA) has approved a the CATALYST trial designed to assess ...
December 18, 2019 — Append Medical, developer of a novel left atrial appendage (LAA) closure device to minimize stroke ...
November 20, 2019 — Frequent cannabis (marijuana) use among young people was linked to an increased risk of stroke, and ...
November 11, 2019 — Although common femoral artery (CFA) endarterectomy is still considered the gold standard treatment ...
October 18, 2019 — An algorithm developed by faculty at The University of Texas Health Science Center at Houston ...
August 16, 2019 — Every second counts for stroke patients, as studies show they can lose up to 27 million brain cells ...
July 25, 2019 — Penumbra announced U.S. commercial availability of the Penumbra System's most advanced technology, the ...
July 19, 2019 — A new method of evaluating irregular heartbeats outperformed the approach that's currently used widely ...
June 19, 2019 — Zebra Medical Vision announced it has received its third U.S. Food and Drug Administration (FDA) 510(k) ...
June 13, 2019 — Silk Road Medical Inc. announced the presentation of real-world data for the treatment of patients with ...
June 12, 2019 — Boston Scientific Corp. has initiated the OPTION trial to compare safety and effectiveness of the next ...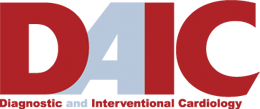 Subscribe Now