I have been looking for new ways to show readers interesting things I find during the medical conferences I attend, so DAIC now covers all the meetings using live posts on Facebook (our page can be found at "Diagnostic and Interventional Cardiology - DAIC" — www.facebook.com/DAIC.magazine). Here are photos from some of the cool things I found at the American College of Cardiology (ACC) 2018 meeting in Orlando. 
Some of the items below were highlighted in detail in the VIDEO "Editor's Choice of Most Innovative New Cardiac Technology at ACC 2018."

Canon (formally Toshiba Medical Systems) is showing an updated version of its Aplio 900 cardiovascular ultrasound system at ACC 2018. Here is a view of the new 4-chamber tracking view, which is presented as a video shoing the motion of all four chambers at once. It combines blood volume data from the four separate chamber measurements to create this 4-D visualization of the heart. The latest version of the system was cleared by the FDA in January. 

GE Healthcare echo released the Imaging Elevated version of its cSound technology on its E95 cardiovascular ultrasound system. It has an improved frame rate on its TEE, nearly triple the rate per heart beat. The system release at ACC also included a new pediatric TEE probe and a new all-in-one small cardiac probe to eliminate the need for muliple probes.
Here is the Abbott HeartMate 3 up close. New data on the device presented in the late-breaking sessions showed at two years its magnetic levitated centrifugal pump had a very low risk of causing clotting, reducing the stroke rate in long-term implant patients. Here is a link to the story. I had the chance to speak with Reggie, who is a 47-year-old HeartMate 3 recipient awaiting a heart transplant. He was a patient ambassador at ACC to explain his experience so far with the device. He is holding the battery pack for his LVAD. He was at the Abbott booth as a patient ambassador at ACC.18.

Here is a comparison image of the HeartWare LVAD system that was also being shown on the show floor at ACC18. Like the HeartMate 3, this system also uses a magnetically levitated impeller pump.

Siemens launched a new portable cardiovascular ultrasound solution, the Acuson Bonsai, designed as a portable and quick system with high-quality imaging for use in the echo lab, cath lab and OR. It was developed with Mindray. It offers 2-D echo in a compact unit. It has a sealed keyboard to easily clean off blood or other fluids.

Here is a new version of the iRhythm Zio wearable heart monitor on display at the 2018 American College Of Cardiology Foundation (ACC). There are numerous vendors this year on the expo floor showing similar wearable heart monitors, but this device has the most accumulated clinical data from numerous studies. Read more about the device.

The Houston Methodist Debakey Heart Center is showing off a Corindus Corpath Robotic Cath Lab catheter guidance system in its booth at the American College of Cardiology (ACC) 2018. The Corpath recently gained FDA for use in the peripheral vessels.

For hospitals looking to take control of their patient event monitoring from third party services, Cardiac Insight's Cardea Solo event monitoring system might be a solution. The single lead ECG device is an adhesive wearable that can be torn open at the end of the monitoring period to pull out a small data pod. This is placed in a reader and the software automatically created a report with drill down data and waveforms of all events. It gained FDA clearance in 2017. 

Cordis at ACC 2018 is showing the recently FDA-cleared Elunir ridaforolimus-eluting coronary stent. It marks Cordis' re-entry into the U.S. DES market after several years. Cordis was once the dominant stent vendor until it was knocked out by newer stents from Boston Scientific, Abbott and Medtronic about 10 years ago. Read more information on the Elunir stent's FDA clearance.

Here is a sampling of some of the most Interesting ways pharmaceutical companies at the American College of Cardiology (ACC) 2018 meeting tried to draw cardiologists into their booths. This include nitrogen ice cream that was made with the milk mixture being frozen instantly with liquid nitrogen, an escape room to show cards how to "escape MI" and sweet parfaits.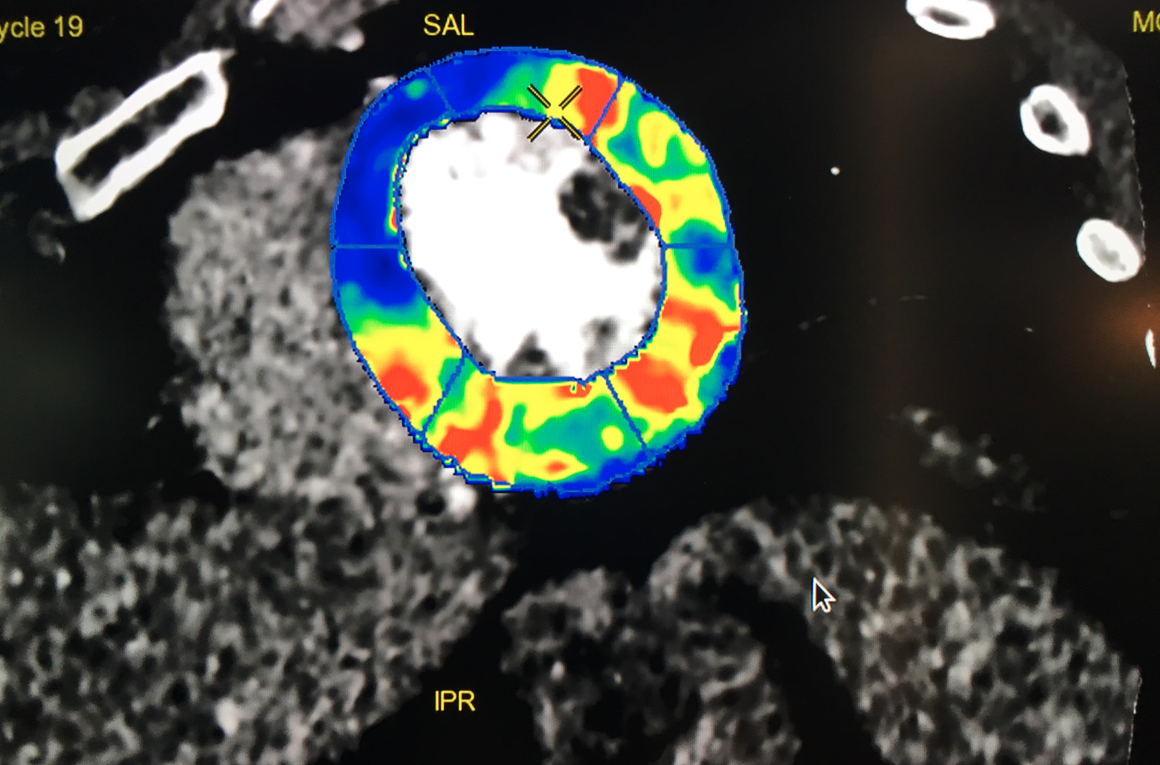 GE Healthcare this week at the American College Of Cardiology (ACC) showed a new, workflow simplified version of its CT perfusion software. The company listened to feedback from users who said it needs to be easier to navigate and use, so the company created three simple tabs at the top of the screen to aid navigation. CT perfusion tracks iodine contrast levels as it flows with the blood through the myocardium. It has much better anatomical image quality over nuclear perfusion imaging. As data mounts on its efficacy, there has been rapidly increasing interest by hospitals over that past year or two. Read the article "CT Perfusion Ready For Prime Time" 

Interesting LEGO hospital on display in the booth for Rooti at ACC 2018. The company makes an FDA cleared, wearable ambulatory monitor, one of many displayed on the expo floor. 

Here is the opening late-breaker session at ACC 2018 right now. The main tent hall was packed to capacity with people being turned away at the door and having to watch the presentations on remotes screens. Here is a shot I took over the heads of the people spilling outside of the hall.
---
If you enjoy this content, please share it with a colleague