MRI scan of heart damaged by COVID, which can cause myocarditis, infarction and/or ischemia. Blue means reduced blood flow, orange is good blood flow. In this figure the inferior part of the heart shows dark blue, so the myocardial blood flow is very reduced. The angiogram shows the coronary artery which supplies the blood to this part of the heart is occluded. The three colored MRI images show different slices of the heart — the basal mid and apical slices. Read more. Image courtesy of European Heart Journal
DAIC's sister radiology magazine Imaging Technology News (ITN) has created a photo gallery that shows a variety of radiological presentations of COVID-19 (SARS-CoV-2) in medical imaging, including computed tomography (CT), radiograph X-rays, ultrasound, echocardiograms, spectral CT, nuclear imaging and magnetic resonance imaging (MRI). The radiology images show examples of typical COVID pneumonia in the lungs and the numerous complications the virus causes in the body in multiple organs, including the brain, kidneys, heart, abdomen and vascular system. Examples also include swollen lymph nodes caused by the COVID vaccines that may be interpreted as a false-positive cancer finding.
Visit the full image gallery on the ITN website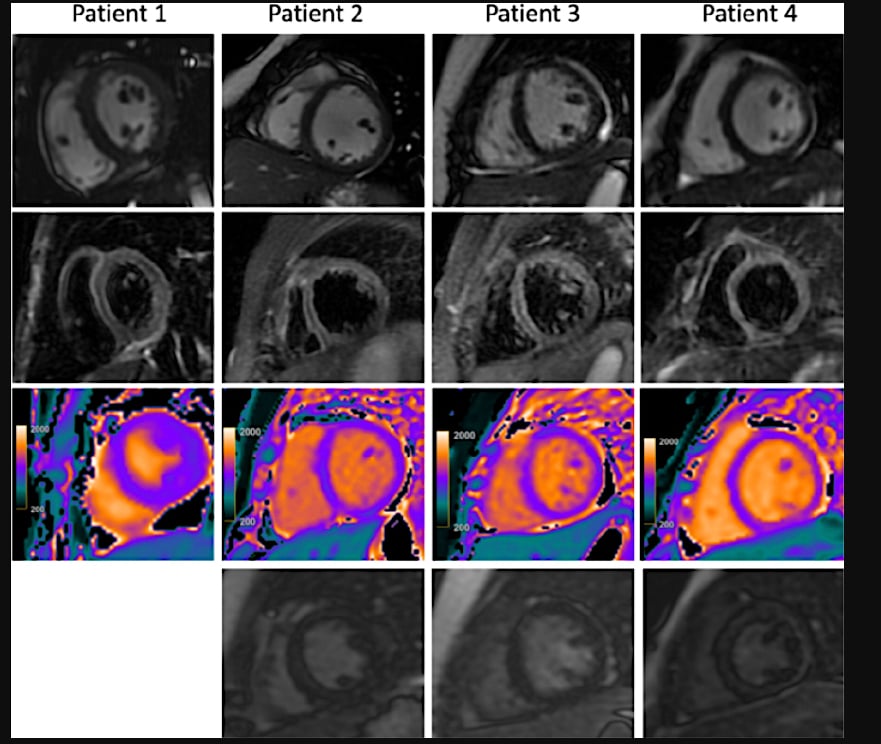 MIS-C MRI Pediatric COVID patient. Cardiac MRI for four children with clinical diagnosis of acute myocarditis in the setting of COVID-19–related Kawasaki-like symptoms of multisystem inflammatory syndrome in children (MIS-C). This severe autoimmune response that occurs a couple weeks after exposure to the SARS-CoV-2 virus. While COVID is largely asymptomatic in pediatric patients, MIS-C is a rare and severe reaction to the virus, which has occurred in more than 1,000 U.S. children as of late October 2020, including several fatalities. Read the article Cardiac MRI Aids Evaluation of Children With Multisystem Inflammatory Syndrome (MIS-C) Associated With COVID-19
COVID-19 causes blood clots throughout the body in patients with moderate to severe disease. This is a thrombus formation in the aortic arch in a 46-year-old COVID patients in the ICU. Three trials are underway in late to find which anticoagulant strategy is best to treat moderate and critically ill patients where COVID-causes venous thrombo-embolism (VTE) is a major cause of complications. Read more on the trials. Image courtesy of Margarita Revzin et al.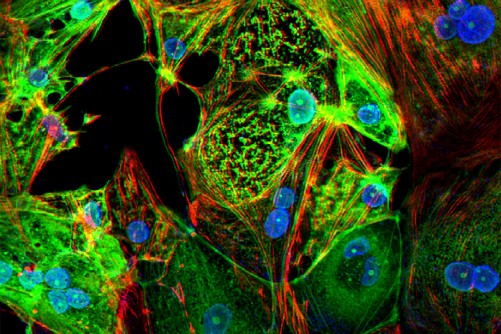 A study from Washington University School of Medicine in St. Louis provides evidence that the coronavirus can invade and replicate inside heart muscle cells, causing cell death and interfering with heart muscle contraction. The image of engineered heart tissue shows human heart muscle cells (red) infected with COVID-19 (SARS-CoV-2) (green). Read more. Image by Lina Greenberg.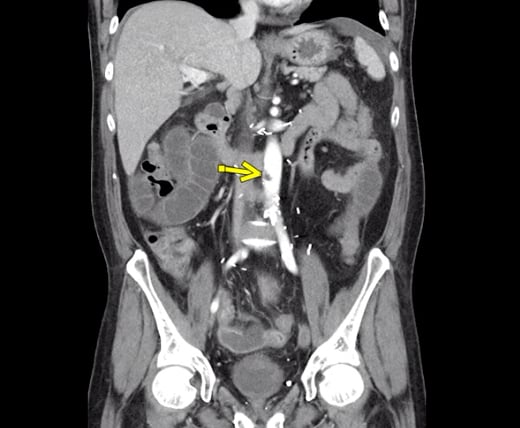 COVID caused aortic thrombosis.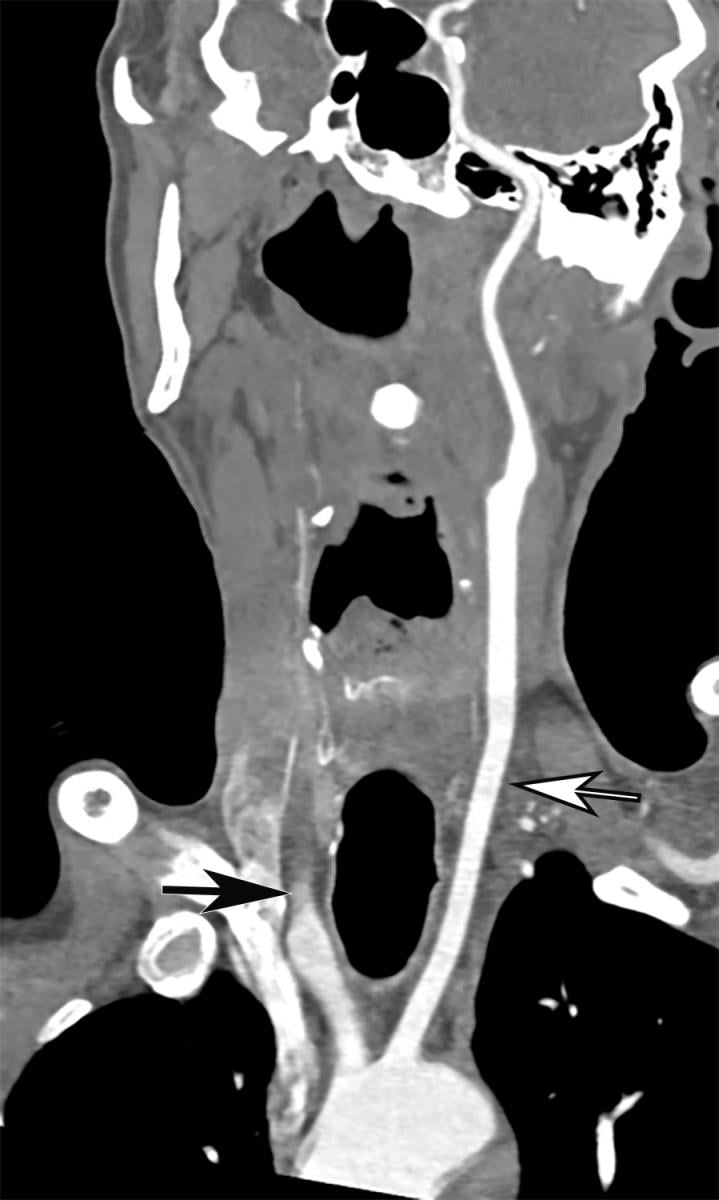 Common carotid artery (CCA) occlusion in a 56-year-old woman with neurologic deficits who had been hospitalized with COVID-19. Coronal three-dimensional maximum intensity projection reformatted image of the head and neck show an abrupt cutoff at the origin of the CCA (black arrow). The left carotid vasculature is well opacified with intravenous contrast material (white arrow). Image courtesy of Margarita Revzin et al.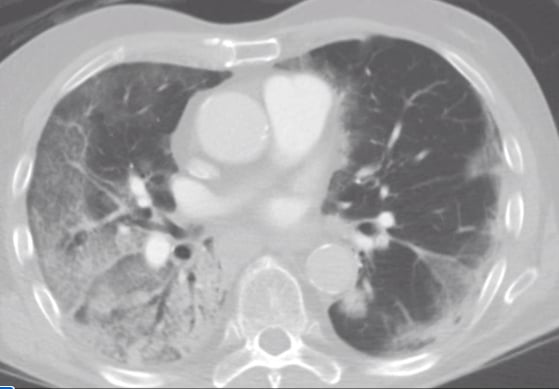 COVID pneumonia in a CT scan, shown as the cloudy areas in the lungs, which should be black in healthy patients.

Damage from COVID to myocardial cells in the hearts of patients who died of the virus. COVID-19 kills cardiomyocytes in random patterns. This may be the cause of some heart issues during COVID infection, but the long term consequences are not yet known in long-hauler COVID patients. Read more. Image from Circulation.
---
If you enjoy this content, please share it with a colleague