This webinar will explain technical considerations when performing cardiac CT angiography in pediatric patients. It includes discussion about applications available on newer generation CT scanners that pertain to pediatric cardiovascular CT.
This webinar is co-sponsored by DAIC and the Society of Cardiovascular Computed Tomography (SCCT), and supported by an educational grant from Canon Medical Systems USA.
The webinar takes place June 27 at 10 a.m. CST / 11a.m. EST. It is the second webinar in a two-part series. You can view the first webinar, Myocardial CT Perfusion: A Comprehensive Appraisal of Patient Selection and Technique in a Multimodality Imaging Environment, here.
Register for the on-demand webinar
Topics/Objectives:
Learn about technical considerations when performing cardiac CT angiography in pediatric patients.
Gain knowledge about applications available on new generation CT scanners, pertaining to pediatric cardiovascular CT.
Get information on strategies to reduce radiation doses imparted during the performance of cardiac CT in young patients
Hear about the advantages of pediatric cardiac CT via clinical vignettes
Speaker: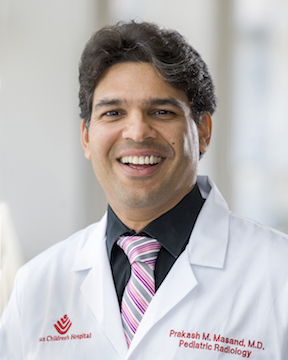 Prakash M. Masand, M.D., Director, 3D Imaging Lab, Texas Children's Hospital
Among his many roles and contributions to radiology, Masand is an associate professor at Baylor College of Medicine in Houston, Texas. He currently serves on the radiology faculty in the Department of Pediatric Radiology at Texas Children's Hospital, where he is the director of both the division of body and cardiovascular imaging, and the 3D imaging lab. He completed fellowships in pediatric radiology, cardiothoracic imaging, neuroradiology and magnetic resonance imaging within the Mallinckrodt Institute of Radiology at Washington University in St. Louis, Mo. 
Texas Children's Hospital named Masand Teacher/Clinical Educator of the Year, Department of Radiology. Notably, he earned a Norton Rose Fulbright Award for Excellence in Teaching and Education from Baylor College of Medicine, becoming the first pediatric radiologist to do so. Nominated by his peers as one of Houston's Top Doctors, he has also served as a Kenneth Fellowes Visiting Professor at Children's Hospital of Philadelphia. A widely-published author, he serves on the editorial boards of six medical journals and has served as principal investigator in numerous clinical trials.
Intended Audience:
This activity is intended for radiologists and cardiologists involved in cardiac CT imaging.
Register for the on-demand webinar