Khaldoon Alaswad, M.D., right, director, cardiac catheterization lab, during a complex CTO procedure at Henry Ford Hospital. (Photo by Dave Fornell)
Henry Ford Hospital thought leaders regularly speak at the cardiology conferences about new research and technology innovations. So, it was an honor when DAIC was invited to conduct a site visit at Henry Ford recently to tour its facilities, sit in on procedures and conduct numerous video interviews to better understand the workings of the institution.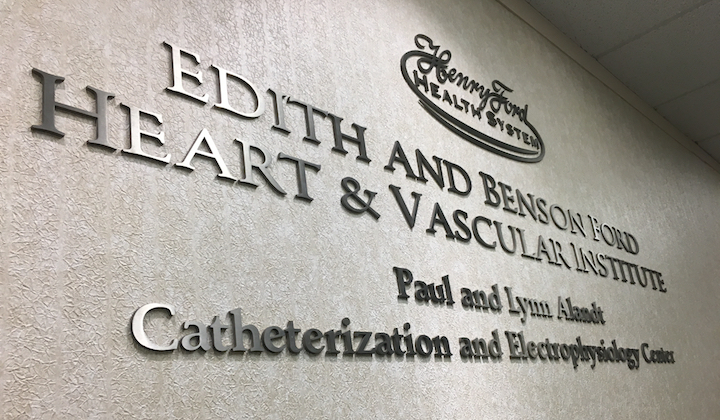 We spent two days at Henry Ford. We started at 5 a.m. and ended a nonstop day at 7 p.m. to get a taste of a day-in-the-life of Henry Ford staff. Some of the physicians we spoke with early in the morning were still hard at work on complex cases into the early evening. 
Henry Ford is known as a pioneer in structural heart interventions, including transcatheter aortic valve replacement (TAVR), transcatheter mitral valve replacement (TMVR) and transcatheter repair, and left atrial appendage (LAA) occlusion. Several of its physicians are also well known experts in complex percutaneous coronary intervention (PCI), including chronic total occlusion (CTO) procedures. These procedures require a high level of advanced visualization, which Henry Ford has helped develop standards for and uses a large amount of both 3-D printing and 3-D computer modeling to assess patients, plan and guide procedures. In recent years, Henry Ford spearheaded the Detroit Cardiogenic Shock Initiative with several other Detroit area hospitals as an experiment to see if a change in hemodynamic support protocols could improve survival. It did, and that effort has now spread across the country as the National Cardiogenic Shock Initiative. DAIC spoke with the hospital's experts on all of these topics, and the video links can be found below. 
Top-ranked Structural Heart Program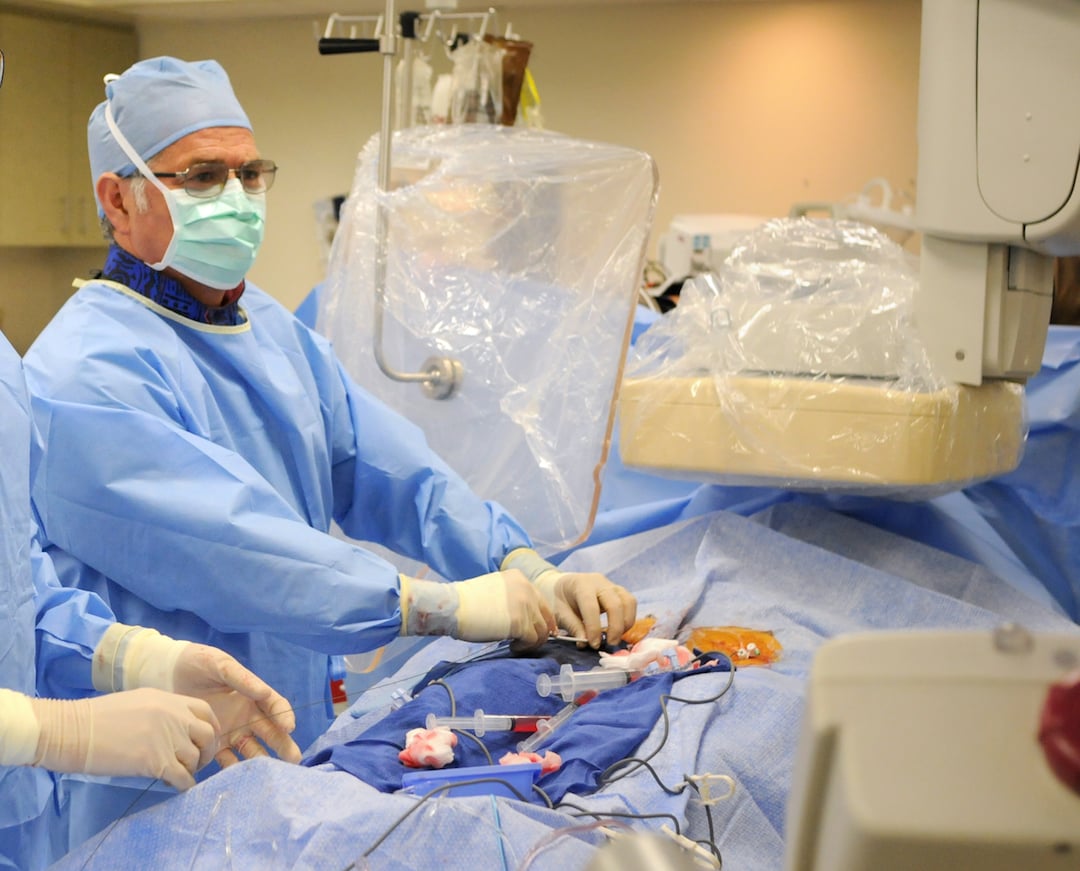 Henry Ford Hospital has built a large, high-volume structural heart program that includes use of cutting-edge new technologies and devices. DAIC spoke with William O'Neill, M.D., director of the Henry Ford structural heart program, Ruth Fisher, MBA, vice president of the program, and Janet Wyman, NP, program manager, about the program in the VIDEO: Overview of the Henry Ford Hospital Structural Heart Program.
They also explained how Henry Ford has been able to build its program and work with hospitals throughout Michigan, including those with their own TAVR programs. They said building relationships with referral centers as partners and ensuring the patients go back to their local physicians for followups and regular care is key. They share their insights in the VIDEO: How to Get Referral Patients Into a Structural Heart Program.
Many patients who qualify for TAVR have anatomical issues with the femoral access route, usually caused by heavy calcium in the femoral and iliac arteries or in the aorta. To overcome this and avoid the need for a surgical cutdown for transapical access to the heart, Henry Ford developed the transcaval access technique. This involves catheter entry into the femoral vein, using an electrosurgical cutter to cross over into the aorta and continuing on to the heart to deliver the TAVR device. 
Hear more about the procedure in the VIDEO: Transcaval Access in TAVR Procedures, or in the article How to Perform Transcaval TAVR Access.
Watch a VIDEO walk through of the main Henry Ford structural heart cath lab.
View an interactive 360 degree photo of the main hybrid cath lab.
Transcatheter Mitral Valve Interventions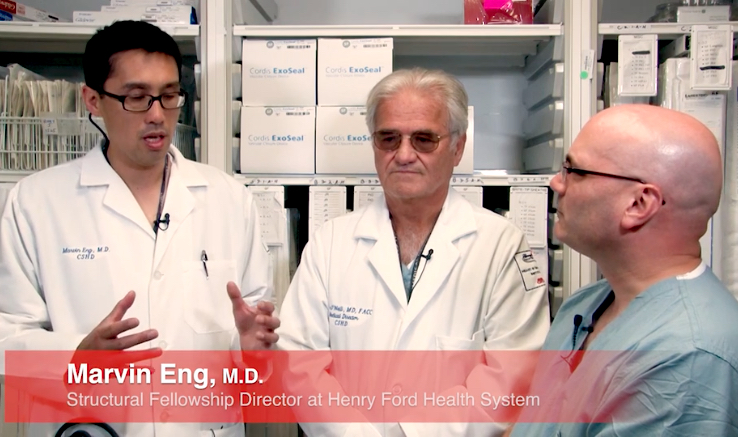 The next frontier in structural heart interventions is transcatheter mitral valve repair and replacement technologies. Henry Ford performs a large number of MitraClip procedures each year and uses new technologies in trials, including the Cardioband transcatheter annuloplasty system. 
Marvin Eng, M.D., structural fellowship director, and William O'Neill explain the procedures they perform in the VIDEO: Transcatheter Mitral Valve Interventions at Henry Ford Hospital.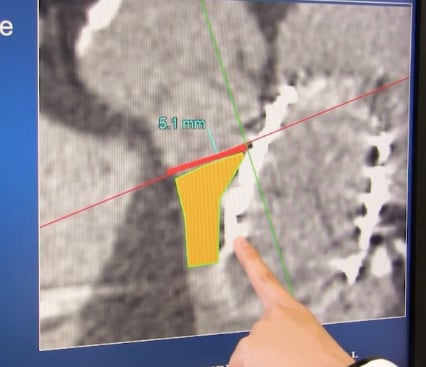 The hospital also performs transcatheter valve-in-valve (VIV) mitral replacements using the Edward's Sapien TAVR valve. These are often done in patients who have been turned down for surgical mitral valve replacements because they are too frail. Henry Ford's Dee Dee Wang, M.D., director of structural heart imaging, has been a pioneer in this area of imaging. Since the Sapien was not designed for the mitral valve anatomy, it hangs down into the left ventricle and can block the left ventricular outflow track (LVOT). Wang said patient survival depends on keeping the the LVOT clear and uses 3-D imaging to predict what the neo-LVOT will look like and to mark proper landing zones to seat the valve prior to VIV or TMVR procedures. She explains what is required in the VIDEO: The Importance of the Neo-LVOT in Transcatheter Mitral Valve Replacement.
The center treats a lot of patients who have been turned down for procedures elsewhere because they were too sick and Henry Ford is a last resort. This has led the center attempting several innovative procedures that use existing off-the-shelf technologies, such as treating severe tricuspid regurgitation with Edwards Sapien valves placed in the vena cava. Here is a 360 degree image of Wang explaining this caval valve implantation (CAVI) procedure and the imaging that is required.  
Henry Ford's Complex PCI and CTO Program
Like its structural heart program, Henry Ford also gets a lot of referrals for very sick patients seeking a last resort treatment in its high risk percutaneous coronary intervention program (CHIP). Many of these are chronic total occlusions (CTOs) of the coronary arteries.  
DAIC spent time with CTO expert Khaldoon Alaswad, M.D., director, cardiac catheterization lab. In his office he flipped through patient case angiograms and read the images like a book, explaining each patient's story and how they tackled difficult situations they encountered in the lab. We also sat in on a CTO case with him. You can hear more about the program and Alaswad's suggestions for tackling CTOs, and see footage from his case in the VIDEO: How to Treat CTOs and Complex PCI Cases.
View a 360 degree photo of one of his CTO procedures.
State-of-the-Art Imaging and Dose Reduction Technology
As interventional cases become more complex, especially with longer and more involved CTO and structural heart procedures, Henry Ford Hospital looked for replacement angiography systems that could provide both improved image quality and reduce dose for both the cath lab staff and patients. Structural heart interventional also requires a transesophageal echo (TEE), and the hospital looked for a system that could integrate TEE with live fluoroscopy for better procedural guidance of devices. The hospital partnered with Philips Healthcare to provide both imaging systems, which includes the Azurion angiography system in its primary hybrid cath lab and the EchoNavigator that fuses live TEE with live fluoro imaging.
Nicolas Bevins, Ph.D., vice chair, physics and research, and Jessica Harrington, RCIS, explain the use of shields, technique and use of newer angiography technologies to reduce X-ray radiation dose in the cardiac cath labs during these longer procedures in the VIDEO: Reducing Cath Lab Radiation Dose at Henry Ford Hospital.
Akshay Khandelwal, M.D., director of medical operations at the Henry Ford Heart and Vascular Institute and associate professor of cardiology at Wayne State University, also explains how Henry Ford has reduced its X-ray radiation dose in the cardiac catheterization labs in the VIDEO: Technologies and Techniques to Reduce Radiation Dose in the Cardiac Cath Lab.
Leader in Reducing Cardiogenic Shock Mortality
Henry Ford Hospital helped spearhead the Detroit Cardiogenic Shock Initiative that morphed into the National Cardiogenic Shock Initiative (NCSI). By starting percutaneous hemodynamic support first before beginning revascularization on heart attack patients in cardiogenic shock, the initiative has seen a 50 percent increase in survival.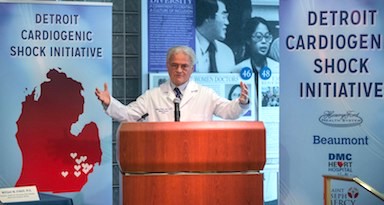 The devastating heart attack complication affects about 5-8 percent of heart attack patients in the United States annually, but has a 50 percent mortality rate, which has remained unchanged for 40 years, O'Neill explained. He said the new protocol takes advantage of the Abiomed Impella system, a catheter-based ventricular assist device that provides forward blood flow from the heart to keep organs perfused until the coronary arteries can be reopened. 
The big increase in survival using the new NCSI protocol was presented at the 2018 TCT and AHA meetings by Babar Basir, D.O., and O'Neill. They discussed the results in the VIDEO: How to Reduce Cardiogenic Shock Mortality by 50 Percent.
O'Neill offers a great overview of the National Cardiogenic Shock Initiative in this VIDEO.
In terms of hemodynamic support for all patients, Henry Ford has adopted a "go big or go home" philosophy. The center opts for Impella, TandemHeart or extracorporeal membrane oxygenation (ECMO) rather than using intra-aortic balloon pumps (IABP), because if a patient needs support, it is better to given them a lot of support early on, said Michele Voeltz, M.D., fellowship program director, interventional cardiology. O'Neill and Voeltz offer a good overview in the VIDEO: Hemodynamic Support Protocols at Henry Ford Hospital.
Use of Advanced Imaging and 3-D Printing in Structural Procedures
Henry Ford Hospital was a pioneer in the use of a 3-D printing lab as part of its renowned structural heart program. "We get a lot of high-risk patients who are turned down by other institutions and because of our heart team and the transcatheter procedures we offer," Wang said. Many patients referred to her center are too frail, old or sick to be surgical candidates and they come to Henry Ford as a last resort. For this reason, precision is important, so 3-D printing was adopted to review complex anatomies and new types of procedures. Henry Ford recently celebrated treating its 1,000th patient using 3-D printed hearts from the patient's CT scan to help plan and navigate in complex anatomy. 
"There is added value of 3-D printing during procedures, but what we quickly learned was that the real value of 3-D printed anatomy is in the physical shape," Wang explained. However, she said it was not as impactful in adult structural heart disease or interventions as originally planned. She said the problem with 3-D models is that it freezes the motion of the heart in a static position. Since the physiology of the heart is constantly moving, a 3-D print cannot predict the exact impact of a procedure on the anatomy or function of the moving heart.
CT imaging can determine what device size to put into a patient, Wang said. "What we were missing is computer-aided design (CAD), because then you have the technology to see depth,
angulation, diameters and anatomical constrains," she explained. For this reason, Henry Ford has been an early adopter of the Mimics Innovation Suite CAD software from the 3-D printing vendor Materialise. This medical-grade software creates dynamic, virtual 3-D models where virtual devices can be placed to look at their impact on hemodynamics, or how the movement of the heart is impacted. 
Wang explains more in the VIDEO: Applications in Cardiology for 3-D Printing and Computer Aided Design.
(Editor's note - this article was originally published in May 2019 and was revised Oct. 1, 2019)
Find more news and video from Henry Ford Hospital.
Read about Henry Ford's radiation oncology and radiology innovations.
---
If you enjoy this content, please share it with a colleague