The Conavi Novasight hybrid intravascular imaging system that combines IVUS and OCT.
December 15, 2021 — Conavi Medical Inc. has entered into agreements for over $20 million in funding to support commercialization and growth as it prepares its innovative Novasight Hybrid System for market. The company aims to raise an additional $10 million as part of an ongoing financing effort.  
The Novasight Hybrid System for interventional cardiology is used during common minimally invasive heart procedures. The technology is the first clinical system that enables simultaneous and co-registered imaging of coronary arteries with both intravascular ultrasound (IVUS) and optical coherence tomography (OCT). The Novasight Hybrid System was recently featured as part of a live case performed by New York Presbyterian Hospital and broadcast during the TCT 2021 conference.
"This transformational funding is a testament to the potential the Novasight Hybrid System has on a global scale. It provides the company with the runway to reach important operational and commercial milestones as we drive the value proposition of this innovative system," said Thomas Looby, Conavi Medical CEO.
Angioplasty and stenting are performed over 4 million times around the world every year as an important part of the treatment of coronary artery disease, including patients suffering from heart attacks and angina. Recent randomized studies with existing IVUS systems have shown that intravascular imaging has the potential to significantly improve clinical outcomes during angioplasty and stenting.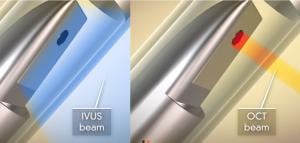 "By combining the two most commonly used imaging modalities - ultrasound and OCT - our system provides a comprehensive assessment of coronary arteries, which is useful for determining the size of the artery as well as both the nature and extent of the plaque" said Dr. Brian Courtney, chief medical officer and co-founder, Conavi Medical. "A number of studies from around the world are consistently demonstrating that intravascular imaging improves procedural results in percutaneous coronary interventions (PCI) and its use is growing. Hybrid imaging with IVUS and OCT will play an important role in this growth through its synergistic versatility in a wide range of coronary interventions and potential for greater ease and consistency of interpretation."
  
Novasight Hybrid System has 510(k) clearance from the U.S. Food and Drug Administration (FDA), and regulatory approval for clinical use from Health Canada, and the Ministry of Health, Labor and Welfare (MHLW) in Japan.
For more information: http://www.conavi.com/
 
---
If you enjoy this content, please share it with a colleague