Tufts Medical Center created a heart failure team approach to care for its patients. The program includes an interventional heart failure fellowship program, where interventional cardiologists learn more advanced hemodynamic support methods, as shown here with an ECMO procedure being performed in a cath lab at Tufts. The interventional cardiologists learn how to better care for heart failure patients and interface with surgeons, intensivists and others on the HF care team. Photo by Dave Fornell.
There is no, single magic bullet in heart failure (HF) to easily reduce readmission rates or easily reverse this complex disease. However, there are numerous strategies being adopted by hospitals to better manage these patients. Presented here are three ideas hospitals are using, including creation of heart failure care teams, the use of smart algorithms and IT systems to keep better track of patients and their follow-up, and use of consumer wearable devices to track patients between doctor visits to identify issues early. 
1. Using the Heart Team Approach in Heart Failure
Tufts Medical Center in Boston has created a heart failure team to better care for patients. It consists of various stakeholders, including interventional cardiology, advanced heart failure, cardiothoracic surgery, electrophysiology, cardiac imaging and critical care specialists. The advanced heart failure board meetings to review patient cases for possible heart transplants will often have 30-40 people present. Tufts also started an interventional heart failure fellowship program to better train interventional cardiologists to work on these types of teams and perform more advanced procedures.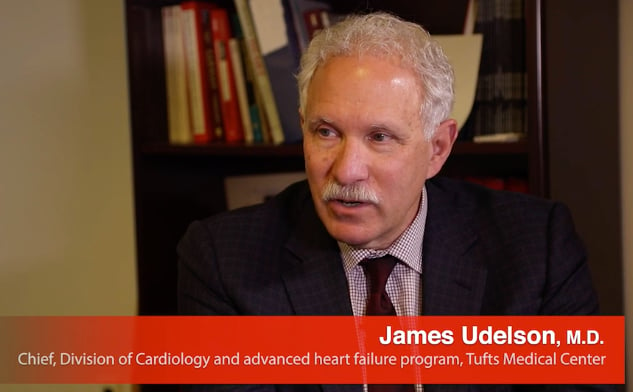 "The idea is that the devices used to support these advanced heart failure patients, either acute devices or chronic durable devices, and the patients have become so complicated," said James Udelson, M.D., chief of the division of cardiology at Tufts Medical Center, Boston. "It now takes expertise from both the interventional angle for the implant and how to manage the device, taking out the device, and then the heart failure component for how to manage the entire patient with the device. So people who are highly trained in both of those aspects are really highly valuable to a heart failure program with a lot of complex cases."
The Tufts heart failure program offers various levels of hemodynamic support, up to left ventricular assist devices (LVAD) and heart transplants. The center is also using several cutting-edge device technologies, including an intra-atrial shunt device and controlling baroreceptors with a pacemaker-like pulse generator device. Tufts is also using devices in clinical trials, including a short term aortic pump to augment blood flow, and balloon occlusion of the superior venacava (SVC) to mitigate some heart failure symptoms. 
A key component is the heavy involvement of intensivists working directly with cardiologists to care for HF patients. Udelson said this is important, because cardiac intensive care units (CCU) are no longer just for patients in shock or recovering from heart attacks, they include patients on hemodynamic mechanical support and multi-organ failure. Using the team approach allows experts in several areas to offer suggestions for what they think the best treatment options are for the patients. The team also can better coordinate hand-offs of care and ensure there is patient follow-up.  
VIDEO: Developing a Heart Failure Care Team — Interview with James Udelson, M.D.
2. Use of Wearables to Track Heart Failure Patients
Sheba Medical Center in Israel has adopted an app that interfaces with various wearables and Bluetooth-enabled devices to create remote cardiac rehabilitation and heart failure patient montoring programs. It now remotely monitors hundreds of patients and does not require them to come to the hospital for sessions, which has helped increase patient satisfaction and aided increasing physical activity compliance. The app is able to transfer device data to an electronic medical record (EMR) so progress and tasks assigned to patients can be monitored without the need for them to come into the hospital. 
The program uses a variety of wearable devices such as smart watches to track activity, steps and heart rate, and devices that interface with the app, including glucose or blood pressure monitors and wireless weight scales, said Robert Klempfner, M.D., director of the Cardiovascular Prevention Institute, Sheba Medical Center. He said patients are assigned tasks each day through the app, which might include watching an educational video, reaching a step count or reach a specific target heart rate during exercise.
"We take all the data from the devices and bring it into a dashboard that my team can analyze daily," Klempfner said. "We can contact the patients through the app using secure messaging. All the data is also integrated with different types of alerts, so we can see if there is a patient who is not following the plan correctly."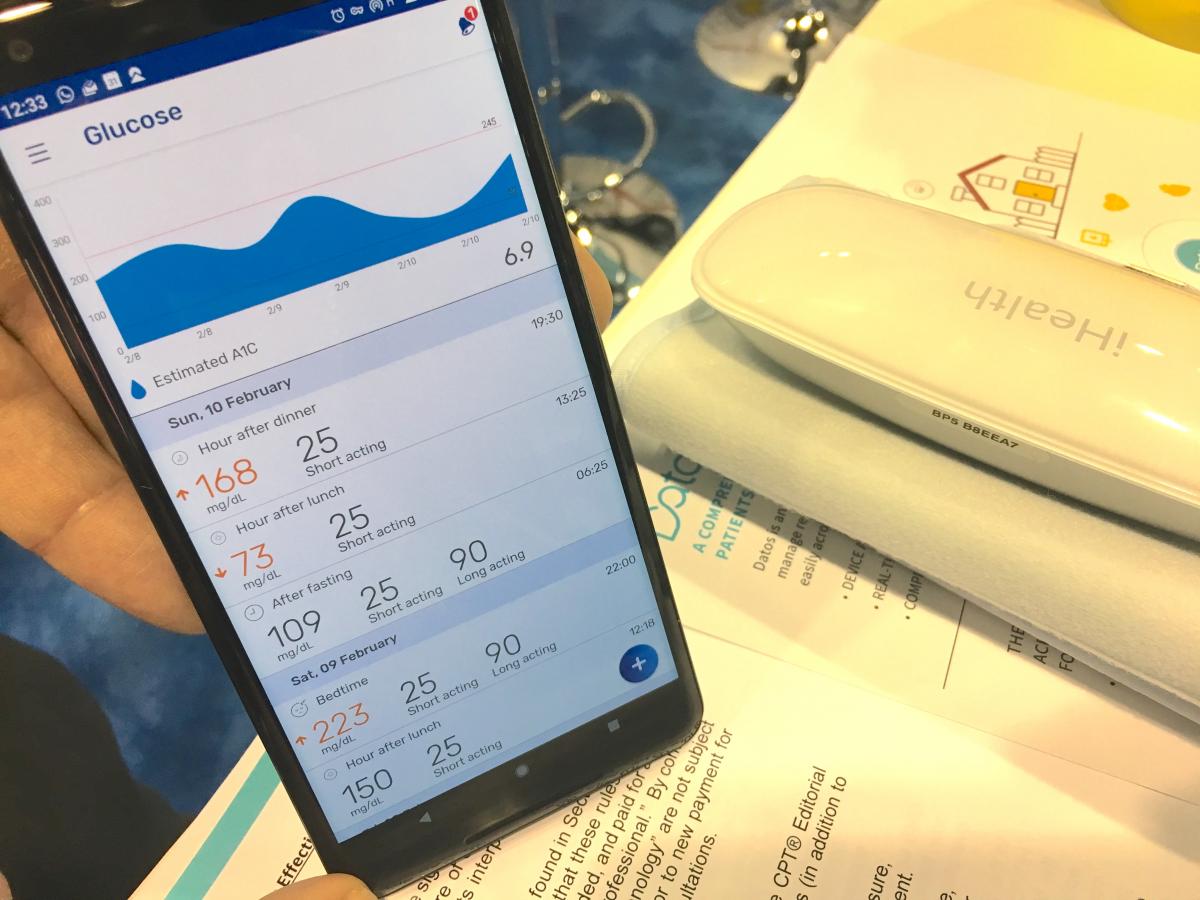 An example of the Datos app used by Sheba showing how it interfaces with a wireless patient glucose monitor and other various wearables for remote, outpatient tracking. The center uses this technology to track both heart failure and cardiac rehabilitation patients. 
He said remote managing allows more patients to be monitored and maintain contact with their care team than would otherwise be possible with physical office visits. "They are perhaps getting better care than regular patients, because they get individualized one-on-one sessions with their care team," Klempfner explained. 
VIDEO: Use of Wearable Medical Devices for Heart Failure and Cardiac Rehabilitation — Interview with Robert Klempfner, M.D.
Use of Big Data to Combat Heart Failure
As all patient data is moved to EMR formats, the data can be mined for analytics and to pull out complex information from multiple sources to answer a question. This includes using dozens of datapoints to better assess heart failure patients for readmission risk. Several health systems are now leveraging their EMR data in this way, and not just looking at clinical information like vital signs and weight, but the patient's address to see how far they live from their pharmacy, do they have a car and do they drive and what is their income bracket, all which are factors that can impact a patient's ability to meet medication compliance. 
"Identifying patients with heart failure might seem relatively straightforward, but it's very tricky because a lot of their symptoms can be easily missed or misdiagnosed," said Jo Anne Fante-Gallagher, MHA, BSN, RN, director of quality and safety for heart and vascular service line. "Without the right communication protocols and identification methods, patients might come to the hospital, receive treatment and get discharged without ever being flagged as a heart failure patient, or receiving the proper care they need to manage their condition."
Gallagher is part of the Penn Medicine Heart Failure Solution, a project that in 2014 pulled together a multidisciplinary group of clinicians and data scientists across the Hospital of the University of Pennsylvania, Pennsylvania Hospital, Chester County Hospital and Penn Presbyterian Medical Center. The project is working on an algorithm that will help identify heart failure patients before they require surgery or specialized emergency care.
When the team began development of their algorithm, they first identified several dozen characteristics and symptoms that might indicate heart failure. For example, was the patient given intravenous diuretics when they were admitted to the hospital? While there are a few reasons this could be necessary, most of the time it is a good indication of heart failure, said Lee Goldberg, M.D., MPH, medical director of Penn's Heart Failure and Transplantation Program, and director of the Penn Medicine Heart Failure Solution. 
They created the WIRED algorithm. But rather than working to identify heart failure patients, the focus has changed use the data to make sure the known high-risk heart failure patients are receiving the care they need across the continuum of care. This includes weight reconciliation, creating an information exchange to making sure everyone knows where critical information resides and how to get it to the next provider. The software also helps with reconciliation of medications, patient education and making sure discharge instructions are understood, followed and there is a clear path to follow-up care.
"These are the elements we need to be communicating with one another – whether it's in an inpatient or outpatient setting, or at Penn Care at Home, or a nursing facility," Goldberg said. "It started with data science working to identify the patients, but the entire project is ultimately about reducing readmissions for heart failure patients by increasing communication across the care team, soup to nuts."
Similar technology was recently implemented at the University of Mississippi and at Mercy Health System. Find our more in the videos below:
VIDEO: Cutting Heart Failure Length of Stay With Information Technology at Mercy Health System
VIDEO: Population Health to Identify High Risk Cardiovascular Patients at the University of Mississippi
 
Related Heart Failure Content:
Device Technologies to Reduce Heart Failure Readmissions
Key Heart Failure Takeaways at AHA 2019 - Overview from Nasrien Ibrahim, M.D.
Reducing Economic Burden of Cardiorenal Syndrome With The Aortix Pump
Outlining How Artificial Intelligence May Help Adhere to Cardiac Care Guidelines
VIDEO: Predictors and Outcomes of Reverse Remodeling in Heart Failure With Reduced Ejection Fraction — Interview with James Januzzi, M.D.
VIDEO: Therapies for Advanced Heart Failure — Interview with David Lanfear M.D.
---
If you enjoy this content, please share it with a colleague