John J. V. McMurray presenting the DAPA-HF Trial at AHA 2019. It was part of the late-breaking presentations in the "Outside the Box: New Approaches to CVD Risk Reduction" session. Photo by AHA/Phil McCarten
It's an exciting time in the heart failure (HF) world right now with the emergence of new therapies, including medications and devices. Several of these were highlighted in sessions at the 2019 American Heart Association (AHA) scientific sessions.
Late-breaking Clinical Trials in Heart Failure at AHA 2019
Several sub-studies of landmark HF trials were presented as late-breaking presentations. These included:
   • The Dapagliflozin in Patients With Heart Failure and Reduced Ejection Fraction (DAPA-HF) trial [1];
   • The Angiotensin–Neprilysin Inhibition in Heart Failure with Preserved Ejection Fraction (PARAGON-HF) trial; and 
   • The Angiotensin–Neprilysin Inhibition versus Enalapril in Heart Failure (PARADIGM-HF) trial. 
DAPA-HF investigators presented data that showed dapagliflozin improved symptoms and reduced the risk of cardiovascular death and worsening heart failure events across all age groups of patients with HF with reduced ejection fraction (HFrEF).  Read more about this trial
PARAGON-HF investigators presented data showing that compared to valsartan, sacubitril/valsartan reduced the risk of HF hospitalization more in women than in men. Investigators from PARAGON-HF and PARADIGM-HF presented exciting data for patients with mild or mid-range ejection fraction (HFmEF) HF showing that the therapeutic effects of sacubitril/valsartan extend to patients with HFmEF and benefits appeared to extend to a higher ejection fraction range in women compared with men. Read more about this trial
Ambulatory Pulmonary Artery Pressure Monitoring Device Shows Promise
Also exciting was the presentation of the SIRONA first-in-human study, which described a pro-active heart failure management strategy incorporating ambulatory pulmonary artery pressure monitoring with the Cordella Heart Failure System. The 90-day data confirmed device safety and accuracy of pressure measurements in the right pulmonary artery and high patient adherence rate due to ease of pressure monitoring. The technology uses an implantable PA monitor and a handheld patient reader.
Read more about this technolology and the data presented at AHA.
New Drug Vericiguat May Impact Heart Failure Care
There was an announcement by drug makers Merck and Bayer the week of AHA 2019 that its vericiguat agent in development met the primary endpoint in the VICTORIA phase 3 study of patients with worsening chronic HFrEF. The endpoint was to lower heart failure hospitalization and cardiac death compared to placebo. The details of that study are slated for presentation at a medical conference in 2020.
Remote Titration of Optimal Medical Therapy in Heart Failure 
Akshay Desai, M.D., medical director, Cardiomyopathy and Heart Failure Program, advanced heart disease section, presented data at AHA on a navigator-led, remote guideline-directed medical therapies (GDMT) optimization program for patients with HFrEF. The study showed promising results and improved GDMT uptake.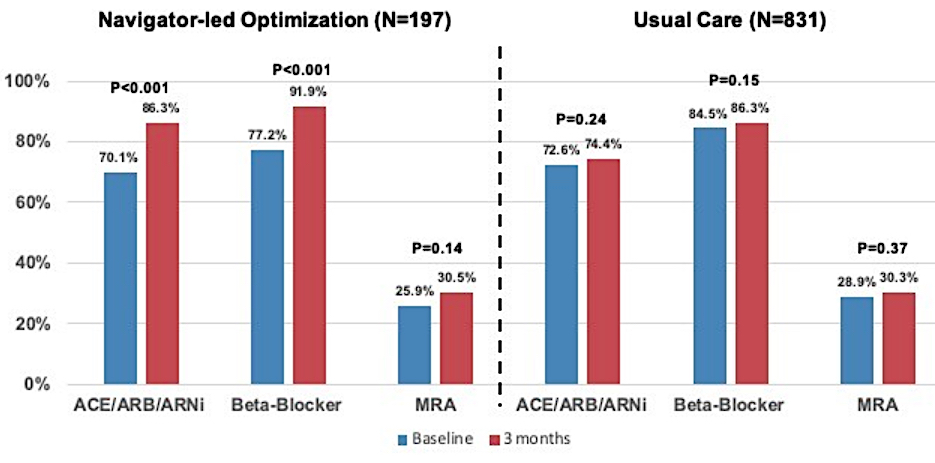 Optimal treatment of HFrEF is scripted by treatment guidelines, but many patients do not receive GDMT in clinical practice. Investigators developed an algorithm-driven, navigator-administered medication optimization program that would enhance implementation of GDMT compared with usual care in patients. Patients were contacted via phone by a navigator who facilitated medication adjustment with surveillance of laboratories, blood pressure, and symptoms under supervision of a pharmacist, nurse practitioner, and HF cardiologist.
The results were patients in the remote intervention experienced greater increases from baseline in utilization of all categories of GDMT than those in the usual care group. The proportion of patients advanced to target doses of GDMT was also higher in the intervention group at three months. Desai said remote titration of GDMT by navigators using encoded algorithms may represent an efficient, population-level strategy for rapidly closing the gap between guidelines and clinical practice.
Programs like this and use of remote device monitoring should be incorporated to reduce the burden of frequent patient appointments and assist clinicians in optimizing therapies for patients with HF.
Find links to all the AHA late-breaking trials and other key news.
References:
1. Felipe A. Martinez, Matteo Serenelli, Jose C. Nicolau, et al. Efficacy and Safety of Dapagliflozin in Heart Failure With Reduced Ejection Fraction According to Age: Insights From DAPA-HF. Circulation. Originally published online 17 Nov 2019. https://ahajournals.org/doi/10.1161/CIRCULATIONAHA.119.044133.
2. John J. V. McMurray, Alice M. Jackson, Carolyn S.P. Lam, et al. Effects of Sacubitril-Valsartan, versus Valsartan, in Women Compared to Men with Heart Failure and Preserved Ejection Fraction: Insights from PARAGON-HF. Circulation. Originally published online 17 Nov 2019. https://ahajournals.org/doi/10.1161/CIRCULATIONAHA.119.044491.
3. Scott D. Solomon, Muthiah Vaduganathan, Brian L. Claggett, et al. Sacubitril/Valsartan Across the Spectrum of Ejection Fraction in Heart Failure.  Circulation. Originally published online 17 Nov 2019. https://www.ahajournals.org/doi/10.1161/CIRCULATIONAHA.119.044586.
---
If you enjoy this content, please share it with a colleague