This is 4MD's cardiac nuclear imaging analysis software, shown here integrated with a ScImage cardiovascular information system (CVIS). Both companies displayed on the expo floor at ASNC 2019. The software creates a single page report seen here. PET perfusion imaging was a big topic at the conference.
There were a few key takeaways from the American Society of Nuclear Cardiology (ASNC) 2019 annual meeting in September. These included:
   • New radiotracers to allow PET exercise stress imaging and to enable new ways to image cardiac diseases beyond perfusion;
   • Concern over competition from computed tomography (CT) vs. nuclear perfusion imaging;
   • Interest is rising for the creation of new cardiac positron emission tomography (PET) imaging programs;
   • Renewed interest in cardiac amyloidosis imaging now that the FDA has cleared the first drug therapy;
   • Development of artificial intelligence (AI) to improve medical imaging and to better risk stratify patients; and
   • New technologies to improve quantitative myocardial perfusion.
The annual conference for the society of more than 4,200 members highlights the latest in cardiac nuclear imaging technology, techniques and new science. 
This year's meeting achieve record onsite attendance and colleagues from 50 countries joined the meeting via live streaming, said ASNC 2019 Program Chair Panithaya Chareonthaitawee, M.D., director of the nuclear cardiology laboratory, Mayo Clinic. She said there was an emphasis this year for pushing nuclear cardiology more on social media, and the #ASNC2019 achieved 9 million Twitter impressions from the three-day meeting.
CT vs. Nuclear Perfusion Imaging
Chareonthaitawee said one of her key takeaways from the meeting was the optimism for the future of cardiac nuclear imaging in the face of competition from computed tomography (CT). CT can now perform myocardial perfusion assessments similar to nuclear and CT-FFR (fractional flow reserve) technology can help assess the blood flow inside specific coronary arteries to determine which lesions should be stented. During the opening session, ASNC President Rob Beanlands, M.D., FASNC, and keynote speaker John Mahmarian, M.D., Houston Methodist, both said nuclear cardiology is well-positioned to weather the CT-FFR storm in cardiac imaging.  
"We need to collaborate with CT to compete and we need to pick the right test for the right patient," explained Beanlands, the Vered Chair and division head of cardiology and director of the National Cardiac PET Centre at the University of Ottawa Heart Institute, Canada. He said CT and nuclear imaging each have their pros and cons depending on what the clinical question is that needs to be answered. Similar to how cardiac surgeons and interventionists now collaborate on heart teams to determine what form of revascularization is best for a patient, similar conduct is needed between the subspecialties of CT and nuclear.
For example, he said clinical trial data suggests CT might be better at assessing single vessel disease, but PET is better at identifying global flow in multi-vessel disease.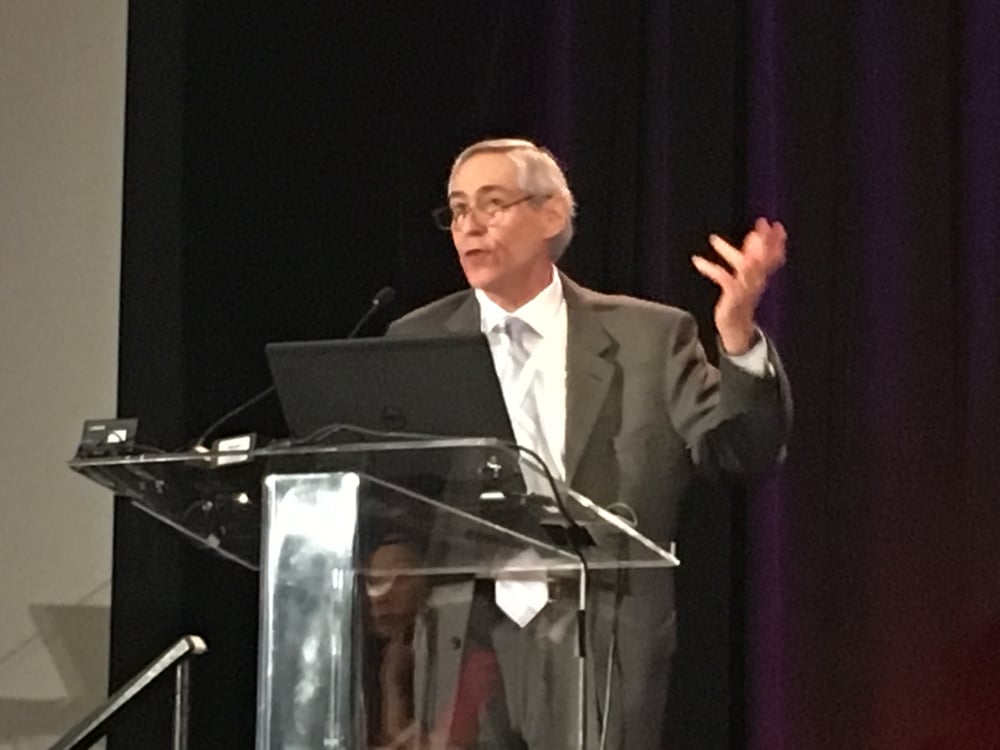 Mahmarian, an expert in both cardiac nuclear and CT imaging, spoke about the advances in cardiac CT and the threat to nuclear PET and SPECT imaging. While CT can perform perfusion and FFR-CT exams, he said nuclear offers advantages in perfusion because CT still has limitations on its abilities. While CT has come a long way, he said the modalities are still complementary and CT perfusion is not yet entering the mainstream to replace nuclear perfusion. Mahmarian said an advantage of nuclear assessments is the inclusion of the epicardial and microvascular circulation. 
He also noted the new uses of cardiac molecular imaging that CT cannot perform, including the detection of cardiac sarcoidosis, amyloidosis, endocarditis and the additional information provided by PET coronary flow reserve to determine if revascularization will help the patient or not.
"Forget FFR-CT, do PET studies and you may get a better result," Mahmarian said. "I think the future of nuclear imaging is bright."
He said CT has issues when calcium is present in coronary vessels, contrast CT is an issue in patients with renal insufficiency and it is not indicated for patients with known disease, such as those who have a coronary artery bypass (CAGB). However, Mahmarian said CT is good at identifying non-obstructive disease because of its higher image resolution and ability to see plaque inside the vessels. He also said CT calcium scoring exams also offer an excellent risk assessment. Since most hospitals use a hybrid SPECT-CT or PET-CT systems, CT calcium scoring can easily be incorporated as an dd-on for nuclear scans. 
Mahmarian presented this as part of the Mario Verani Lecturer. Verani was a mentor and close friend of John's and he cried while speaking about him at the end of the lecture. The response to Mahmarian's lecture was met with an extended, standing ovation.
Improving Myocardial Perfusion Quantification in Nuclear Imaging
Beanlands shared a couple over-arching trends he saw at the 2019 meeting. The biggest is advances discussed in sessions at ASNC 2019 is the use of PET quantitative myocardial perfusion (QMP) flow reserve to enhance PET imaging. Flow reserve can help show the severity of the ischemia detected on a PET scan and help show its cause and course of therapy. It takes the stress QMP divided by the rest scan QMP to offer a ratio for the flow reserve. QMP can determine whether revascularization will help patients. 
Beanlands said there also is increasing interest in PET imaging because of its superior image quality, speed of the exam and increasing access to PET radiotracers. New tracers on the horizon also will increase the image quality and flexibility of PET to accommodate exercise stress. He said single photon emission computed tomography (SPECT) has been the standard for cardiac nuclear imaging for decades, but PET offers improved image quality for more precise diagnosis.
Nuclear Amyloidosis Imaging Will Increase with New Treatment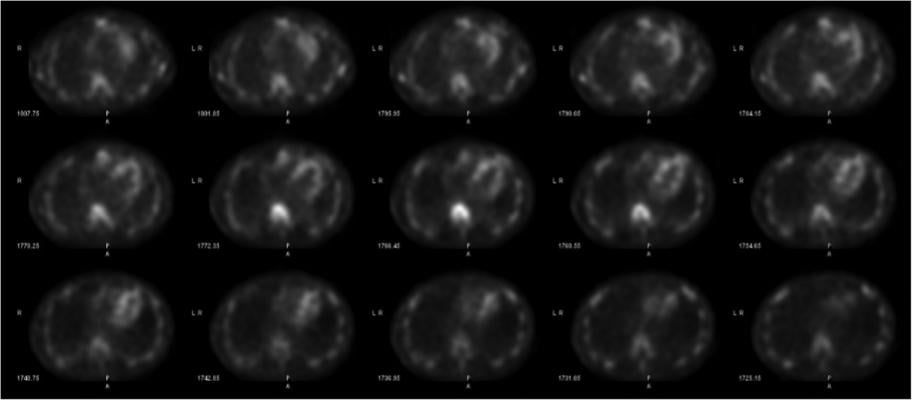 There has been a renewed interest in cardiac amyloidosis imaging now that the FDA has cleared the first drug therapy. 
"Amyloid pyrophosphate imaging is not new, but now there is renewed interest because of the new FDA-cleared drugs available to treat amyloidosis," Beanlands said. "In many patients you don't need to biopsy cardiac amyloid because the imaging can confirm the disease. If you can identify that early enough, you now have a treatment that can delay the disease progression and/or improve outcomes overall."
Transthyretin amyloid cardiomyopathy (ATTR-CM) is a progressive, under diagnosed, potentially fatal disease. Amyloid protein fibrils get deposit in the left ventricle, which stiffens the walls. But a new agent to prevent misfolding of the deposited protein is showing a significantly reduced risk of death. In May 2019, U.S. Food and Drug Administration (FDA) cleared tafamidis meglumine (Vyndaqel) and tafamidis (Vyndamax), the first medication approved to treatment the disease.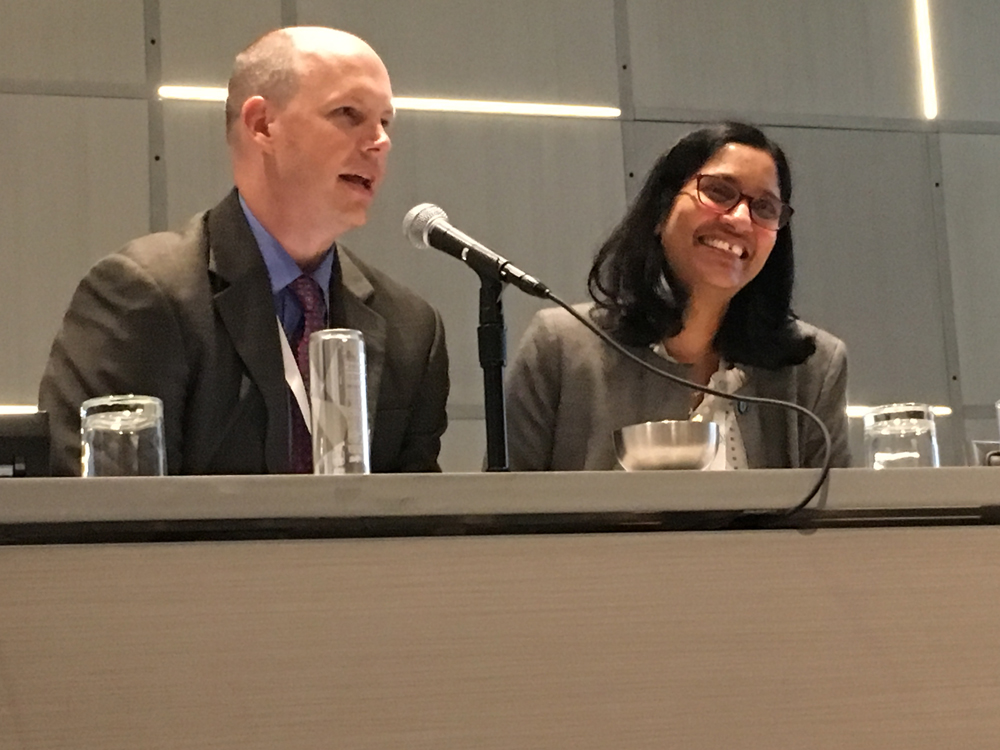 The new drugs made cardiac amyloidosis imaging one of the hottest topics at ASNC 2019. Jamieson Bourque, M.D., medical director of nuclear cardiology at the University of Virginia, and Sharmila Dorbala, M.D., director of nuclear cardiology, Brigham and Women's Hospital, moderated a packed session on cardiac amyloidosis nuclear scans. They were the writing chairs for the recommendations for multimodality imaging in cardiac amyloidosis, released in September 2019. 
Bourque co-authored this recent article, Nuclear Scintigraphy for Cardiac Amyloidosis Assessment in Current Clinical Practice.
How to Create a Cardiac PET Program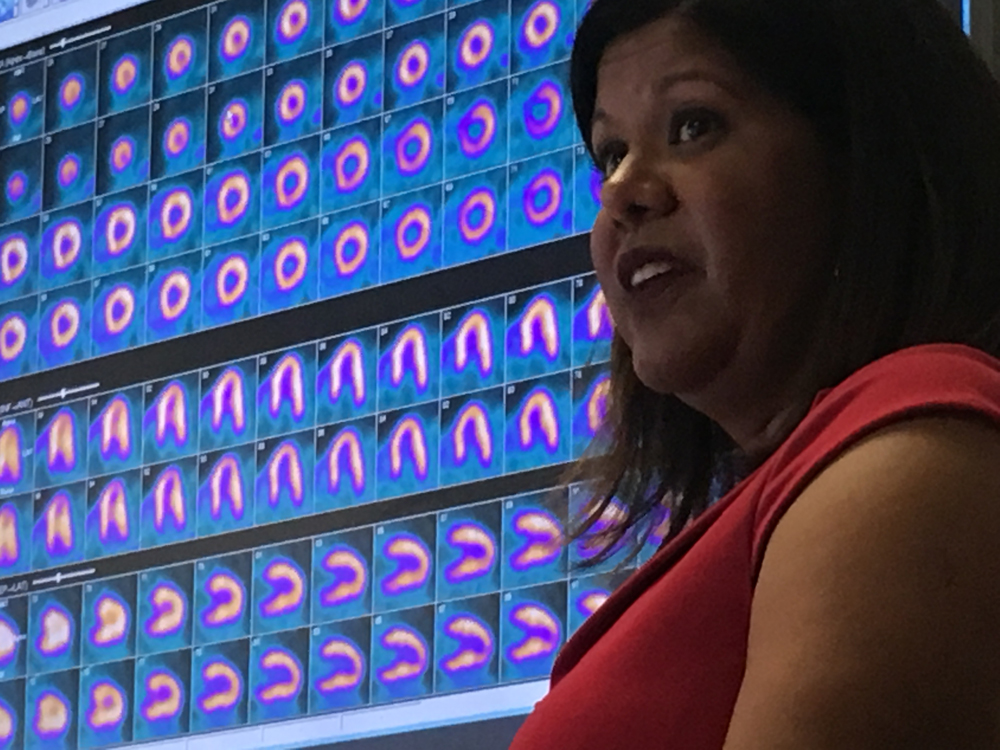 While PET imaging has been around for years, there is growing interest in its use for cardiac imaging, as hospitals look to replace very old nuclear scanners with updated technology. Several ASNC sessions centered on the uses of cardiac PET and how to create a cardiac PET program. Rush University Medical Center in Chicago recently installed a new PET-CT system and led a tour for conference attendees. Rupa Sanghani, M.D., FASNC, director of Rush's nuclear cardiology and stress laboratory, also spoke in several sessions on this topic to explain how they implemented their program
Sanghani said the advantages of PET myocardial perfusion imaging include faster exam times and allowing additional information from flow reserve assessments. The 16-slice CT scanner on the Rush system is used not only to attenuate the PET images, but to perform a CT calcium scoring. The rubidium-82 (Rb-82) radiotracer used for PET exams only has a 75 second half life, so it can help increase the number of exams performed each day. 
Another advantage of PET is that the short half-life of the Rb-82 tracer requires it to be auto injected into the patient during the scan, so there is no need for prior injection and waiting for myocardial uptake. This means that PET scans can virtually eliminate radiation exposure to staff from the radiotracers in the patients.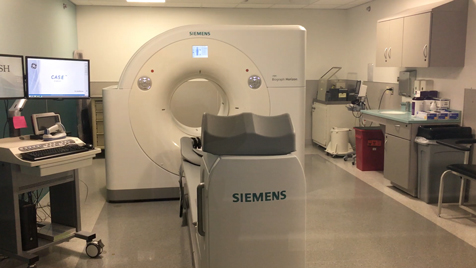 "One of the most important things is to learn about the modality before you embark on the process of creating a program, it is different than SPECT and it is important to understand the subtle nuances," Sanghani explained. "As we went along the process, we asked questions of the vendors and we talked to labs already using PET to see what were some of the pros and cons of the products they used."
PET might be best suited for higher volume centers, because of its fast speed. "If you are doing a large volume of pharmacological SPECT stress exams, this is absolutely more efficient," Sanghani said. "PET is a 30 minute scan rather than a three hour SPECT scan, so it is much faster throughput."
The Rb-82 generator also costs around $40,000 and is good for about six weeks. 
Watch a VIDEO interview with Sanghani, where she explains what Rush did to design its PET room, what was needed for staff training, what to look for in a scanner and other considerations when creating a PET program.
Machine Learning Enters Nuclear Imaging
Artificial intelligence (AI) being developed for healthcare has been one of the biggest topics at just about all medical conferences the past two years, and the FDA has already started the market clearance of several AI algorithms for medical imaging. AI was a topic in sessions at ASNC 2019 to keep members up-to-date on how this technology might be implemented. This includes how it can help improve medical imaging quality on equipment and image rendering software and clinical decision support. Another are of AI development is identification of tiny traits in images that may escape the human eye, but machines can see as patterns when reviewing thousands of exams. These AI algorithms might be able to develop new, more accurate ways to risk stratify patients. 
Piotr J. Slomka, Ph.D., FACC, research scientist in the Artificial Intelligence in Medicine Program, Department of Medicine at Cedars-Sinai, and professor of medicine in-residence of the David Geffen School of Medicine, UCLA, spoke in the AI sessions. He explained how his team at Cedars-Sinai is working on AI patient risk prediction algorithms that will automatically extract information from medical imaging to offer better patient risk scoring.
Watch an interview with Slomka in the VIDEO: Machine Learning for Diagnosis and Risk Prediction in Nuclear Cardiology.
New Cardiac Radiotracers in Development
Robert Hendel, M.D., MASNC, chief of the section of cardiology and director of the Tulane University Heart and Vascular Institute, was involved with a session on new radiotracers for cardiology. He outlined four new radiotracers in the development pipeline that may impact cardiac imaging:
   • Flurpiridaz F-18 PET perfusion agent that offers high quality images and can be used with exercise stress;
   • MIBG imaging to help better assess heart failure classes and if patients may need an ICD;
   • New F-18 agents to image cardiac amyloidosis; and
   • Nuclear agents to enable annexin imaging, allowing direct visualization of myocardial apoptotic cells.
Watch a VIDEO interview with Hendel.
NorthStar Radioisotopes was on the expo floor of the ASNC meeting. The Beloit, Wis., based company was the first domestic supplier approved by the FDA and the Nuclear Regulatory Commission to produce Mo-99/Tc99m with a unique system that uses low enriched uranium (LEU) instead of the traditional highly enriched uranium (HEU). Due to concerns over nuclear nonproliferation, the U.S. government is phasing out international shipments of HEU starting in 2020. One isotope company has not converted to LEU use and asked for an extension, which NorthStar recently filed a protest against. Read the article.
Better Addressing Cardiovascular Disease Disparities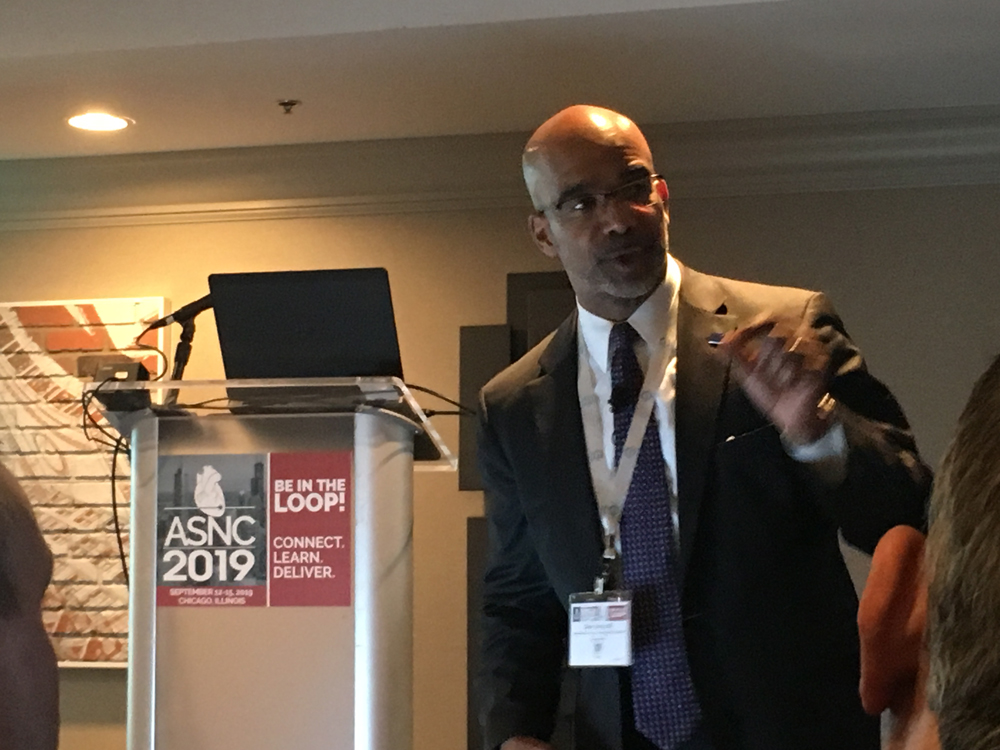 One of the keynote speakers was Clyde Yancy, M.D., MSc, cardiology chief and vice dean for diversity and inclusion at Northwestern University, Feinberg School of Medicine, who spoke on healthcare disparities and diversity in the workforce. He explained the need to overcome the traditional biases of seeing a patient and automatically making clinical assumptions because they are a certain race or gender. For example, Yancy said not all black patients have hypertension. Yancy added that genetics, especially with racial intermarriage over the past several generations, no longer predisposes patients to what is typically assumed for certain ethnic or racial backgrounds.
Yancy outlined a practical, three-step approach to inequities to implement in daily practice: 
   • Listen (to your patients);
   • Pause (and check your assumptions at the door);
   • Recruit (a diversity of opinions and workforce).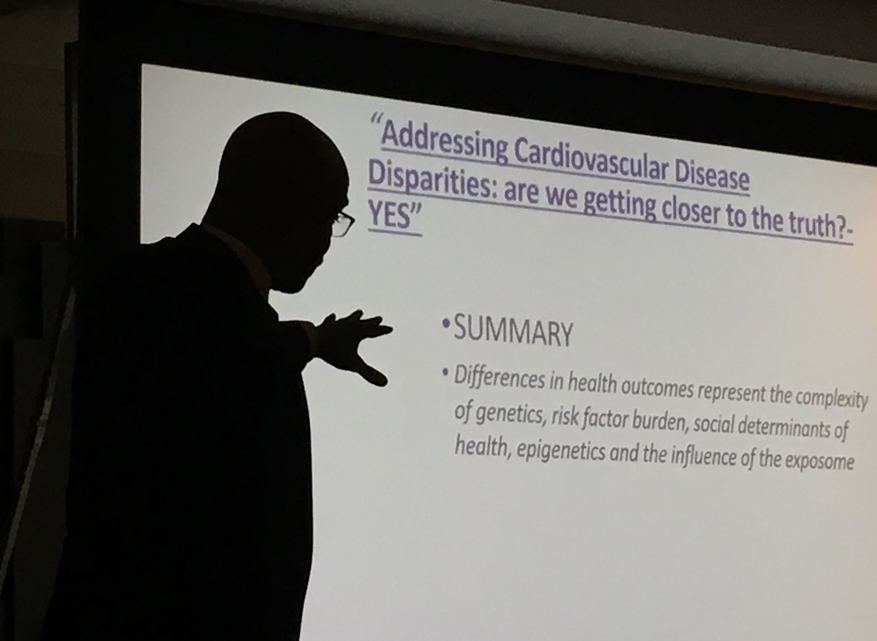 He also said new research is showing how diet plays a major role in patient health and disease progression for things previously thought to be based on genetics. This includes the people who live in "food deserts" in urban areas where there are no sources of fresh food and vegetables. Residents in these areas typically consume large amounts of packaged and processed foods that contain high levels of salt, phosphates and preservatives. He said these chemicals may be the root cause of hypertension and diabetes in black populations in low income areas, rather than genetics as previously thought.
Watch an interview with Yancy in the VIDEO: New Ideas in Addressing Cardiovascular Disease Disparities.
The ASNC 2020 meeting is set for Sept. 24-27, 2020, in Washington, D.C.
Additional ASNC 2019 Meeting Content:
How to Start a Cardiac PET-CT Imaging Program
VIDEO: Practical Considerations for Starting a Cardiac PET-CT Program — Interview with 
Rupa Sanghani, M.D.
VIDEO: New Ideas in Addressing Cardiovascular Disease Disparities — Interview with Clyde Yancy, M.D.
VIDEO: New Cardiac Radiotracers in Development — Interview with Robert C. Hendel, M.D.
VIDEO: Better Flow Quantification and Rise of PET Among Trends in Cardiac Nuclear Imaging — Interview with ASNC President Rob Beanlands, M.D.,
VIDEO: Machine Learning for Diagnosis and Risk Prediction in Nuclear Cardiology — Interview with Piotr Slomka, Ph.D.
---
If you enjoy this content, please share it with a colleague