Getty Images
The global ambulatory diagnostic cardiology market was valued at $2.6 billion in 2022 and is forecast to rise to $3.3 billion by 2026. With a CAGR of 14.4% over the forecast period, the global market for Long-term ECG will be driven by additional demand for remote services as patients are moved toward diagnosis in the ambulatory setting. North America is, and will remain, the largest sub-regional market over the forecast period, though CAGRs in EMEA and Asia will both be higher, albeit off lower bases, as reimbursement and broader digital health support is gradually introduced.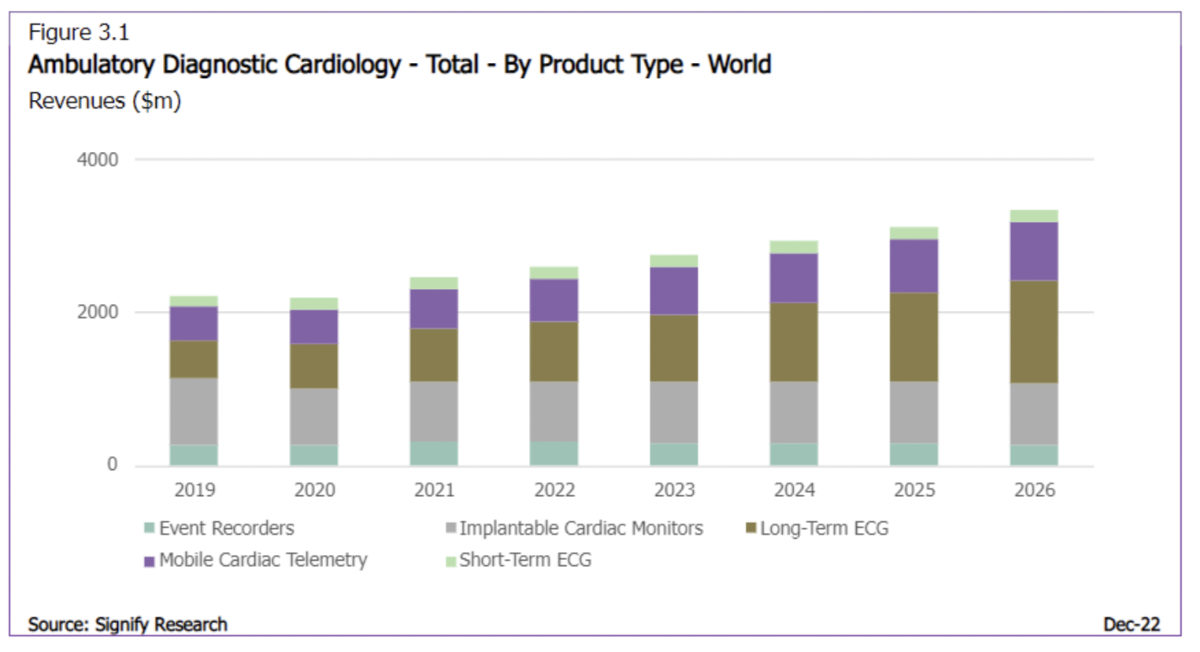 Traditionally, Implantable Cardiac Monitors (ICMs) have been the dominant product group within the ambulatory diagnostic cardiology device market. However, ICMs did suffer a disproportionate decline during the Pandemic as, unlike external ECG devices which can be posted to a patient with instructions, ICMs must be physically inserted by a clinician at a medical facility. ICMs are projected to recover at a relatively flat annual growth annually through to 2026.It should be noted that we have only included ICM device revenue in our forecasts, which accrues to the major ICM device vendors themselves and accounts for the bulk of overall ICM revenue. There is a smaller, third party-driven ICM services market that is not included in our forecasts.
As stated above, robust CAGR for Long-Term ECG solutions will result in it being the fastest growing Ambulatory Diagnostic Cardiology Market by 2026. The reasons for this are unpacked in more detail in the report and this companion insight, but in summary can be attributed to continuing developments in ECG monitoring technologies (including consumer wearables), intense vendor competition, and greater (if still uneven) reimbursement coverage. Unlike the ICM market, services are the real driver of revenue generation for Long-term ECG solutions, as devices are often leased to customers (not the end-user) as a component of ongoing service contracts.
Mobile Cardiac Telemetry (MCT) was the third largest market in 2021 (when combining service and device revenues). MCT reimbursement (in the US) is often higher than other Ambulatory Diagnostic Cardiology Solutions, barring ICM. MCT has also taken direct market share from Event Recorders, as arrhythmias can be reported more quickly to a physician using an MCT solution than an Event Recorder. A high mid-single digit revenue CAGR has been projected for the MCT market as interest expands outside of the US.
Consequently, the markets for Event Recorders and Short-Term ECG solutions, which are being replaced by Long-Term ECG solutions, will decline over the forecast period.
Regional Trends:
Americas
North America, driven by the US market, is the dominant region in the Ambulatory Diagnostic Cardiology market. This is underpinned by an established reimbursement structure for all diagnostic ambulatory cardiology solutions. There was some uncertainty around reimbursement, particularly in the Long-Term ECG market, following fluctuations in reimbursement rates during 2021. However, rates rose again in 2022, further supported by the CMS' Medicare Physician Fee Schedule (MPFS) Final Rule for Calendar Year 2023, issued in November 2022.
The US market in particular has also benefited from the proliferation of other complementary healthcare solutions, such as Telehealth and Remote Patient Monitoring, and the increasing abundance of consumer wearables incorporating clinical-grade ECG monitoring technologies. Given its more advanced development of Ambulatory Diagnostic Cardiology provision, it is unsurprising that the North American market will have a lower CAGR compared to EMEA and Asia (albeit still achieving high-single digit growth).
EMEA
In Europe, reimbursement for Ambulatory Diagnostic Cardiology solutions is in its infancy, with very few countries having developed a comprehensive reimbursement framework. France, Germany, and the UK have reimbursement in place to varying degrees. In April 2022, in response to the growing interest in hand-held and consumer wearable ECG devices, the European Heart Rhythm Association (EHRA) published guidance on the use of digital devices in the detection and management of arrhythmias.
Signify Research forecasts low double-digit CAGR for service revenues in both the Western Europe and the Eastern-Europe-Middle East-Africa (EEMEA) sub-regions until 2026, as reimbursement coverage expands. Broader initiatives around digital health adoption, such as Germany's Digital Health Care Act and France's Etapes (RPM pilot projects) will also add to this momentum.
Asia
The Ambulatory Diagnostic Cardiology market is least developed in Asia, though reimbursement is in place in Australia, Japan, and South Korea (all within the Mature Asia Pacific sub-region). In South Korea, where a number of local vendors have developed ECG patches, the Ministry of Health and Welfare quadrupled reimbursement rates for 7 and 7-14 day ECG monitoring in early 2022. Reimbursement coverage of South Korean-made ECG patches is also expanding in Japan, driven by import agreements between South Korean vendors and Japanese MedTech distribution companies. Consequently, service revenues in the Mature APAC sub-region will achieve CAGR of mid-double-digits to 2026, greater than any other sub-region. The Emerging APAC region will also achieve strong service revenue growth over the forecast period, though will fall just short of double-digit CAGR.
Future Outlook
The shift to value-based-care, greater use of virtual and remote care solutions, developments around consumer wearable devices and staffing shortages and patient backlogs are all driving the Ambulatory Diagnostic Cardiology market forward. However, lack of reimbursement, component shortages, and the demands on existing hospital IT (enormous data creation and interoperability concerns) could all act as brakes on growth.
The increasing proliferation of existing and new ambulatory cardiology devices will impact clinical workflows in a number of ways. Non-diagnostic screening devices will funnel more patients into cardiology pathways, though these same (or similar) devices can create workflow efficiencies to compensate for increased patient flows.
Ambulatory Diagnostic Cardiology will also be influenced by trends happening in adjacent markets. AI is being utilized to automate and speed up diagnosis. ECG and PPG enabled consumer wearable devices will likely increase the numbers of patients entering cardiac clinical pathways. Similarly, Remote Patient Monitoring is another growing market that shares many (though not all) characteristics seen in the Ambulatory Cardiology market, both driven by the need to improve cost efficiency, by reducing patient footfall in the higher cost hospital departments.
About the Report
"Ambulatory Diagnostic Cardiology – World – 2022" provides a data-centric and global outlook of the Ambulatory Diagnostic Cardiology Device and Service (ex. ICMs) market. The report blends primary data collected from in-depth interviews with healthcare professionals and technology vendors, to provide a balanced and objective view of the market. For more information or to order the full report, contact www.signifyreasearch.net.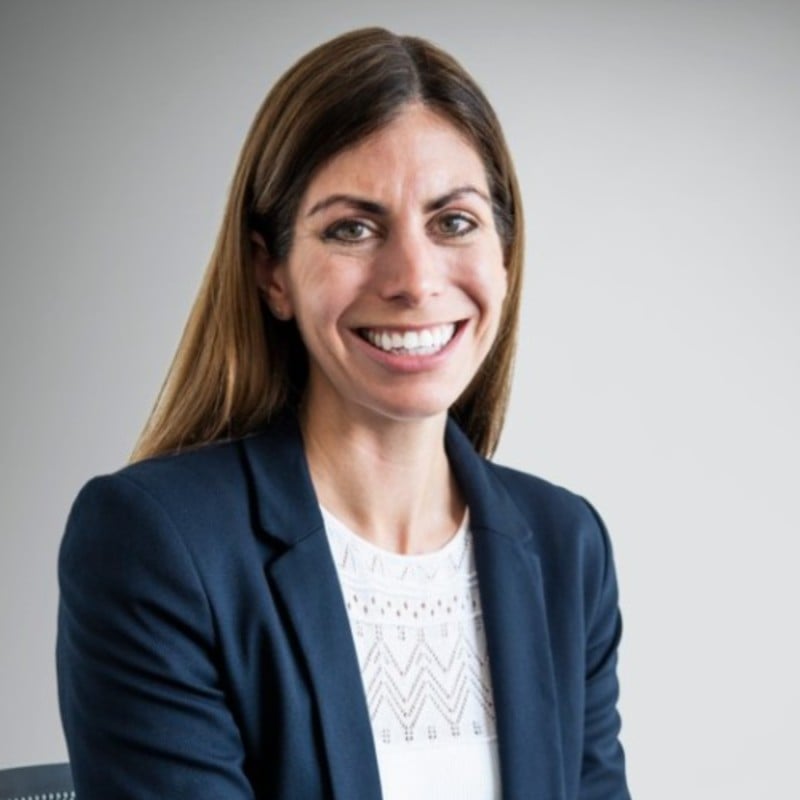 Kelly Patrick is a Principal Analyst at Signify Research. She is responsible for Signify Research's Clinical Care Devices market research as well as the coverage on the associated High-acuity and Perinatal IT market. She has 14 years of experience covering a range of healthcare technology research. Prior to joining Signify Research she was the manager of the Healthcare Technology team at Omdia (previously known as the Healthcare Technology team at IHS Markit and, previous to that, InMedica).
Related ECG Content:
Find News on New ECG Technology
Trends in ECG Management Systems
VIDEO: Screening for Atrial Fibrillation Using Single Lead ECG in the VITAL-AF Trial — Presented at AHA 2020
ECG Industry Blooms With Innovative Devices and New Methods
Advances in ECG Management Systems
A Double-Edged Sword: How Over-the-Counter ECG Devices are Impacting Cardiac Care
Artificial Intelligence Examining ECGs Predicts Irregular Heartbeat, Death Risk
AI Could Use EKG Data to Measure Patient's Overall Health Status
Smartphones Used to Successfully Screen More than 60,000 for Atrial Fibrillation
FDA Clears AliveCor's KardiaMobile 6L as First Six-Lead Personal ECG Device
VIDEO: ECG System Uses 3-D Interactive Image to Show Proper Lead Placements
EKG With Artificial Intelligence Reliably Detects Heart Failure Precursor
Algorithms to Automate Review of Mobile ECG Device Data, Detection of Arrhythmias
FDA Clears First AI-Powered Algorithm Suite for Personal ECG Monitoring
---
If you enjoy this content, please share it with a colleague