The global cardiogenic shock market was valued at US$ 3.29 Bn in 2021, and is expected to reach US$ 6.32 Bn by 2032, expanding at a CAGR of 6.2% over the 2022-2032 time frame.
As per detailed industry analysis by Fact.MR, a market research and competitive intelligence provider, the drugs segment, under treatment type, dominated the global cardiogenic shock market in 2021 in terms of revenue and market share, accounting for 52.7% of the total market, and is expected to surge ahead at a CAGR of 7.8% over the forecast period (2022-2032).
Cardiogenic shock treatment accounts for nearly 6.4% share of the global cardiovascular device market, which was estimated to be around US$ 51.9 Bn in 2021.
Cardiogenic Shock Treatment Demand Analysis (2017-2021) Compared to Market Outlook (2022-2032)
The global cardiogenic shock treatment devices and drugs market expanded at a CAGR of 4.1% over the last five years.
Cardiogenic shock is a situation where the heart fails to pump blood and oxygen to the cease organs and can be a reason for cease-organ failure. Cardiogenic shock results from a coronary heart attack and is life-threatening.
Signs of cardiogenic shock include chest pain, dizziness, fainting, shortness of breath, profuse sweating, nausea, and vomiting. Other reasons for cardiogenic shock include myocarditis or infection of the coronary heart muscles, endocarditis or contamination of the coronary heart valves, drug overdose, and a sedentary lifestyle.
According to the JACC: Heart Failure research paper, November 2020, cardiogenic shock is said to adversely affect acute myocardial infarction, as with the increasing population, patients have been clinically in a complex state. In 2022, CDC stated that, nearly 805,000 people in the U.S. suffer from heart attacks yearly.
Rising burden of cardiovascular diseases and growing incidence of cardiogenic shock (epidemiology), increasing ageing population, and growing economic burden are likely to stimulate the growth of the cardiogenic shock market.
Considering this, Fact.MR expects the worldwide cardiogenic shock market to expand at a CAGR of 6.2% over the forecast period (2022-2032).
What's Mainly Driving Demand for Cardiogenic Shock Treatment Drugs and Devices?
Cardiogenic shock management necessitates a collaborative effort involving organizational methodologies, accurate diagnosis using equipment such as electrocardiogram, echocardiogram, coronary angiography etc., and therapeutic management to preserve blood flow.
Collaborative techniques entail interpersonal contact among team members and healthcare experts to develop a strategy protocol for the start and management of high-risk situations, as well as patient safety precautions. These cardiogenic shock treatments aid in improving patient outcomes and lengthening survival times.
Furthermore, the shock team, which entails interventional cardiology, critical care medicine, anesthesiology, cardiothoracic surgery, perfusion services, nursing, and rehabilitation, is quite beneficial. Use of interdisciplinary action has had a favourable influence on patient care.
Despite the high rate of cardiovascular disease mortality and substantially lower R&D spending, cardiovascular care has shown improvements in patient management.
What's Restraining Growth of Cardiogenic Shock Market Players?
For illnesses such as coronary heart disease, cardiomyopathy, and congenital heart disease, a heart transplant is done, in which, a diseased heart is replaced with a healthy donor's heart.
With the rise in cardiovascular disorders, including systolic dysfunction, valvular dysfunction, diastolic dysfunction, cardiac arrhythmias, coronary artery disease and other mechanical complications, the need for heart transplants has increased.
According to the American Transplant Foundation, the number of deceased donors in the United States increased 6% from 11,870 in 2019 to 12,588 in 2020.
A heart transplant is the gold standard treatment; however, the number of donors for heart transplants appears to be decreasing with the number of recipients increasing.
The expense of treating related diseases remains high due to the high death rate of cardiovascular diseases. If cardiogenic shock is not recognized correctly, it can progress to significant multi-organ failure.
Despite the ease with which physicians can deliver mechanical circulatory devices for treatment, the expense of the standard of care might be a stumbling block to the expansion of the cardiogenic shock treatment market.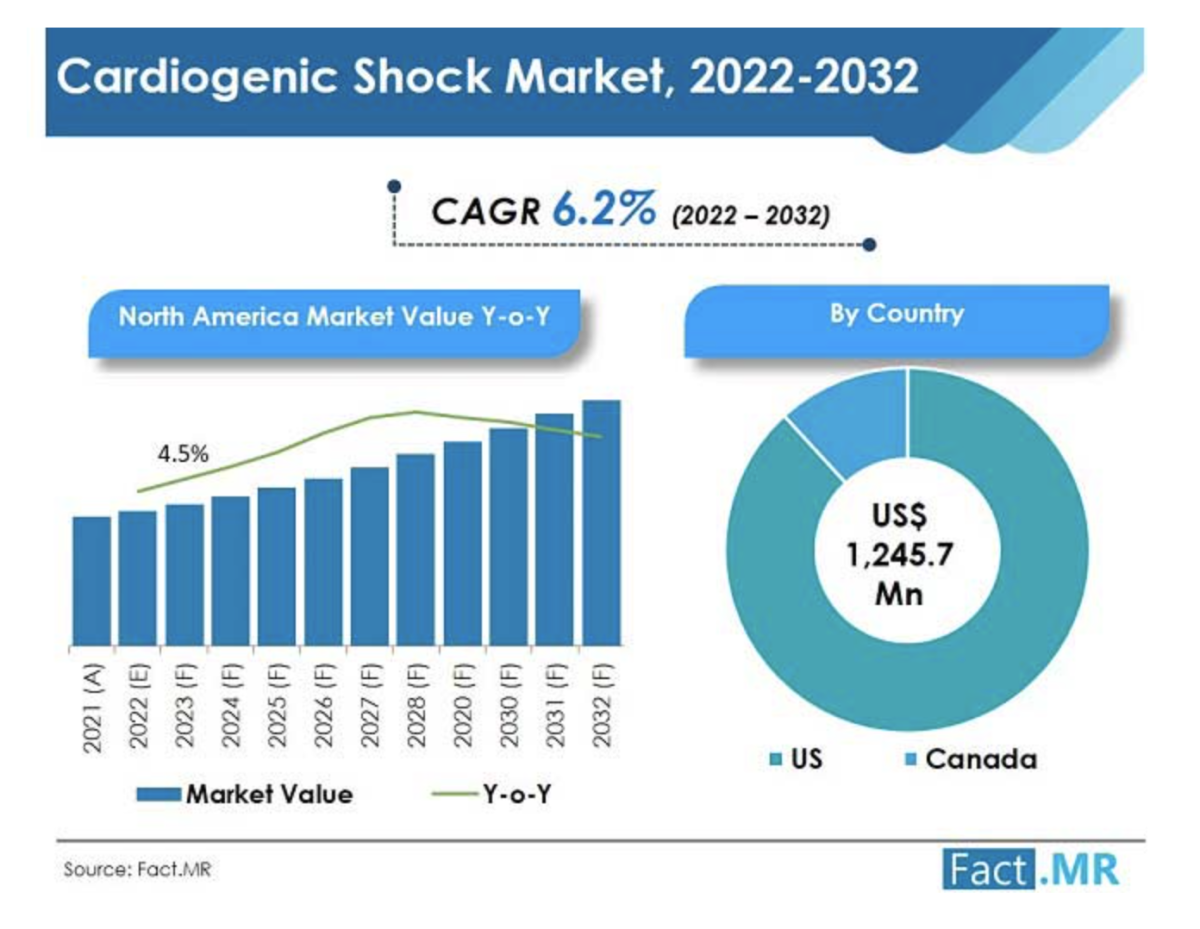 What is the U.S. Market Stance for Cardiogenic Shock Treatment?
The U.S. accounted for over 88% of the North America cardiogenic shock market in 2021, owing to the development of many treatment facilities and rising investments in the healthcare sector.
Moreover, approvals by the U.S. FDA are increasing and resulting in more products getting launched, making the U.S a high revenue-generating country.
For instance, in February 2021, Abbott's CardioMEMS HF system received FDA approval to support patients battling earlier-stage heart failure.
Also, rise in awareness about cardiac disorders offers lucrative opportunities for the U.S. market for cardiogenic shock treatment.
Will Germany Be a Lucrative Market for Cardiogenic Shock?
Germany accounted for 22.9% market share in the Europe cardiogenic shock market in 2021.
As the geriatric population is increasing, Germany is focusing on various research & development programs and supporting different startups, which is boosting the cardiogenic shock market in the country.
For instance, in November 2020, Bayer initiated support for five new startup companies as part of the company's G4A Digital Health Partnerships Program.
The focus is to foster the development of a digital health ecosystem while driving forward integrated healthcare solutions in the fields of cardiometabolic and renal diseases, oncology, and women's health.
What are the Factors Fueling Demand for Cardiogenic Shock Solutions in China?
China accounted for 43.4% of the East Asia cardiogenic shock market in 2021.
The provision of major manufacturing services to meet clinical needs and high production of raw materials for drug manufacturing are some of the key trends driving market expansion in China. This is ultimately strengthening its position in the East Asia market.
Cost-effective production of devices generates a high revenue share for China in the region's cardiogenic shock treatment market.
Why is Demand for Cardiogenic Shock Drugs Gaining Traction?
By treatment type, drugs held the highest market share of 52.7% in 2021, with the segment expected to expand at 7.8% CAGR over the forecast period. This is being influenced by increasing research & development on cardiogenic shock treatment.
Furthermore, as drugs are considered the first line of treatment and are cost-effective, they are preferable in comparison to other treatment options, which makes this segment the most lucrative for the forecast period.
Impact of COVID-19 Crisis
The outbreak of COVID-19 had a brief impact on the cardiogenic shock market due to lockdowns and temporary shutdowns. Supply and demand were jolted by the massive infection spread, which staggered the supply of cardiogenic shock equipment.
The COVID-19 pandemic resulted in a short-term downside on the growth of the cardiogenic shock market, as most healthcare resources were diverted to tackle the COVID-19 pandemic situation. There was also a subsequent decline in the manufacturing of products for cardiovascular treatment due to COVID-19.
Competitive Landscape
Key manufacturers of cardiogenic shock treatment products are actively focusing on the expansion of their portfolios by introducing new products that are technologically advanced, as a strategy to maintain their position in the global cardiogenic shock market
In August 2021, the U.S. FDA approved the expansion of the peripheral artery disease (PAD) indication for Xarelto plus aspirin.
Similarly, recent developments related to companies operating in the cardiogenic shock market have been tracked by the team at Fact.MR, which are available in the full report.
---
If you enjoy this content, please share it with a colleague