Medtronic announced in June it was stopping the sale and distribution of the Medtronic Heartware HVAD left ventricular assist device (LVAD). Abbott announced the same day it has the capacity to meet increased demand for LVADs as Medtronic leaves the market.
Medtronic announced in June it was stopping the sale and distribution of the Medtronic Heartware HVAD left ventricular assist device (LVAD). On June 3, the company notified physicians to cease new implants of the HVAD System and transition to an alternative means of durable mechanical circulatory support. Its primary competitor in the LVAD market, Abbott, also announced it has the capacity to meet increased demand for LVADs as Medtronic leaves the market.
Medtronic initiated the action in light of a growing body of observational clinical comparisons indicating a higher frequency of neurological adverse events, including stroke and mortality with the HVAD system as compared to other circulatory support devices available to patients.
Considering these findings and the availability of alternative devices, Medtronic said it made the decision to stop the distribution and sale of the HVAD System, consistent with its commitment to prioritize patient safety.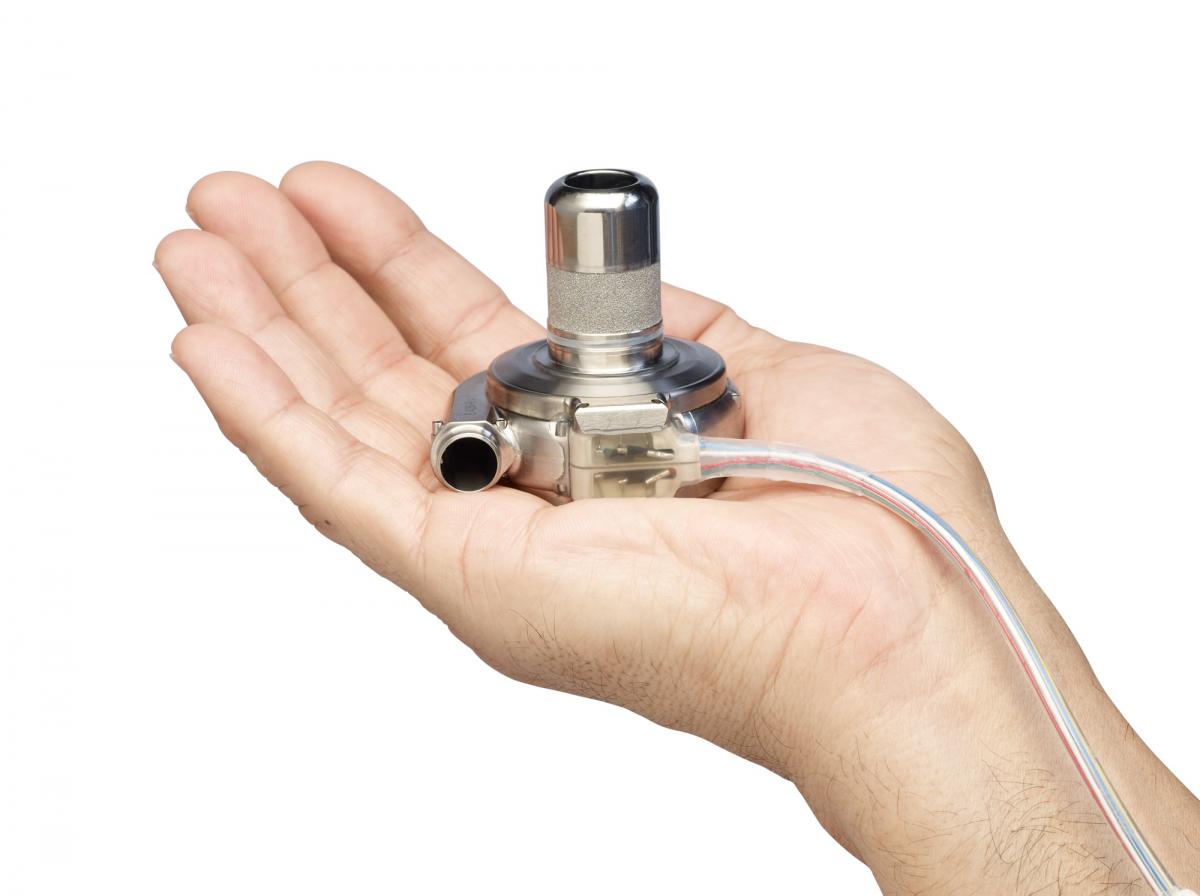 "The Medtronic Mission guides us to always do what is in the best interests of patients and that is exactly what we are doing and will do for those impacted by this decision. There is nothing more important than the safety and well-being of patients," said Nnamdi Njoku, president of the mechanical circulatory support business, which is part of the cardiovascular portfolio at Medtronic. "We recognize this information may be concerning for patients and their caregivers, and Medtronic is committed to supporting them in coordination with their physicians."
In terms of financial impact, the revenue from the HVAD system was $141 million in fiscal year 2021. 
Ending HVAD Sales Follows After Several Product Recalls, Injuries and Deaths
The June announcement to end sales of the HVAD follows on the heels of a March 2021 U.S. Food and Drug Administration (FDA) Class I recall of the HVAD pump implant kits. Medtronic found the HVAD pump may experience a delay to restart or a failure to restart after it is stopped. Pump restart failure can potentially worsen a patient's heart condition, lead to a heart attack, require hospitalization, and result in death. The recall was prompted by 2 deaths and 19 serious injuries. Read more about the March 2021 recall of the HVAD
The system was also recalled in May 2020 due to the outflow graft and outflow graft strain relief because it may tear and the strain relief screw may break during assembly prior to implant. Read more.
There were also three other prior recalls of the system in 2016 and 2017.
Medtronic Said It Will Continue Support For Patients With Implanted HVADs
Though the company will stop distribution and sale of the HVAD System, Medtronic said it is committed to serving the needs of the approximately 4,000 HVAD patients currently implanted with the device.
Medtronic consulted with an independent panel of clinician advisors to develop patient management recommendations to reduce stroke risk and mitigate against other potential risks associated with the HVAD System. Elective explant of the HVAD device is not recommended, as risks associated with explantation may outweigh the potential benefits.
Medtronic is also developing an ongoing support program for patients who have had an HVAD implanted, caregivers, and health care professionals who participate in their care. The program will include financial assistance for eligible patients and other resources for physicians and their caregivers. Further details of the program will be announced when they become available.
Medtronic is working closely with other stakeholders including Abbott, which manufactures the HeartMate 3 LVAD device, and with regulatory bodies globally, to help ensure that alternative treatment options are available for patients who may be candidates for a LVAD device.
Patients with a HVAD implanted should contact their physician with questions or concerns. Find more information at www.Medtronic.com/HVADsafety.
Medtronic said it has been working closely with the FDA, along with other regulatory bodies around the world, to share information related to this decision and its commitment to ongoing support for patients implanted with the HVAD device.
Abbott is Increasing Production of the HeartMate 3 To Meet LVAD Demand
Medtronic was in contact with Abbott prior to announcing it was discontinuing the HVAD system. On June 3 when Medtronic made its announcement, Abbott also announced it has capacity and supply to support the growing demand for mechanical circulatory support (MCS) devices for the treatment of advanced heart failure following Medtronic's decision to end production of the HeartWareHVAD.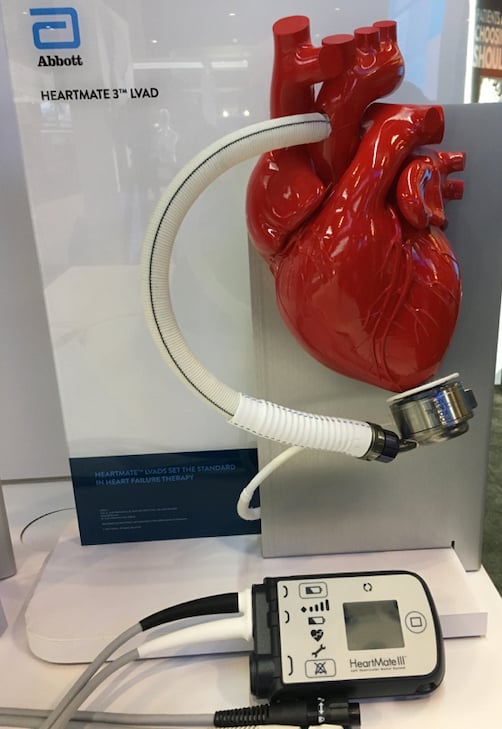 Abbott said it also is supporting training and education programs for additional physicians who will now be offering Abbott's HeartMate 3 heart pumps to their patients as an alternative to the Medtronic system.
"For years we have seen truly life-saving results in patients treated with mechanical circulatory support devices. Ensuring continued access to these devices is critical for patients," explained Mike Pederson, senior vice president of Abbott's electrophysiology and heart failure business. "We are working to ensure that physicians have the support and training they need as they further adopt HeartMate 3 to improve outcomes for their advanced heart failure patients."
Abbott's HeartMate 3 LVAD is a small, implantable mechanical circulatory support device for advanced heart failure patients requiring either short- or long-term support who are awaiting a heart transplant or who are not candidates for heart transplantation. The pump has a proven mortality benefit and strong safety profile that has led to longer, improved lives for thousands of advanced heart failure patients around the world, Abbott said. In a recent study of risk adjusted and propensity matched patients supported with the HeartMate 3 published in the Annals of Thoracic Surgery, actuarial survival rates were found to be 87% at one year and 84% at two years.[1]
The HeartMate 3 heart pump is available for patients with advanced heart failure who are either awaiting a heart transplant (bridge to cardiac transplantation) or not eligible for transplantation (destination therapy). The system also is approved for pediatric use. To date, nearly 18,000 patients around the world have been supported by the HeartMate 3 heart pump.
For more information: www.abbott.com, www.medtronic.com
Related LVAD Content:
VIDEO: New LVAD Designed to Prevent Hemolysis and Clots
Hershey Medical Center Second in the Nation to Implant EvaHeart2 LVAD
Medtronic Recalls HVAD Pump Implant Kits After 2 Deaths and 19 Serious Injuries
Wireless Transcutaneous Energy Transfer (TET) System for Powering a LVAD is Successful
FDA Approves Abbott's HeartMate 3 VAD for Pediatric Patients
CMS Updates Coverage Policies for Artificial Hearts and Ventricular Assist Devices
FDA Clears SynCardia 50cc Temporary Total Artificial Heart as Bridge to Transplant
Carmat to initiate FDA U.S. Feasibility Study of Total Artificial Heart
FDA Approves Less Invasive Surgical Approach for HeartMate 3 Heart Pump
HeartMate 3 Pump Shows Superior Outcomes in Advanced Heart Failure
Abbott Receives FDA Approval for HeartMate 3 Left Ventricular Assist System
Reduced Device Clotting, Decreased Strokes Seen With HeartMate 3 at Two Years
More ventricular assist device technology news
Reference:
1. Francis D. Pagani, Ryan Cantor, Jennifer Cowger, et al. Concordance of Treatment Effect: An Analysis of The Society of Thoracic Surgeons Intermacs Database. Annals of Thoracic Surgery. Published May 31, 2021. DOI:https://doi.org/10.1016/j.athoracsur.2021.05.017.
---
If you enjoy this content, please share it with a colleague