Here is an example of Fitbit data showing comparisons of data from Fitbit users by state. Residents in some states that take more steps in a day typically have lower incidences of diabetes, as shown in this heat map.
 
The Centers for Disease Control and Prevention (CDC) highlights physical activity as one of four key behaviors people can take to improve their heart health.[1] This ties in with the explosion of heart rate and fitness trackers on the consumer market over the past few years. Clinicians are trying to figure out how to correlate consumer heath tracking big data into usable data from tracking patients' health. Here are some examples of how data from wearable health tracking devices can be used to examine trends in population health in various regions of the United States.
While obesity and other heart disease risk factors remain a growing national health crisis, big data from these consumer fitness trackers may allow population health insights into geographic variations. An example of this is Fitbit's online Activity Index, which reveals how each state compares to the national average based on body mass index (BMI), resting heart rate (RHR) and other data, such as daily steps and active minutes per day.
What Hospitals Are Doing With Wearable Data
"There are a lot of people wearing these devices producing data, and the manufacturers are collecting data, so the question really is this something that can be utilized in healthcare to improve outcomes," said Karl Poterack, M.D., medical director, applied clinical informatics, Mayo Clinic. He presented on how wearable technology can be used at the 2019 Healthcare Information Management and Systems Society at (HIMSS) conference. "Obviously there are technical barriers to putting the infrastructure in place to collecting that data. The bigger question is what is the healthcare system going to do with that data."
Right now, if a patient goes to their doctor and shows them their step and heart rate data, the doctor is going to say they really have no idea what that means, Poterack explained. "The challenge to this is that we need a way to collect this data and tie it to outcomes, and it is going to take a lot of resources to build the infrastructure needed to collect and price that data. Until we know what that data really means, it is going to be hard for people to make the commitment to build that infrastructure."
Poterack said Fitbit alone has data on more than 3 billion steps, and that is just part of the data that is out there. He said partnerships between wearable vendors collecting this data and healthcare organizations that have outcomes data will be needed to take the next step to making wearable data more clinically useful. 
Steps are being taken by some healthcare systems to use wearables for outpatient tracking. The Sheba Medical Center in Israel is using an assortment or wearable devices interfaced by a third-party app to make the data accessible and HIPAA compliant in one location and trends trackable. 
"All this information comes to one place and goes into our system so we have all this data in one patient dashboard," said  Robert Klempfner, M.D., director of the Cardiovascular Prevention Institute, Sheba Medical Center. "We can decide that we want to get glucose levels on a patient, so we give them a glucometer that connects with my system. It is like a Lego system where everything can connect together, so we can add things like blood pressure monitors or SpO2 monitors to measure oxygen saturation. 
 
Examples of Wearable Data and Variables
While activity and heart rate trackers offer some insights, other population health also may play a role as variables on the data. This includes the demographic of who purchased these devices and is using them, diet, access to fresh food rather than processed foods, environment, and the society attitudes toward health, diet and exercise between regions. These variables play a role in the data maps shown below. 
Below are several examples of how big data from wearables can be used to map population variables and their possible links to health trends seen in various regions of the United States. The data heat maps below are from Fitbit's online, interactive activity index. 
As can be seen in these comparisons below and realizing the many variables involved, artificial intelligence (AI) deep learning algorithms are now being used by researchers and some health IT vendors to sift through this sort of data. Deep learning software enables the machine to identify complex patterns that can be used for better regional health risk assessments, or identify variables that impact public health.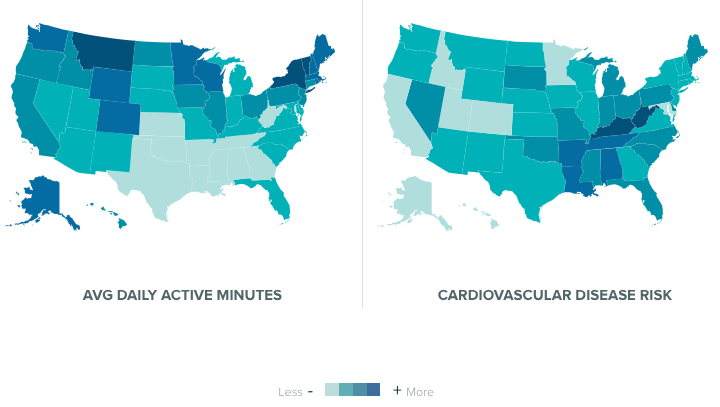 Fitbit device population health average daily activity vs. cardiovascular disease rates by state.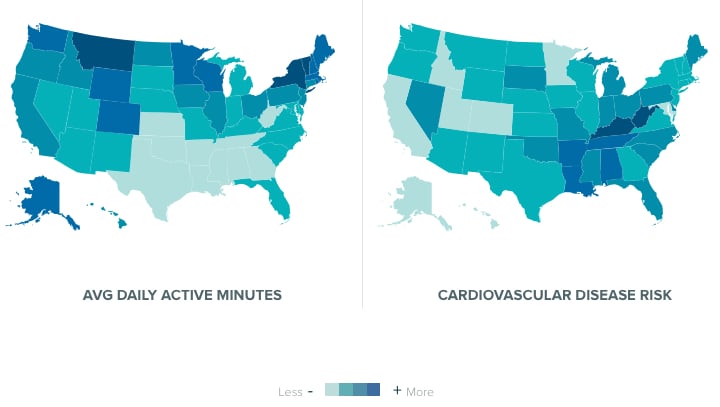 Fitbit population health data for the average daily activity of Fitbit users vs. cardiovascular disease rates by state.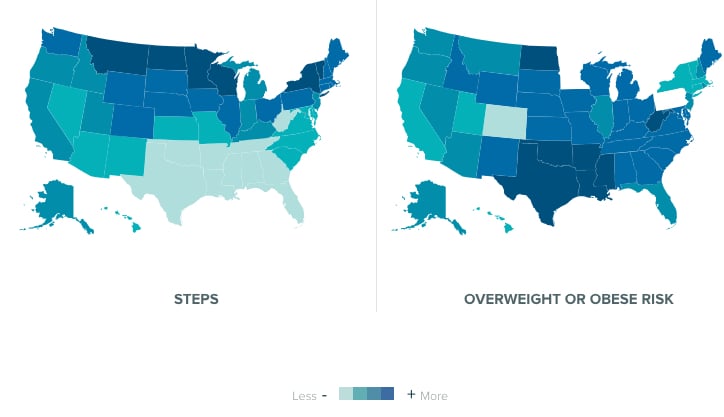 Fitbit big data heat map from Fitbit wearable health tracker users showing a comparison of steps vs. obesity rates by state.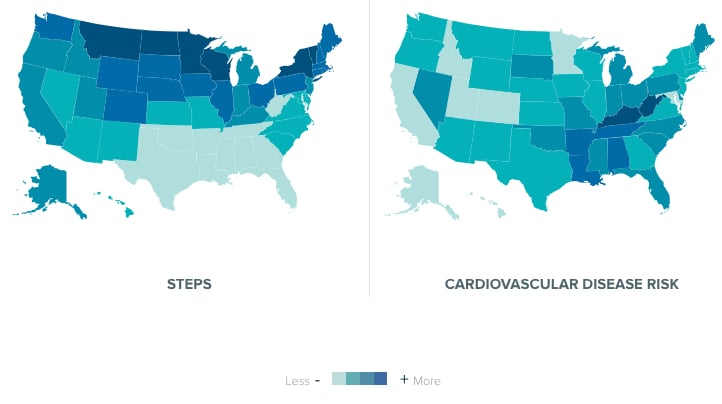 Fitbit population health data from Fitbit users showing a comparison of steps vs.cardiovascular disease rates by state.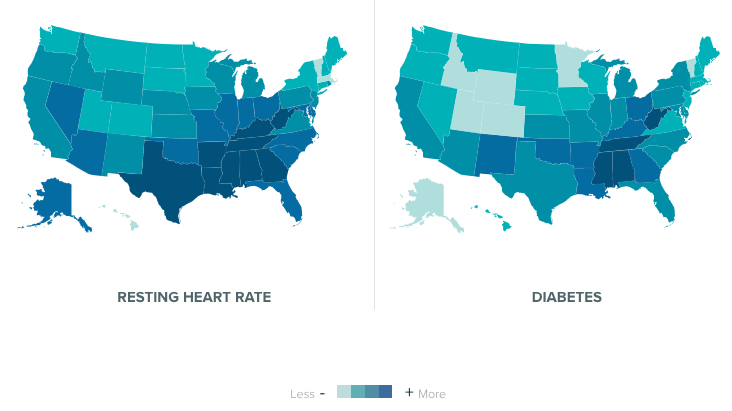 Fitbit population health data from Fitbit users showing a comparison of resting heart rate vs. cardiovascular disease rates by state.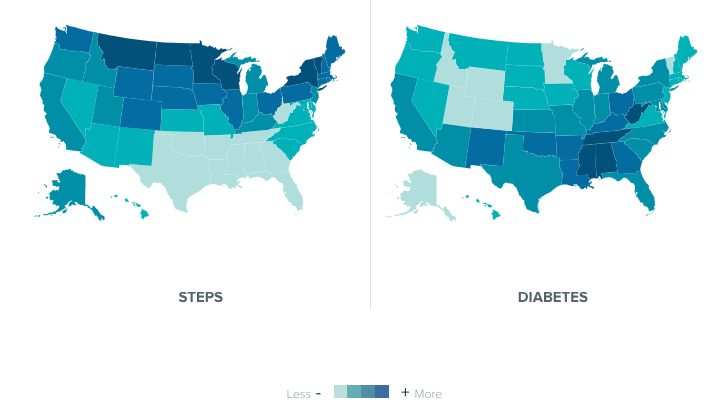 Fitbit Population health data showing a comparison of steps per day vs. diabetes rates. This is an example of how big data from consumer wearables can be used to track regional health trends.
Fitbit population health average daily activity vs. cardiovascular disease rate comparison by state.
Another example of big data can be used to track population health, using data from the siocial media network Twitter. These maps show a correlation between a CDC study on cardiovascular disease rates by country and a study conducted based on hostility in Twitter tweets by users based on their county location. [2]
Related Content on Wearables and Big Data in Healthcare:
Understanding How Big Data Will Change Healthcare
VIDEO: Use of Wearable Medical Devices for Cardiac Rehabilitation — Interview with Robert Klempfner, M.D.
VIDEO: Mobile App Links Wearable Data to Electronic Medical Records
Apple Heart Study Demonstrates Ability of Wearable Technology to Detect Atrial Fibrillation
VIDEO: Use of Wearables to Track Electrophysiology Patients — Interview with Khaldoun Tarakji, M.D.
VIDEO: The Future of Wearables in Healthcare — Karl Poterack, M.D.
8 Cardiovascular Technologies to Watch in 2020
VIDEO: Healthcare Technology Advances at CES 2019
The Cardiovascular Disease Technology Market Will Exceed $40 Billion by 2030
Welcoming Apple to the World of ECG
VIDEO: How Smartphones May Revolutionize Healthcare in the Developing World — Interview with Jacques Kpodonu, M.D.,
VIDEO: Use of Technology to Address Underserved Populations — Interview with Partho Sengupta, M.D.
References:
1. Centers for Disease Control and Prevention (CDC) website. Promoting Healthy Behaviors. https://www.cdc.gov/healthyschools/healthybehaviors.htm. Accessed Feb 14,2020.
2. Johannes C. Eichstaedt, Hansen A. Schwartz, Margaret L. Kern, et al. "Psychological Language on Twitter Predicts County-Level Heart Disease Mortality." Psychological Science. Feb. 2015 26: 159-169, 2015 doi:10.1177/0956797614557867
---
If you enjoy this content, please share it with a colleague