At Mayo, they have a small, tableside-mounted ultrasound console in the cath labs that is used for both radial and femoral vascular access. Table set up with the patient includes a sterile marker, a hemostat for marking the lower edge of the femoral head using fluoroscopy, a micropunture needle and a still micropunture sheath. Photo and slides courtesy of Yader Sandoval, M.D.
Vascular access site bleeding is associated with higher complications and mortality rates. For decades femoral access for coronary catheterization has been performed using anatomic landmarks and palpation of the femoral pulse to make needle sticks. However, in recent years there has been rapid adoption of point-of-care ultrasound systems in the cath lab to visualize arterial access to improve safety and accuracy.
"Studies show patients with access site bleeding have significant rates of mortality as compared to patients without bleed, so we need to make sure that we are using the best strategies in our patients when attaining femoral access to reduce the risks for bleeding and vascular complications," explained Yader Sandoval, M.D., FACC, FSCAI, interventional cardiologist and assistant professor of medicine at the Mayo Clinic, who presented on this topic at the Society for Cardiovascular Angiography and Interventions (SCAI) 2020 Virtual Conference. 
About 50 percent of U.S. percutaneous coronary intervention (PCI) cases have now moved to radial artery access in an effort to reduce bleeding complications related with femoral access. However, femoral access is still needed for larger bore device access, including trans catheter valve and endovascular repair procedures, and implantation of Impella and other types of circulatory support devices. 
But despite the availability of ultrasound, Sandoval said about 60 percent of operators still prefer use of the old palpate and stick technique, according to a 2016 survey of about 1,000 operators.[1] A combination of palpation, fluoroscopy or ultrasound was only being used at the time by 27 of respondents.
"In the era of large-bore vascular access required for structural procedures and peripheral vascular procedures, its incumbent on us to use best practices, which today includes ultrasound-guided access," said Prashant Kaul, M.D. director of the cath lab, Piedmont, Atlanta. "This should be iterative access with both fluoroscopy and ultrasound." 
Sunil Rao, M.D., chief of cardiology, Durham VA Health System and a professor at Duke University, agreed. "I come from a lab that did not traditionally use ultrasound for vascular access, but to remind everyone, the use of ultrasound in the ICU for venous access is considered a quality metric. So it always has been fascinating to me why when we are accessing an artery we don't use it. Our fellows drove its use and we are now using it routinely for femoral access, and now for radial access."
He said the ultrasound also helps assess the size of the radial and the ulcer artery lumen sizes to determine which would be more comfortable for the patients to access.
Use of the Contemporary Femoral Access Method
Operators in various labs offer slightly different techniques for gaining arterial access, but in recent years, methods using a combination of ultrasound and angiography imaging have been viewed as the "contemporary" femoral access method to increase safety.[2]
"The contemporary technique to obtain femoral access is the complementary use of fluoroscopy, angiography, micro puncture and femoral angiography," Sandoval explained. 
He said several studies have shown the benefits of using ultrasound for vascular access. He noted the most robust example is the FAUST Trial, which showed a reduction in the number of access attempts, higher first pass success rates, lower risks of venipuncture and reduced time to sheath insertion by using ultrasound.[3]
"There is some resistance to ultrasound because people have the impression that it might delay procedure time, it might not be readily available for emergency procedures, or other reasons. But, the fact of the matter is that if you make this your standard and you practice ultrasound guidance routinely and make it part of your set up, when you join the case you will be ready to go," Sandoval said. 
At Mayo, they have a small, read bedrail mounted ultrasound console in the cath labs that is used for both radial and femoral access. Table set up with the patient includes a sterile marker, a hemostat for marking the lower edge of the femoral head using fluoroscopy, a micropuncture needle and a still micropuncture sheath. 
Step-by-step Approach to Performing Contemporary Vascular Access
Sandoval offered a step-by-step instruction on how to perform contemporary vascular access using the following steps:[2]
1. Identify the lower edge of the femoral head using fluoroscopy and position a metal hemostat on the X-ray to located the precise location of femoral head on the skin. Then mark this with a a line using the sterile marker. Sandoval said this helps when moving to the next step using ultrasound so you do not lose the positioning relationship to the femoral head while scanning.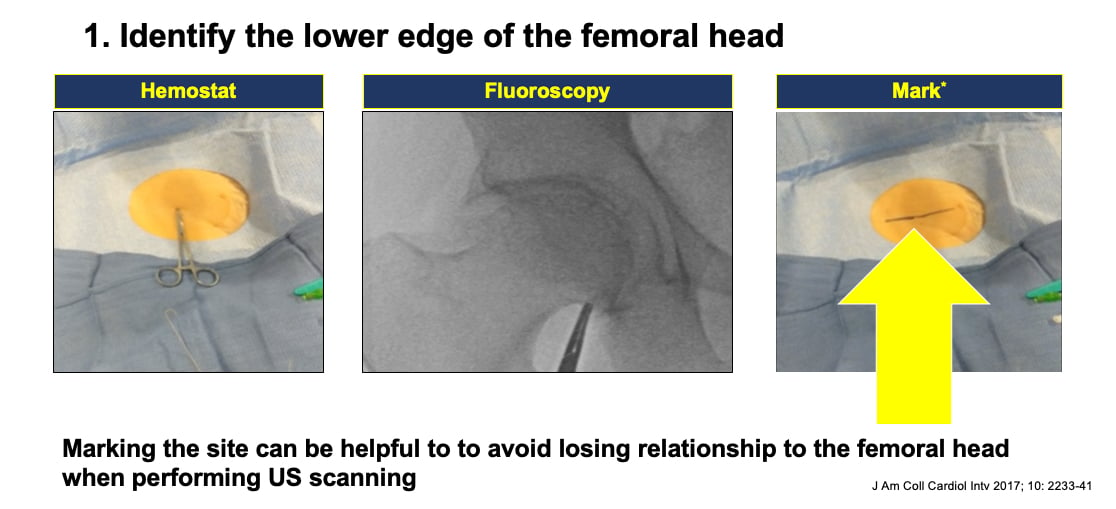 2. Administer subcutaneous local anesthetic. If you do this under ultrasound, Sandoval said it will help identify what needle angulation will be needed for the next step.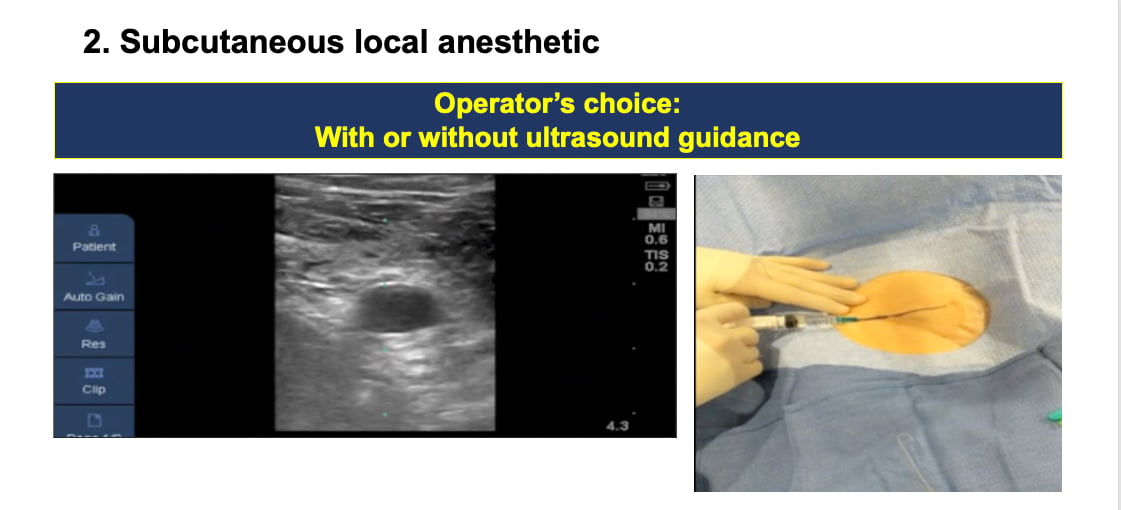 3. Ultrasound scanning tips. When scanning, he suggests maintaining the probe in a straight position. "An important key message is to maintain the probe in a straight, upright position, do not tilt the probe. People tend to tilt the ultrasound probe and that can influence how you triangulate the needle in relation to the artery," Sandoval explained.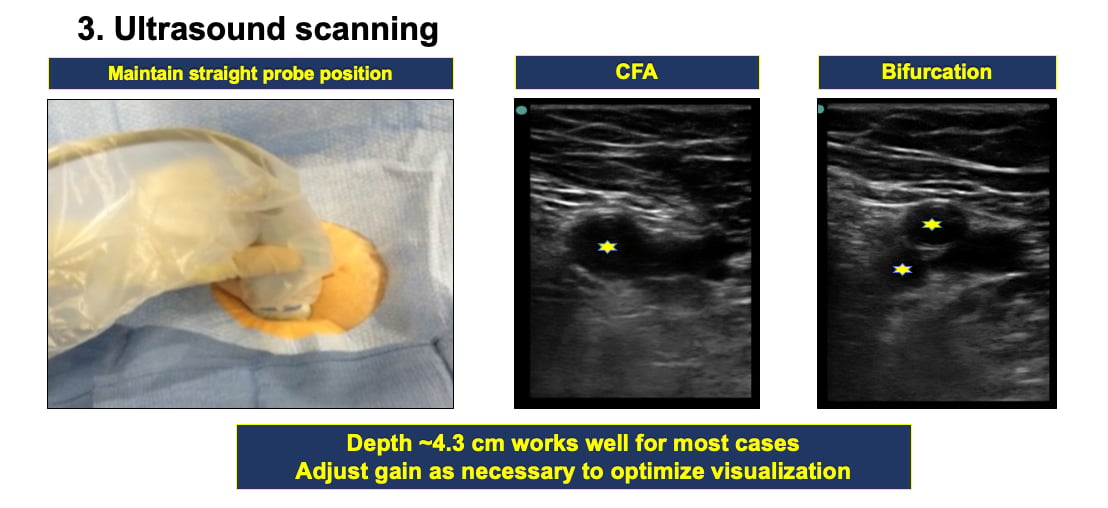 Next, identify the common femoral artery (CFA). Apply pressure to identify the common femoral vein so it can be distinguished from the artery. Then identify the bifurcation to find your landing zone. A depth of about 4.3 cm works well for most patients. You can adjust the gain as needed to optimize visualization.
4. Access the artery with a micro puncture or standard needle under ultrasound guidance.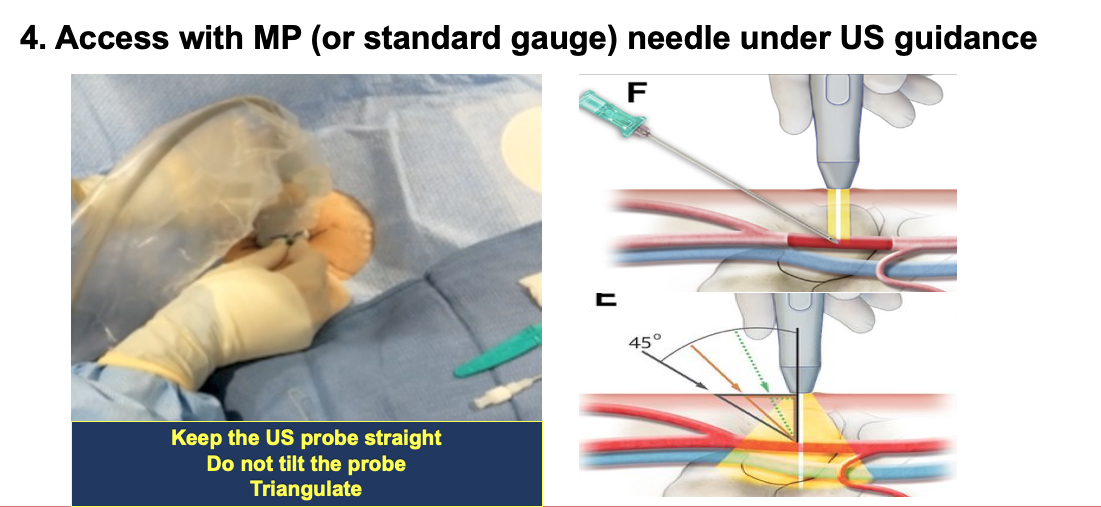 5. Once you obtain access, confirm the entry site and advance under fluoroscopy guidance. "This is why I like to use a micropuncture kit, because you can advance the wire under fluoroscopy before you advance the sheath. If you are too high, using a small caliber needle allows you to pull it back, apply some pressure and try again," Sandoval said. But, he warns to be careful and watch where the wire goes under fluoroscopy because it is easy to push the wire into side branches.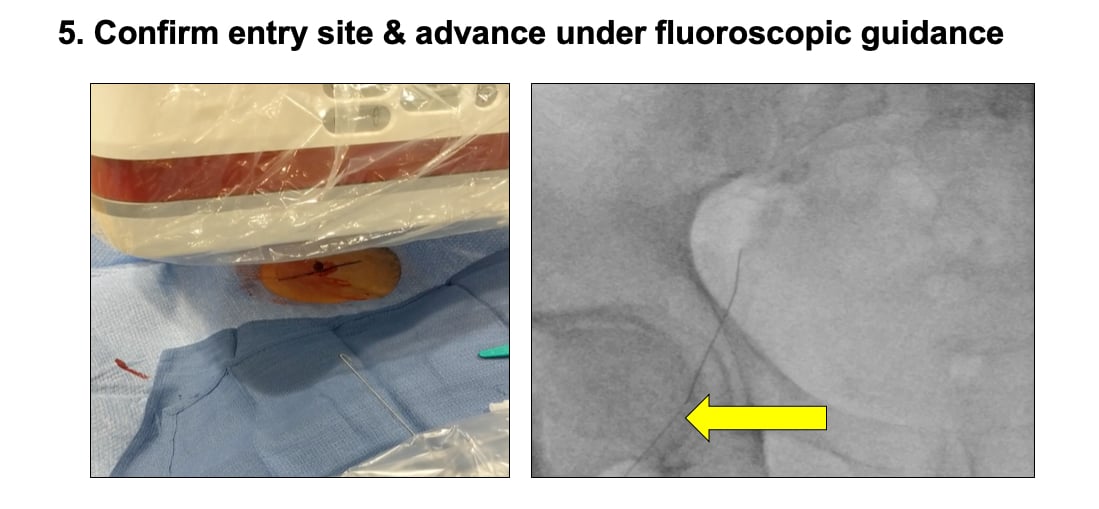 6. Then do a routine femoral angiography before beginning the case. Ideally you can image at a 30 degree ipsilateral angulation with some contrast to make sure there are no vascular complications and your wire is located in the femoral artery before you begin the case.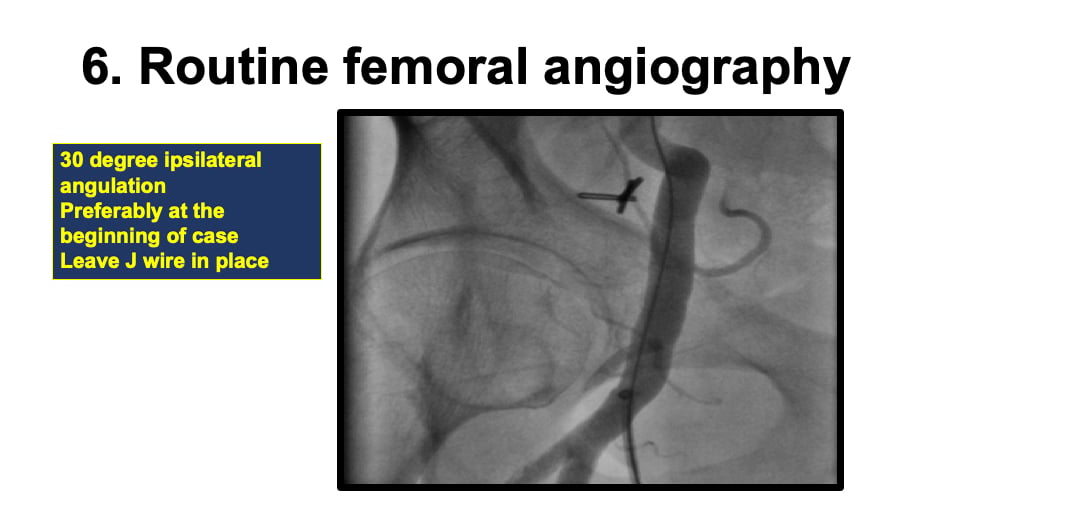 "In contemporary practice, there really is no excuse today why you should not have a dedicated ultrasound system in you cath lab to aid in vascular access. It should be part of your cardiovascular cath lab guidelines," Sandoval explained. "For femoral access, fluoroscopy and ultrasound guidance should be routinely used to obtain femoral access. We should be moving away from pulse palpation in 2020."
Related Vascular Access Content:
VIDEO: Trends in Radial Access for Percutaneous Coronary Interventions
Radial Access Nearing 50 Percent of PCI Volume in U.S.
VIDEO: History of Radial Artery Access - an interview with Ferdinand Kiemeneij, M.D., Ph.D.
Radial Access Adoption in the United States
VIDEO: New Frontiers in Radial Access — an interview with Mladen I. Vidovich, M.D.
Transradial Access Celebrates 25 Years
TAVR, EVAR Vascular Closure Device May Eliminate Need for Surgical Cut-Down
VIDEO: Use of Large Bore Vascular Closure — Interview with Ashish Pershad, M.D.
Early Bird Bleed Monitoring System Used in First Commercial U.S. Patient
VIDEO: How to Achieve Hemostasis With Large Bore Device Access — Interview with Philippe Genereux, M.D.
Radial Access Has Similar Ischemic Outcomes, Lower Bleeding to Femoral at One Year
Incorporating Distal Radial Artery Access Into Clinical Practice
 
References: 
1. Abdulla A. Damluji, MD, MPH,a,b Daniel W. Nelson, MD,c Marco Valgimigli, et al. Transfemoral Approach for Coronary Angiography and Intervention: A Collaboration of International Cardiovascular Societies. JACC: Cardiovascular Interventions. Vol. 10, No. 22, 2017. http://dx.doi.org/10.1016/j.jcin.2017.08.035.
2. Yader Sandoval, MD, M. Nicholas Burke, Angie S. Lobo, et al. Contemporary arterial access in the cardiac catheterization laboratory. J Am Coll Cardiol Intv 2017; 10: 2233-41.
 
3. Arnold H.Seto, Mazen Abu-Fadel, Jeffrey Sparling, et al. Real-Time Ultrasound Guidance Facilitates Femoral Arterial Access and Reduces Vascular Complications: FAUST (Femoral Arterial Access With Ultrasound Trial). JACC: Cardiovascular Interventions. Volume 3, Issue 7, July 2010, Pages 751-758.
 
---
If you enjoy this content, please share it with a colleague