The new generation Abbott TriClip G4 device has gained European and Canadian approvals for transcatheter tricuspid valve repair (TTVR). The device is an iteration of the successful MitraClip device used for transcatheter mitral valve repairs. 
April 8, 2021 — Abbott today announced it has received European CE mark and Health Canada authorization this week for its next-generation TriClip Transcatheter Tricuspid Valve Repair (TTVR) System, a minimally invasive tricuspid heart valve repair device to treat tricuspid regurgitation (TR). The clip-based therapy, known as TriClip G4, is a non-surgical heart valve repair option specifically designed for the treatment of TR that allows physicians to tailor repair of the valve to each patient's unique anatomy.
Often referred to as the "forgotten valve" because of historically limited treatment options, the tricuspid valve has three leaflets that control the flow of blood between the two chambers on the right side of the heart (right ventricle and right atrium). When those leaflets do not close properly, blood can flow in the reverse direction – known as regurgitation – forcing the heart to work harder. The condition typically impacts older individuals who have multiple co-morbidities, making open-heart surgery a high-risk procedure and resulting in many people going untreated. When left unaddressed, TR can lead to debilitating conditions such as atrial fibrillation (AF), heart failure and, ultimately, death.[1]
"Since its initial CE mark in April 2020, TriClip has emerged as a much-needed treatment option, offering physicians the opportunity to dramatically improve the quality of life for people in Europe with severe, symptomatic tricuspid regurgitation who are not responding to medical therapy and are often so ill they cannot undergo surgery," said Philipp Lurz, M.D., Ph.D., professor and deputy head of cardiology, Heart Center Leipzig, University of Leipzig, Leipzig, Germany. "This newest generation device further improves cardiologists' ability to safely and effectively repair the tricuspid valve, which historically has been extremely challenging to treat."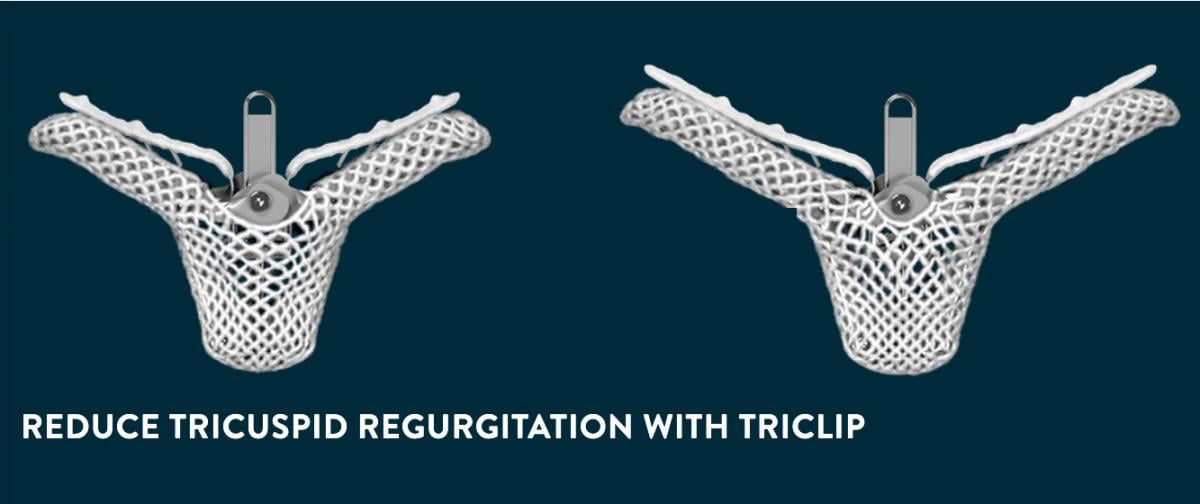 Leveraging Abbott's technology and robust body of evidence from the company's leading MitraClip device – the safe, effective and minimally invasive option to repair leaky mitral valves (or mitral regurgitation) – TriClip was specifically designed to treat the tricuspid valve's complex anatomy. With a precise and stable delivery system engineered for navigating the right side of the heart, TriClip offers physicians new options for treating debilitating TR.
Recent data for TriClip from the TRILUMINATE CE Mark study showed sustained symptomatic improvement, reduction in the severity of TR and improvement in functional status, demonstrating the benefits of the therapy and ultimately proving TriClip as a safe and durable treatment option for high-risk patients with symptomatic moderate or greater TR.[2]
TriClip is delivered to the heart via a catheter inserted through the femoral vein in the leg and works by clipping together a portion of the leaflets of the tricuspid valve to reduce the backflow of blood. With its differentiated delivery system designed specifically for the tricuspid valve and a steerable guiding catheter system, physicians can independently grasp and effectively clip leaflets of the tricuspid valve to reduce the regurgitation. This latest innovation includes two new clip sizes, offering clinicians a total of four sizes to tailor the device to different patient anatomies.  
"Tricuspid regurgitation is considered the most under-treated valve issue and our newest generation device to address it is the result of our unwavering commitment to restore health and improve the quality of life for patients with structural heart disease," said Mike Dale, senior vice president of Abbott's structural heart business. "Our novel TriClip therapy offers the best possible outcomes for people suffering from a debilitating condition and gives doctors even more options for customizing repair of this complex anatomy."   
TriClip G4 also recently received Health Canada approval, broadening its access to more people with TR across the world.
For more information on TriClip, please visit: http://abbo.tt/TriClip.
For U.S. important safety information on MitraClip, visit http://abbo.tt/MitraClipG4ISI.  
The TriClip and TriClip G4 Transcatheter Tricuspid Valve Repair Systems are approved for investigational use only in the U.S. Abbott started its FDA TRILUMINATE Pivotal trial evaluating the safety and effectiveness of its TriClip in September 2019. This is the first pivotal Investigational Device Exemption (IDE) trial in the U.S. to evaluate a catheter-based, non-surgical treatment for patients with severe TR. Read more on the U.S. trial.
.
Related Transcatheter Tricuspid Valve Repair Content:
Transcatheter Tricuspid Valve Repair Clip Device Cleared in Europe
Edwards Pascal Tricuspid Valve Transcatheter Repair System Approved in Europe
First Human Use of Transcatheter Duo Tricuspid Valve Announced in Ireland
VIDEO: Tricuspid Valve Imaging and Interventions Developing Hand-in-hand — Interview with Rebecca Hahn, M.D.
Advances in Transcatheter Tricuspid Valve Technologies
VIDEO: Tricuspid Device Clinical Trial Overview — Interview with Ori Ben-Yehuda, M.D.
8 Cardiovascular Technologies to Watch in 2020
TriClip Device For Tricuspid Regurgitation Effective at One Year in TRILUMINATE Study
Reference:
1. Riesenhuber, M., Spannbauer, A., Gwechenberger, M. et al. Pacemaker lead-associated tricuspid regurgitation in patients with or without pre-existing right ventricular dilatation. Clin Res Cardiol (2021). https://doi.org/10.1007/s00392-021-01812-3.
2. Philipp Lurz, Ralph Stephan von Bardeleben, Marcel Weber, et al. Transcatheter Edge-to-Edge Repair for Treatment of Tricuspid Regurgitation. J Am Coll Cardiol. 2021 Jan 26;77(3):229-239. doi: 10.1016/j.jacc.2020.11.038.
 
---
If you enjoy this content, please share it with a colleague