The GE Healthcare Allia IGS 7 angiography system.
December 3, 2020 — GE Healthcare is introducing a new version of its robotic driven angiography system for image guided therapy, the Allia IGS 7 angiography system. It was unveiled at the 2020 Radiological Society of North America (RSNA) virtual meeting. 
The system is neither floor or ceiling mounted, instead operating on a wheeled gantry so it can easily be parked out of the way for easier patient access or conversion to open procedures. The robotic gantry is laser guided to enable exact positioning in the room and enable advanced imaging and guidance technologies found on fixed-based C-arm systems.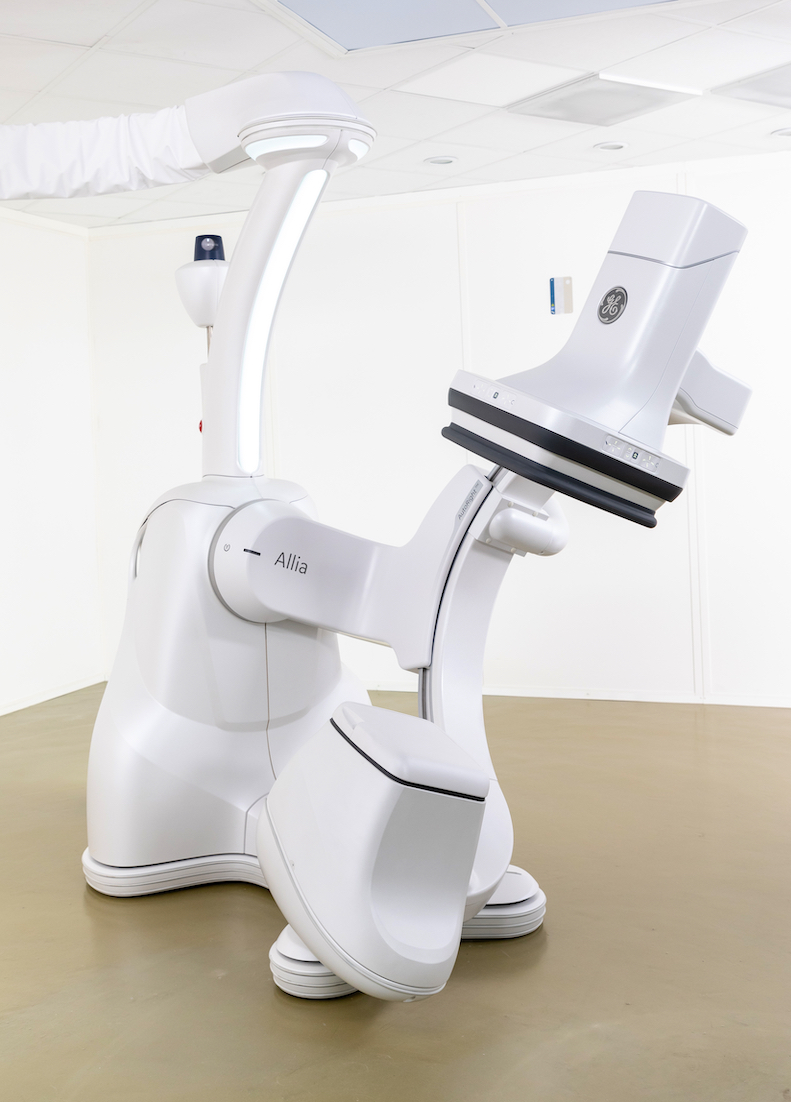 Nearly 50 percent of procedures[1] are performed at working positions where clinicians have poor access to user interface, functions and display. GE Healthcare collaborated with clinicians to completely redesign the image guided therapy suite focusing on ergonomics, ease-of-use and workflow efficiency. Allia IGS 7 is designed to enhance user experience, improve workflow efficiency and increase adoption of advanced image guidance in daily practice.
Upon entry to the interventional or hybrid operating room, with just one click on the personalized interfaces, the users can access their essential functions to make it their room. Similarly, with the redesigned C-arm making the controls more accessible, the assistant will enable an optimized ergonomic setup for the user's clinical needs, even in complex working positions at the head, neck or left side.
GE's AutoRight technology uses intelligent image chain features on GE's interventional X-ray systems, from image acquisition to image processing and display. The AI-based AutoRight image chain enables users get the right image at the right dose automatically. AutoRight features a graphical color-coded display of the real-time dose rate to help the user to select the image quality needed while AutoRight optimizes dose. With wide bore C-arm, 3-D presets, and in-room 3-D review, cone beam CT adoption is now easier in daily practice. 
Users can also easily access and use augmented reality with ASSIST solutions to perform complex procedures while reducing dose. ASSIST solutions are composed of multiple medical devices. 
"What is really great about the Allia IGS 7 is that it is the result of a real partnership between GE and a high-volume user like me," said Stephan Haulon, professor of vascular surgery at Groupe Hospitalier Paris Saint Joseph, Hôpital Marie Lannelongue. "There has been a real focus on ergonomy, working space, ease of use. What I truly believe is that this image guided system is an assistant to perform all those endovascular procedures. The overall impression of this new generation was excellent."
Read more about what GE is highlighting at RSNA 2020.
Find more angiography system news
Find a comparison chart on angiography systems
Reference:
1. 47%, according GE sponsored blind survey conducted with 180 Interventional Cardiologists, Interventional Radiologists, and Vascular Surgeons in the US and Europe
---
If you enjoy this content, please share it with a colleague