The STAT2 trial used a combination of the Biolife Statseal potassium ferrate hemostatic patch and a Terumo TR Band to reduce radial access arteriotomy site hemostasis by 50 percent.
April 28, 2021 — A new study reveals the use of a potassium ferrate hemostatic patch (PFHP) reduces the time to hemostasis for patients receiving radial artery access cardiac catherization. The findings indicate a faster approach to removing the compression band used during the procedure, without compromising safety. Positive results of the STAT2 trial follow an initial pilot study and are being presented as late-breaking clinical science at the Society for Cardiovascular Angiography and Interventions (SCAI) 2021 Virtual Scientific Sessions.
Cardiac catherization is increasingly being performed using transradial approach, where a catheter is inserted through radial artery in the wrist to the heart, rather than using the femoral artery in the groin. A compression device called a TR band (TRB - made by Terumo) is used to close the vascular access site. Standard protocols require the band to be left on for at least two hours following the procedure. 
Shorter compression times can help reduce complications with radial artery occlusion, so it is desirable to find ways to shorten compression times, said Arnold H. Seto, M.D., MPA, FSCAI, Long Beach VA Health Care System, who presented the data at SCAI. He said clinicians often start to deflate the wrist band balloon after an hour and watch for ooze or blood. If there are signs the wound is not completely sealed, the band is reinflated. Reinflations occurs more that 67 percent of the time, he explained.
"We found with the Statseal, you almost never have to reinflate," Seto said. 
This study shows that time can be reduced in half and with fewer complications by using the additional patch device, which helps sped the clotting process. This can save staff time and possibly leading to faster patient discharge for same-day PCI programs. 
The study evaluated the use of the BioLife Inc. StatSeal device patch compared to using a TRB alone in order to reduce time to hemostasis after transradial access. The study enrolled 443 patients across three centers, including 27.5% receiving percutaneous coronary intervention (PCI). Patients were randomized 1:1 to either the TRB alone or the TRB in addition to the potassium ferrate hemostatic patch. Both groups had complete TRB deflation attempted at 60 minutes post-procedure. Findings demonstrate the adjunctive use of the patch is safer and faster in deflating the TRB and reduced rebleeding. From a prior pilot study, discharge times were reduced with the use of the Statseal.
"By bringing observation times down from two hours to one, the use of the hemostatic patch has the potential to change practice because we can move toward same-day discharge protocols for cardiac catherization patients," Seto said. "We would be able to shift from long observation times and more frequently tell a patient, 'you are going home today.' This is really important for both the clinician and the patient."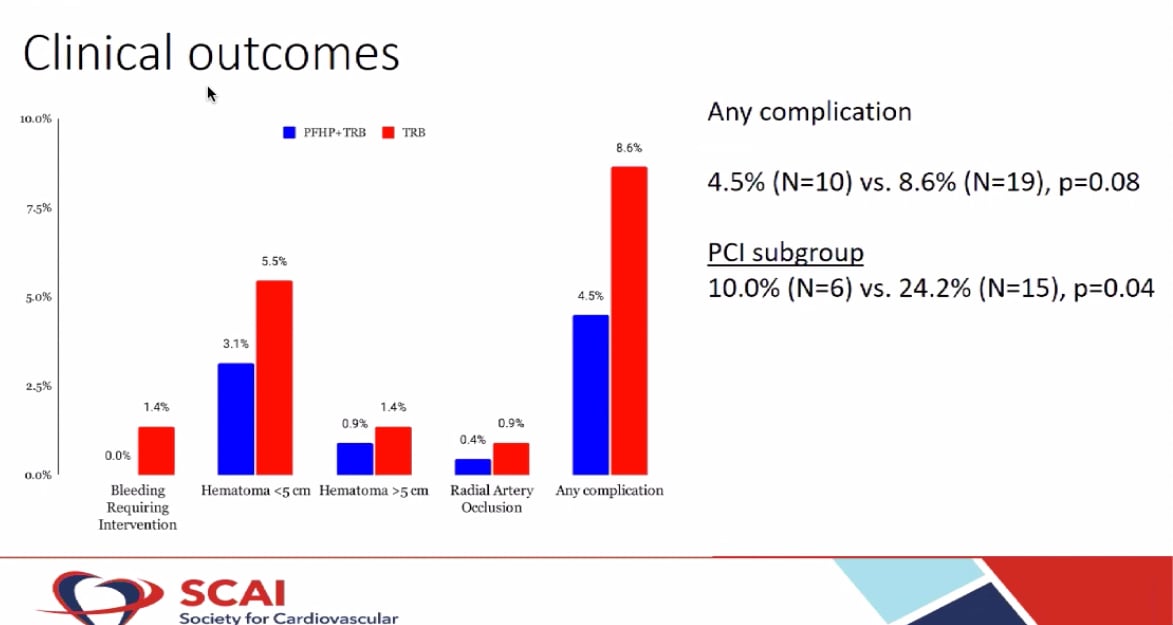 Results showed the time to complete TRB deflation was shorter with the PFHP compared to for TRB alone (65.9 ± 14.1 min vs. 112.8 ± 56.3 min, P<0.001). Minor rebleeding requiring TRB reinflation was much more frequent without the PFHP (0% vs. 67.3%, p<0.001). The rate of hematomas developed was lower in those who received the PFHP and RAO was rare (<1% in both groups). The reduction in time to TRB deflation (68.1 ± 15.3 min vs 138.2 ± 62.0, P<0.001) and complications was also seen among PCI patients in the PFHP group [10.0% (N=6) vs. 24.2% (N=15), p=0.04]. Additionally, heparin dosing used to reduce risk of radial artery occlusion was up to operator preference. 41% of patients received less than 5,000 units of heparin, lower than current practice, suggesting that it may be safe to use lower initial doses for diagnostic catheterization in order to expedite TR band deflation and patient discharge.
"From an operator stand point, these findings are key to improving cath lab throughputs," said Jordan G. Safirstein, M.D., FSCAI, Morristown Medical Center. "Now we know that we can safely discharge patients quicker than we have before, which not only improves efficiencies but is also beneficial for the quality of life for the patient. We hope our results generate positive healthcare benefits so more patients can be treated with life-saving cardiac solutions."
He said the low cost of the additional device, about $20-30, is worth the savings in staff time, earlier patient discharge and in the reduction of any bleeding or radial occlusion issues.
The authors highlighted the benefits for PCI patients receiving stents, that typically spend four to six hours under observation. Their findings challenge this standard of care and indicate they may be able to safely reach discharge sooner, a trend consistent with the recent SCAI document "Length of stay following percutaneous coronary intervention." Further, authors from Morristown Medical Center note they are taking initiatives in their radial lounge to base discharge on when safety concerns and adequate hemostasis is met and the patient feels well, rather than on a framework of time.
The study included 443 patients divided between Statseal plus TR band and TR band alone at three sites, Morristown Medical Center, Long Beach VA Health Care System and Baylor Scott White Dallas.
How Does Potassium Ferrate Aid in Radial Access Closure?
"There is direct contact with the potassium ferrate and the arteriotomy," Seto said. "The TR Band is inflated with occlusive pressure for 20 minutes and then 3 ccs are deflated, and then full deflation is performed at one hour. The potassium ferrate causes conglomeration of the solids and proteins together to form a seal right at the surface, and theoretically transmit the clot further down to the arteriotomy." 
In a prior pilot study presented at TCT 2017 using this method, Seto said the data show a difference of 43 vs. 160 minutes to achieve hemostasis.[1]
"In this trial, TR band deflation times were significantly reduced by about and hour,
Faster Hemostasis Helped Reduce Vascular Complications
Interestingly, the data in this study show the shorter hemostasis time and reduced use of compression actually helped reduce vascular complications such as bleeding that requires reintervention, hematoma, the need for a blood transfusion, and radial artery occlusion.
The rates of any complication were 4.5% for the band plus the patch, and 8.6 percent for the band alone. In the PCI subgroup in the study the results were more pronounced, with rates of 10% vs. 24.2%. 
Faster Radial Hemostasis Method May Reduce Costs
Seto said this faster method may help lead to earlier patient discharge, especially after PCI. It also can help reduce nursing burden, staff time spent monitoring the patient and the costs to care for patients. Seto added that this may also help reduce heparin doses for diagnostic procedures, which also could lead to cost savings.
"By decreasing complications you can reduce costs," Safirstein said. "You would certainly save money on the backend by preventing potential complications that usually yield additional costs, inlying imaging and possibly a prolonged hospital stay. It has really become the default strategy in our cath lab."
Find more news from the SCAI 2021 virtual meeting
Related Transradial Access Content:
VIDEO: Radial Access Recovery Lounges Aid Patient Satisfaction and Comfort Post-PCI — Interview with Jordan Safirstein, M.D.
VIDEO: History of Radial Artery Access - an interview with Ferdinand Kiemeneij, M.D.
Transradial Access Celebrates 25 Years
VIDEO: Radial Access Lounge Walk Through at Morristown Medical Center
Radial Access, Same-Day Cardiac Procedure Could Save $300 Million Annually
VIDEO: Update on U.S. Transradial Access Adoption — an interview with Sunil Rao, M.D.
VIDEO: Trends in Radial Access for Percutaneous Coronary Interventions — Interview with Sunil Rao, M.D., and Prashant Kaul, M.D.
VIDEO: Tour of a Radial Access Recovery Lounge That Mimics Cafe Atmosphere — Interview with Jack P. Chen, M.D.
VIDEO: The Benefits of Transradial Access — Interview with Jack P. Chen, M.D.
Radial Access Recovery Lounge Mimics Cafe Atmosphere
Find more radial artery access content 
References:
1. Arnold H. Seto, William Rollefson, Mitul P. Patel, et al. Radial haemostasis is facilitated with a potassium ferrate haemostatic patch: The Statseal with TR Band assessment trial (STAT). Eurointervention. 2018;14:e1236-e1242,
---
If you enjoy this content, please share it with a colleague