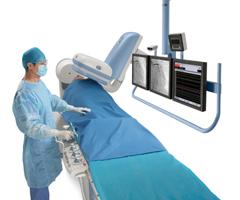 September 27, 2010 – Designed for productivity and versatility, the new GE Healthcare Innova 3100-IQ (Optima Edition) is a reliable, cost-effective, high-performance interventional combo lab for treating a wide variety of patients. It addresses diverse interventional cardiology and interventional radiology needs with one system. The system was unveiled at TCT 2010.
Built on GE Healthcare's refined interventional X-ray system technology, the Optima Edition features proven image quality and industry-leading detective quantum efficiency to reduce dose exposure for patients and staff.
Innova 3100-IQ (Optima Edition) will enable a larger set of institution types to offer interventional cardiology. Keeping the challenges of customers in mind, GE engineers designed Optima Edition to allow for the performance of both interventional cardiology procedures as well as of those for interventional radiology without compromising image quality or dose efficiency.
For more information: www.gehealthcare.com