An example of workflow efficiencies in newer CVIS systems. This example from Philips IntelliSpace Cardiovascular, a cardiac PACS plus CVIS system, shows a patient timeline with icons to show various tests, exams or procedures in an easy to understand format. The cath lab cardiac diagram can be modified by the user with stents and degree of stenosis, which automatically flows text information into the report.
The latest generation of cardiovascular information and imaging systems (CVIS), also referred to as cardiac PACS, are streamlining several issues that can cause inefficiencies, helping increase patient throughput, cut costs, and reduce physician and staff burnout.
Among these new features is having all patient and departmental data be accessible in one location. Analytics software is now being used to mine this data to identify workflow inefficiencies and areas to cut costs or improve charge capture. Clinical decision support (CDS) software is being implemented to help hospitals and doctors better meet guideline-based care in all specialties, and is being introduced to help clinicians make better care decisions. This includes choosing appropriate tests and procedures to reduce costs or lost reimbursements.
Here are a few key trends DAIC has identified over the past year.
Integration of Artificial Intelligence Into Cardiac Information Systems
Artificial intelligence (AI) will be taking over many of the manual tasks for monitoring data and to answer questions more quickly. AI will also be used to alert administrators or doctors when it autonomously identifies a problem. Applications to watch also include AI to monitor population health in the background. This can identify patients at risk for various cardiovascular diseases before they present with any symptoms. The software also can identify patients who need extra care and counseling because of the high likelihood they will not be compliant with discharge orders and be readmitted. AI also will offer a second set of eyes on cardiac imaging to help identify anomalies or greatly reduce time by performing all the measurements automatically without human intervention, such as in echocardiograms or computed tomography (CT) imaging.
Integration of Data Into One Location With the CVIS
In order to capture a complete view of a patient's condition, clinicians have had to search across multiple software platforms (often requiring multiple logins) for specific information. The latest generation of CVIS platforms now aggregate this information into one solution to provide a holistic view to facilitate better informed decision-making. This single login location also delivers the quadruple aim of improved patient and staff experience, better health outcomes and lower costs of care.
A key factor in choosing a new CVIS is if it will interface with the hospital's electronic medical record (EMR) system. Without this interface, it may be difficult to have seamless access to radiology images, labs or basic patient information. The two-way flow of data from the CVIS to the EMR also will help offer a more complete picture of a patient's health for other clinicians involved in the patient's care, such as oncology. Integration with Epic and Cerner has been an important factor many CVIS vendors mention during booth tours, because it is something many hospitals require.
Use of a Zero-footprint CVIS
There is a trend in healthcare IT away from hospital-managed servers to off-site cloud-based solutions. This enables access to patient records and images via an
internet connection.
An example of this is the IntelliSpace Cardiovascular system from Philips Healthcare. Palm Beach Gardens Medical Center in Florida implemented this system across its cardiovascular service line and said a key attribute is its zero-footprint architecture. "We are very physician-driven, so it is important for our physicians to have what they need when they need it. We don't want them tied to a workstation somewhere," said Claudia Escobedo, administrative director for cardiopulmonary and rehabilitation services. "Cardiologists can access data really easily at any time and from wherever they are."
Clinical data and images are processed within the cardiology department from the remote user and transmitted on demand over the web to the clinician's location. This technology decreases deployment costs and saves time that would have otherwise been spent interfacing IT systems.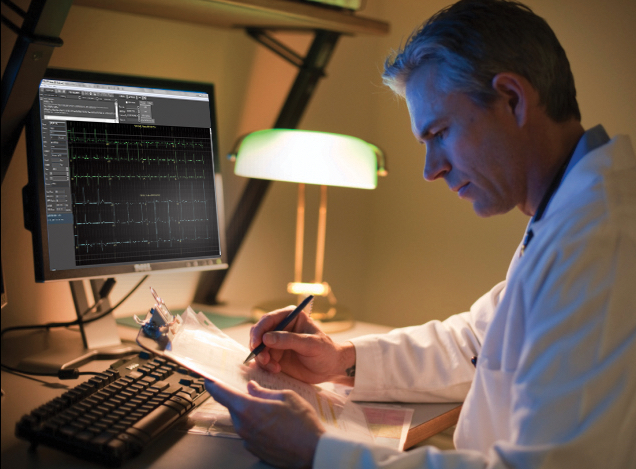 Another example of a zero-footprint CVIS is ScImage's PICOM365 Enterprise PACS. "Call nights are by far the worst part of being a clinical cardiologist, as well as covering weekend echo and transesophageal echo (TEE) for my hospital," said Anthony C. Pearson, M.D., a cardiologist at St. Luke's Hospital in Chesterfield, Mo., who uses the PICOM 360 system. "With the advent of efficient cardiac PACS, however, many of the stressful elements have gone away. In particular, the ability to remotely read and report on cardiac imaging studies has revolutionized my workflow. Now the need to get in my car and drive to the hospital to view studies has been eliminated. Leaving the hospital is no longer dependent on all work being completed."
Analytics is the Next Big Trend in Health IT
With the U.S. federal mandate under healthcare reform that all healthcare facilities convert from paper-based systems to EMRs, it has effectively connected nearly all aspects of healthcare systems into a digital format over the past decade. This has made many hospitals focus efforts on leveraging this data by implementing powerful new analytics software. Many expected clinical decision support or other anticipated federal mandates to become the next big trend in health IT, but clearly providers have instead made it analytics to leverage their EMR investments.
Pulling data in the past was a tedious process and numbers usually were not available in real time. However, the recent generation of analytics software offered by all major health IT vendors has greatly simplified analytics and often allows for customizable dashboards to view all aspects of the care continuum. This includes the time it takes for patients to go through various procedures based on the number and specific types of procedures performed at each facility, equipment utilization or downtime, workload by clinician, patient length of stay based on ICD-10 codes, hospital-acquired infection by department, etc.
Some Questions to Ask CVIS Vendors
There is a consistent list of gaps that providers often encounter as they embark on CVIS implementation, which include:     
   • Lack of natively integrated modules for seamless workflow, data synchronization and complete analytics (i.e. inventory management, billing and analytics);
   • Partial adoption of key reporting modules introducing third-party applications (i.e. invasive vascular, neurovascular and electrophysiology reporting);
   • Need for third-party integration due to limited CVIS functionality (i.e. registries and advanced visualization); and
   • Inability to ingest comprehensive cardiovascular data for real-time business and quality reports.
To ensure a successful CVIS project meets clinical, technical and fiscal objectives, provider organizations need to ensure thorough due diligence is performed, including:
   • Detailed hands-on review of clinical functionality;
   • In-depth analysis of the vendor's technology;
   • Evaluation of the vendor's ability to successfully deliver on any future roadmap commitments; and
   • Reference site visit with similar size and service delivery where vendor's technology is implemented.
Related CVIS Content:
Cardiac PACS Comparison Chart (requires a login, but it is free and only takes a minute to register)
It Takes Two to Tango — A Common Sense Approach to CVIS Initiatives
WEBINAR: Replacing PACS and the Benefits of Enterprise Partnership in a Pediatric Hospital
Fujifilm Upgrades Next-Generation Synapse Cardiology PACS
WEBINAR: Driving Physician Adoption of Structured Reporting
Philips Launches Latest Iteration of IntelliSpace Cardiovascular at HIMSS 2019
Cardiology PACS in the Digitally Enlightened Era
NewYork-Presbyterian Hospital Partners With Philips for Health IT and Clinical Informatics
VIDEO: Artificial Intelligence Applications for Cardiology