HeartSciences has been developing a new type of ECG system called Wavelet ECG that may offer a new way of looking at the heart. The MyoVista system uses continuous wavelet transform (CWT) signal processing to provide new frequency and energy information to detect cardiac relaxation abnormalities associated with left ventricular diastolic dysfunction commonly associated with hypertension, diabetes, valvular disease, ischemia and reduced systolic function. Artificial intelligence is used to read the nuances of these complex waveforms.
Here are a few trends to watch for in electrocardiogram (ECG, or if you prefer the original German EKG) systems. The biggest advancement in ECG systems in recent years has been the movement to greater interoperability and digital formats. But other technologies are beginning to be integrated into ECG systems, such as aids to properly place leads, artificial intelligence and a ways to extract additional information from ECGs to increase diagnostic value.
Here are some trends in these newer ECG systems:
1. ECG Systems Moving to Full Digital Formats
In the past decade, ECG systems have moved from technology that was largely not compatible with different vendors' cardiology reporting systems or electronic medical record (EMR) systems. The main focus of older generation systems was on a paper printout, but today's systems now require easy IT interface, compatibility and digitally stored waveforms to be compatible with increasingly paperless hospitals that use the EMR to access patient reports and data such as ECGs.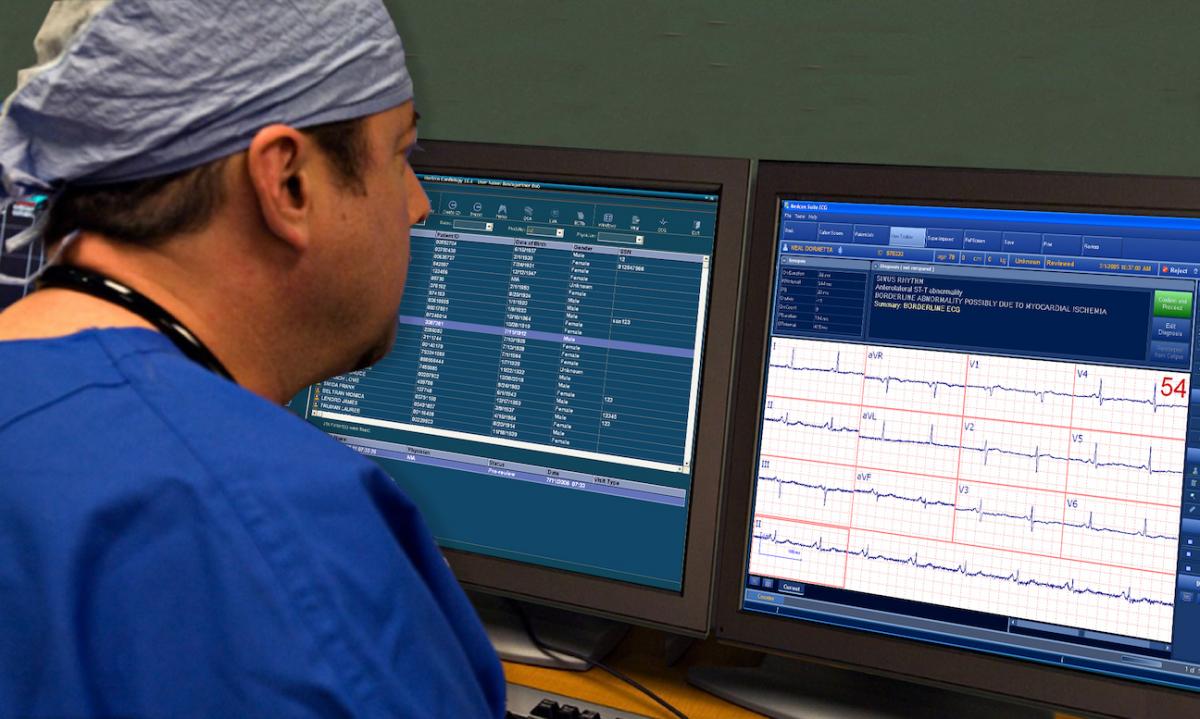 The movement to digital formats has allowed the use of digital calipers and waveform analysis algorithms. It also enables electronic storage and communications of the data with the patient's electronic medical record. Automation to help speed the reading the waveforms and report on them is also offered by some vendors. Digital ECG management and reporting systems also have become standard features on all cardiovascular information systems (CVIS). For this reason, many ECG systems and ECG management systems now offer vendor-agnostic integration with other vendors' ECG system data.
Many of the major vendors in the ECG market sell multiple types of systems that are aimed at different markets, from smaller and less sophisticated versions, to premium systems. This is to address the different needs of a large, busy, urban hospital which are not the same as those of physician offices or small remote sites. 
2. Technology to Aid ECG Lead Placement Assistance
Improper lead placement in clinics and offices can be an issue leading to poor ECGs. Schiller offers a solution to this issue with its Cardiovit FT-1 ECG system. It has a 3-D rendering of a patient on the device's screen, which shows where each lead needs to be placed. The user can rotate the images on the touch screen to see where the leads go and can easily identify where any issues are when the system automatically alerts them about misplaced leads. The goal is to improve the speed and accuracy of ECGs using a better form of visualization than the traditional black and white 2-D pictures. The system changes the lead placements of the body rendering based on the type of exam being performed using a drop down menu.
VIDEO: ECG System Uses 3-D Interactive Image to Show Proper Lead Placements
 
3. Wavelet ECG In Development May Offer New Data for Cardiac Diagnostics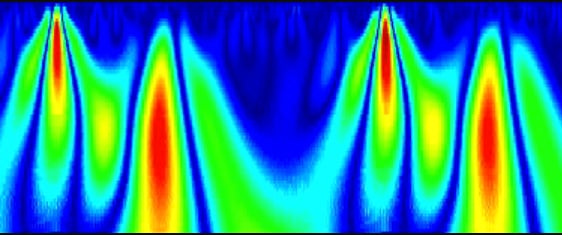 Start-up company HeartSciences has been developing a new type of ECG system that may offer a new way of looking at the heart. Rather than the basic electrical activity waveforms standard ECG has used for a century, the MyoVista Wavelet ECG (wavECG) system uses continuous wavelet transform (CWT) signal processing to provide new frequency and energy information. These colorful waveforms offer more data and can be used to detect cardiac relaxation abnormalities associated with left ventricular diastolic dysfunction (LVDD). The company says its research shows that almost all forms and co-morbidities of heart disease are associated with LVDD, including hypertension, diabetes, valvular disease, ischemia and reduced systolic function.
The MyoVista wavECG uses AI-based algorithms to analyze the data from the transformed ECG signal using continuous wavelet signal processing. The AI categorizes the overall wavECG analysis as either "Normal," "Borderline" or "Abnormal" for risk of abnormal LV relaxation.
The MyoVista is designed to be a low-cost electrocardiographic testing system to provide physicians with new information to improve patient risk-assessment related to heart disease. The MyoVista Device also provides all the information and capabilities of a full-featured conventional resting 12-lead ECG within the same test.
The company announced submission of this technology seeking market clearance from the U.S. FDA in January 2020.
4. AI Integration Into ECG
Like many facets of healthcare, artificial intelligence is being developed to aid ECG interpretation. Artificial intelligence (AI) can examine ECG waveforms to pinpoint patients at higher risk of developing a potentially dangerous arrhythmia or of dying within the next year. The AI can take a deeper dive to extract more information out of the waveforms that may not be apparent, even for an experienced reader. Several such studies have been presented at the American Heart Association (AHA) meeting over the past two years and published in cardiology journals. These types of algorithms will likely be seen appearing as options on the next generations of ECG systems. 
In November 2020, the FDA cleared AliveCor's next generation of interpretive AI-based personal electrocardiogram (ECG) algorithms for its Kardia device to detect atrial fibrillation and a wide range of cardiac conditions.
5. ECG Market Leading Vendors Move Toward Vendor Neutral Interfaces
One of the big issues for larger hospitals or healthcare systems several years ago was the lack of interoperability between ECG systems and ECG management systems because many operated using proprietary programing. In the last few years, many vendors have moved toward using open platform standards that are easier to interface with other vendors' technology, including use of DICOM format waveforms and HL7 IT interfaces. 
The ECG market has many vendors, but it is dominated by six big companies: GE Healthcare, Philips Healthcare, Nihon Kohden Corp., Medtronic, Spacelabs Healthcare and Schiller AG. Combined, these companies had more than 55 percent of the ECG market share in 2018, according to the healthcare market research firm DataM Intelligence.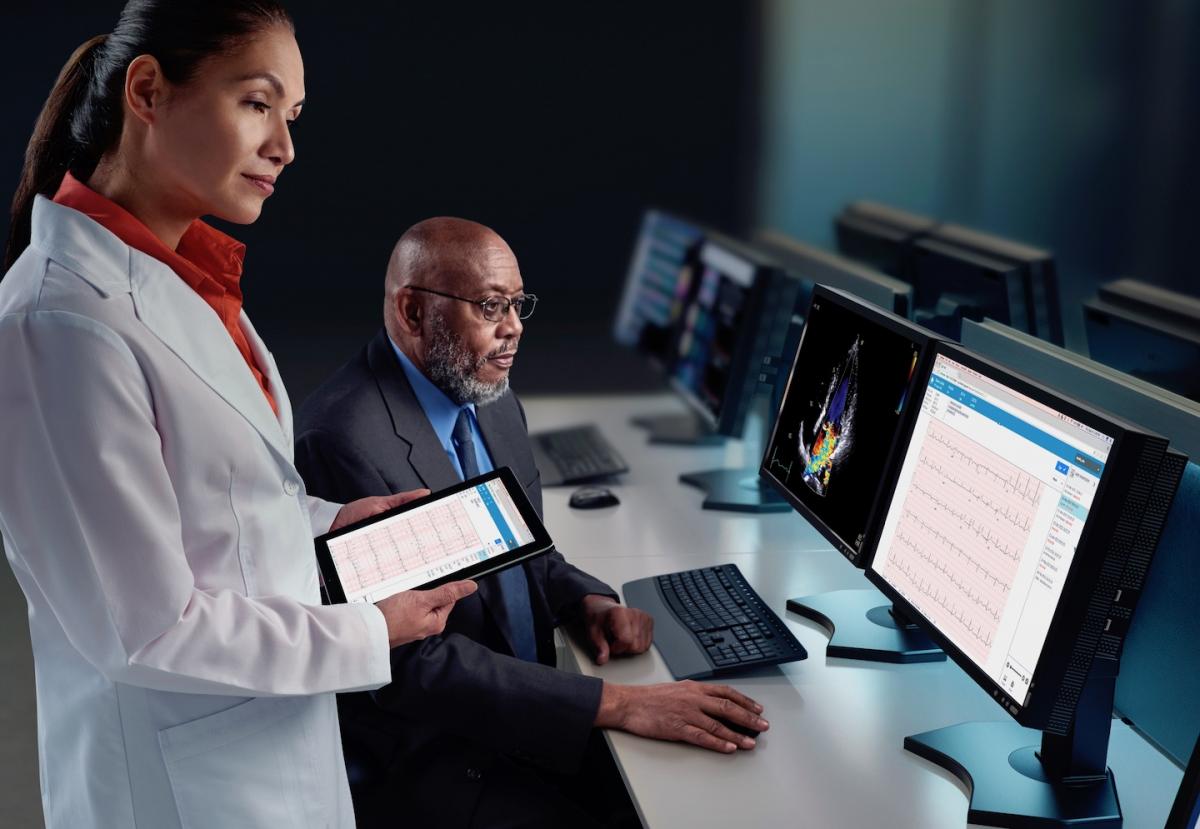 GE Healthcare is a good example of a vendor that has undergone change to increase interoperability because of complaints from customers. While GE has held a large portion of the ECG market share, prior to 2016 the vendor required hospitals to use GE ECG systems and the GE Muse ECG management system to guarantee interoperability. To solve this, GE introduced a new version of Muse in 2016 that allowed greater connectivity with other vendors' ECG systems, including newer, adhesive-based wearable Holter and event monitors.
Hill-Rom Holdings has built a strong ECG business over the last six years by purchasing two major ECG vendors. It acquired Welch Allyn in 2015 for $2.05 billion, and in 2017 acquired Mortara Instrument for $330 million. Hill-Rom's goal has been to build patient monitoring systems that offer best-in-class ability to integrate with various vendors' EMR systems.
The main diagnostic ECG market is made up of 12-lead resting ECG systems. This is followed by stress ECG systems and then the remote cardiac monitor segment, which included Holter monitors and cardiac event monitors. Today, all of these devices should be able to integrate into a central ECG management system or they will face replacement.
6. The Need to Record and Interpret Consumer-grade ECGs in the Future
In the past 5 years, there has been an explosion in wearable and handheld ECG enabled devices and smartphone apps that allow anyone to record a 1-6 lead ECG. There also has been a lot of interest by cardiologists in these systems, like the AliveCor Kardia device or the Ekos ECG-enabled stethoscope. These systems are seen as a fast and easy way to better triage patients and get immediate information before sending a patient for more involved exams.
The Kardia device allows iPhones, or directly through the Kardia watch, to record a 30-second ECG strip and AI algorithms, then automatically assess the waveforms for various arrhythmias. These waveforms and interpretation can then be e-mailed to the person's doctor.
The newer generation of implantable cardiac monitors like the Medtronic LINQ, and numerous wearable, clinical-grade, stick-on cardiac monitors now offer interfaces with patients' mobile devices so they can mark events. This data also is transmitted to a physician's office or automated ECG remote monitoring system. 
In the coming years, all of these types of ECG data will likely need to be integrated into ECG management systems to allow for a complete picture of the patient's cardiac history. This is part of a larger movement that was included in the Affordable Care Act (ACA) requirements that look to get patients more involved as a participant in their own care. Now that the technology exists and is proliferating, the question is how and where to integrate this data into the patient record. 
ECG Systems Comparison Chart
This article served as an introduction for trends in ECG systems. DAIC created an ECG systems comparison chart. This will require a login, but it is free and only takes a minute to fill out the form. It also will grant access to all 62 product comparison charts on the website.
Related ECG Content:
Find News on New ECG Technology
Trends in ECG Management Systems
VIDEO: Screening for Atrial Fibrillation Using Single Lead ECG in the VITAL-AF Trial — Presented at AHA 2020
ECG Industry Blooms With Innovative Devices and New Methods
Advances in ECG Management Systems
A Double-Edged Sword: How Over-the-Counter ECG Devices are Impacting Cardiac Care
Artificial Intelligence Examining ECGs Predicts Irregular Heartbeat, Death Risk
AI Could Use EKG Data to Measure Patient's Overall Health Status
Smartphones Used to Successfully Screen More than 60,000 for Atrial Fibrillation
FDA Clears AliveCor's KardiaMobile 6L as First Six-Lead Personal ECG Device
VIDEO: ECG System Uses 3-D Interactive Image to Show Proper Lead Placements
EKG With Artificial Intelligence Reliably Detects Heart Failure Precursor
Algorithms to Automate Review of Mobile ECG Device Data, Detection of Arrhythmias
FDA Clears First AI-Powered Algorithm Suite for Personal ECG Monitoring
 
---
If you enjoy this content, please share it with a colleague