Porcine heart transplant patient David Bennett.
In January, The University of Maryland School of Medicine (UMSOM) and the University of Maryland Medical Center (UMMC) successfully executed a groundbreaking porcine heart transplant procedure in a human. This was the first successful transplant of a genetically modified pig's heart into a human patient.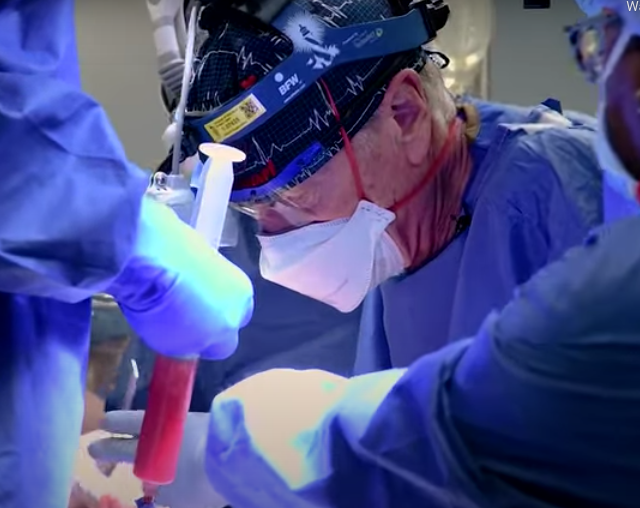 Bartley P. Griffith, M.D., surgically transplants the pig heart into the patient, David Bennett. All photos from the University of Maryland Medical Center.
The heart transplant patient, a 57-year-old Maryland resident David Bennett, has been carefully monitored since the procedure to determine whether the transplant provides lifesaving benefits. He had advanced heart failure and had been deemed ineligible for a conventional heart transplant at UMMC as well as at several other leading transplant centers that reviewed his medical records. He was on ECMO for life support and was not expected to leave the hospital alive. 
"It was either die or do this transplant. I want to live. I know it's a shot in the dark, but it's my last choice," Bennett said a day before the surgery was conducted. He had been hospitalized and bedridden for the past few months. "I look forward to getting out of bed after I recover."
Five weeks later, UMMC issued an update, stating the Bennett is doing well and had plans to watch the Super Bowl LVI, something he never dreamed would be possible.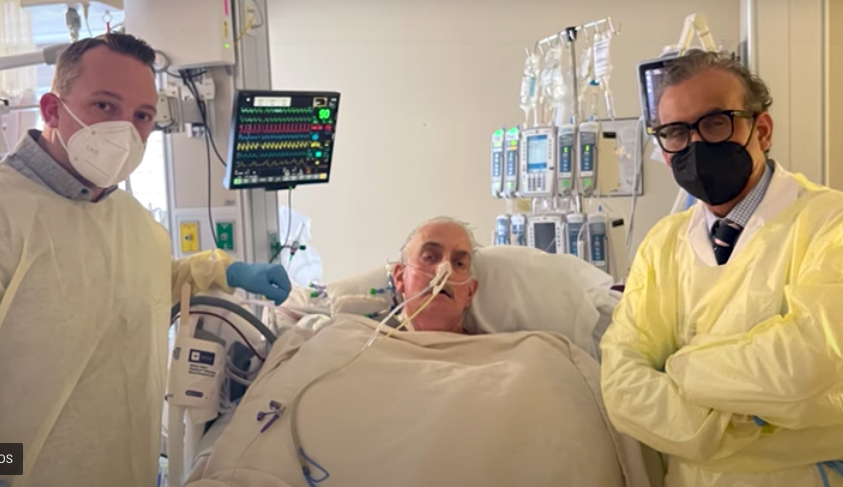 Bennett and two of his medical team doctors who saved his life.
"It's been more than a month since David Bennett's historic lifesaving xenotransplant surgery at the University of Maryland. In a recent video episode of Maryland Medicine Front Line News, doctors provide an update on his medical condition, and the performance of his transplanted pig heart. While his recuperation has been slow, Bennett is looking forward to watching the Super Bowl and eventually going home to see his dog Lucky," UMMC said in a released video statement. The video discusses the research behind how the immune system regulates itself in the area of transplantation. 
The transplanted pig heart continues to perform beyond expectations. "His heart function looks great, his blood pressure is very good, in fact he's on medicine to reduce his blood pressure," said Bartley P. Griffith, M.D., Thomas E. and Alice Marie Hales, Distinguished Professor in Transplant Surgery at the University of Maryland School of Medicine, in the video. "That's how good it is right now."
Muhammad M. Mohiuddin, MBBS, Professor of Surgery and Director, Cardiac Xenotransplantation Program at the University of Maryland School of Medicine, agreed that Bennett's heart is doing great. "We have several cardiologists trying to find any fault in it, but they have not been able to do it" he said. "The heart is contracting vigorously as it should, it has shown no signs of rejection, we are introducing new parameters to measure its function, and all the parameters are coming back as if his heart is as good as new."
Mohiuddin describes Bennett as being very motivated. "Every time you talk to him, he has a desire to live." Doctors will continue to monitor his condition closely, and adjust his immunosuppressive therapy as needed.
VIDEO: Details on the First Pig Heart Transplant Surgery in a Human
Read more on this heart transplant case: www.medschool.umaryland.edu/news/2022/University-of-Maryland-School-of-Medicine-Faculty-Scientists-and-Clinicians-Perform-Historic-First-Successful-Transplant-of-Porcine-Heart-into-Adult-Human-with-End-Stage-Heart-Disease.html
Related Heart Transplant News:
Unexpected Electrical Changes Seen in First Successful Transplant of Genetically-Modified Pig Heart
First Human Receives a Pig Heart Transplant
Transplanting Pig Hearts Into Humans One Step Closer
FDA OKs Use New Version of Carmat Artificial Heart in U.S. Early Feasibility Study
Carmat Artificial Heart Shows Promising Automatic Regulation of Blood Flow
Heart in a Box Technology Expands Heart Transplant Window
Abbott's In-Development Fully Implantable Heart Pump System Earns FDA's Breakthrough Device Designation
FDA Clears SynCardia 50cc Temporary Total Artificial Heart as Bridge to Transplant
Stephanie's Heart: The Story of Baby Fae
Hearts from donors who used illicit drugs or overdosed safe for transplant, cuts wait time
National Trends in Heart Donor Utilization Rates: Are We Efficiently Transplanting More Hearts?
Heart transplants from donors with hepatitis C may be safe and could help decrease organ shortage
Find more cardiac surgery technology content
---
If you enjoy this content, please share it with a colleague