A 3-D reconstruction of a cardiac CT scan showing an implanted Medtronic CoreValve TAVR device. Image courtesy of TeraRecon
In August 2019, the U.S. Food and Drug Administration (FDA) expanded the indication for the use of transcatheter aortic valve replacement (TAVR) to low-risk patients. This was based on clinical data that continues to show patient outcomes equal to or better than surgical aortic valve replacement (SAVR). TAVR experts say the expanded indication, combined with the clinical outcomes, will likely drive TAVR to take over as the new standard-of-care, replacing surgery in about 70 percent or more in the new few years. 
"It is certainly one of the most exciting times for us in this field, now with the FDA approving TAVR for low-risk-patients," said Torsten Vahl, M.D., director of experimental and translational research, Structural Heart and Valve Center and the Center for Interventional Vascular Therapy at NewYork-Presbyterian Hospital/Columbia University Medical Center. "I think everyone predicts TAVR volume will go up, and clinically that is justified. I am predicting more than a 50 percent increase in TAVR volume over the next five years. We now know this is a therapy that has a very low mortality rate, has excellent outcomes, has very low stroke rates, and can even out-perform surgery." 
The FDA indication for low-risk patients in 2019 was only for the Edwards Lifesciences Sapien and Medtronic CoreValve TAVR systems, based on their long-term clinical trial evidence. These two devices were joined by a third device on the U.S. market in April 2019, the Boston Scientific Lotus Edge. The Abbott Portico valve is also working its way through trials to attain FDA regulatory approval.   
TAVR Shows Excellent Clinical Outcomes
A review of more than 2,000 intermediate-risk patients involved in the PARTNER 2A study for the Sapien valve published in January 2020 showed TAVR has similar key five-year clinical outcomes of death and stroke as SAVR patients.[1] 
At five years, there were no significant differences in the incidence of death from any cause or disabling stroke between the TAVR group and the surgery group (47.9 and 43.4 percent), according to the study. Results were similar for the transfemoral-access cohort vs. surgery (44.5 and 42 percent), but the incidence of death or disabling stroke was higher after TAVR than after surgery in the transthoracic-access cohort (59.3 vs. 48.3 percent). At 5 years, more patients in the TAVR group than in the surgery group had at least mild paravalvular aortic regurgitation (33.3 vs. 6.3 percent). Repeat hospitalizations were more frequent after TAVR than after surgery (33.3 vs. 25.2 percent), as were aortic-valve reinterventions (3.2 vs. 0.8 percent). However, overall improvement in health status at 5 years was similar for TAVR and surgery.
"The results of this study are encouraging because TAVR was comparable in terms of outcomes," said study lead author Raj Makkar, M.D., vice president of Cardiovascular Innovation and Intervention at Cedars-Sinai. "These findings allow patients to have more peace of mind and undergo a less invasive procedure. Unlike surgery, TAVR is now often done without or with minimal anesthesia and with next-day discharge from the hospital."
In low-risk surgical patients, TAVR using the Sapien 3 valve significantly reduced the primary endpoint of death, stroke and re-hospitalizations by 46 percent at one year over surgery in the Partner 3 Trial, presented at the 2019 American College of Cardiology meeting.[2]
"This is a landmark study because it involves 80 percent of the people who are currently being treated with surgery for aortic stenosis. Our hope was that TAVR would be non-inferior or comparable to surgery, and we were surprised to find an almost 50 percent reduction in the primary endpoint, from 15.1 percent in the surgical group to 8.5 percent with TAVR," said Martin B. Leon, M.D., director of the Center for Interventional Vascular Therapy at New York-Presbyterian/Columbia University Irving Medical Center, professor of medicine at Columbia University and lead author of the study. "This is beyond anything we could have expected, mostly because surgery is so good in treating aortic stenosis in these low risk patients."
Not All Patients Will Qualify for TAVR
However, even with the new indication, not all patients will quality for TAVR, Vahl explained. "We are no longer bound by an arbitrary surgical risk score. We can now look at a patient's risk factors, their age, anatomy and really decide what is best for the patient and take their preferences into consideration," he said. 
Patient age and anatomy plays a big role in whether surgery is a better option for heart valve replacement. If the anatomy has a lot of plaque and calcium that can be broken off and embolize, or presents a physical barrier to the larger sized TAVR catheters reaching the heart, the patient might be better served by surgery. Other anatomical issues for TAVR include very heavily calcified valves, bicuspid valves, and patients with multi-valve disease or triple vessel coronary disease. 
"I think in most of these patients, if they are low-risk for surgery, the heart team will stand strong and recommend surgery," he said. 
Question on the Durability of TAVR Valves
TAVR is a relatively new technology so it lacks the long-term durability data that surgical valves have. The life of a TAVR valve before it wears out and needs to be replaced is not yet known, which makes some physicians hesitant about implanting these devices in younger patients.  
"At this point, we really do not have any clear information about the true durability of TAVR devices," Vahl said. 
There is a lot of long-term data on surgical valve durability, so in younger patients, which Valh said includes patients in their 60s and 70s, surgery might be the way to go. He explained a younger TAVR patient will almost certainly need to undergo a second valve replacement, which can be performed as a TAVR valve-in-valve (VIV) procedure, but the patient's valve size then becomes important to guarantee there will be adequate room to place another TAVR device. 
"Unfortunately, not everybody is born with a valve annulus big enough where we can just do three to four TAVR procedures to carry them all the way to the end of their life span," he said.
But, Vahl said so far durability in these valves appears to be pretty good based on trial data and observations at his own center.
"We are not seeing large numbers of patients returning to our cath labs and ORs for repeat procedures," Vahl explained. "We are far enough away now in the trials of the intermediate-risk patients that if there were real concerns over durability, we should see patients coming back."
That trial data shows durability out to five to six years, but there is only machine testing of these devices out to 10 years. Vahl said the vendors stand by their valves and say they should last at least a decade, and the anti-calcium treatments on the valves should inhibit severe calcification.
Patients Will Choose the Most Minimally Invasive Valve Replacement Option
Many hospitals that started TAVR programs in the past decade saw an increase in referrals as patients sought out catheter-based heart valve replacement instead of the much more invasive option of open heart surgery. In many cases, hospitals with TAVR programs saw an increase in surgical valve replacements, since many of the patients did not meet the FDA indication criteria for TAVR until last August. 
TAVR itself was an expensive option early on, but hospitals found ROI from the increased in surgical volumes. These same hospitals are now best positioned to benefit from the new low-risk indication.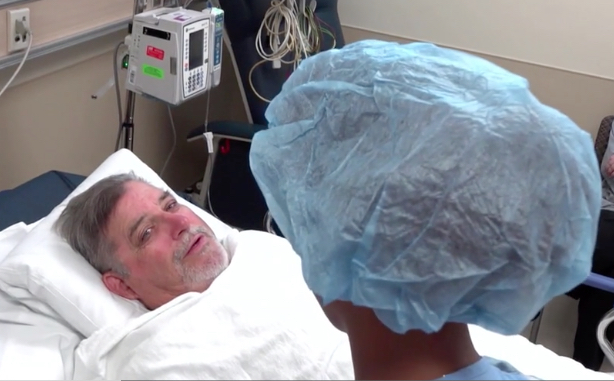 Retired National Football League (NFL) star Ed White, the former Chargers guard and four-time Pro Bowler, waited until the FDA approved TAVR for low-risk patients like himself to avoid open-heart surgery.
A prime example of patients who wanted the less invasive TAVR procedure is retired National Football League (NFL) great Ed White. He started experiencing shortness of breath and overall discomfort during a cruise in March 2019, leading to a hospital admission. In San Diego, he consulted with Scripps Clinic about his options, which at the time were limited to SAVR. But, he was told the FDA might expand the indication for TAVR to lower-risk patients by the end of the year. So, White decided to wait and deal with the discomfort rather than undergo surgery. 
His game plan paid off last August, and he became one of the first low-risk patients treated under the new indication at Scripts. 
"At my age, quality of life is really important," White said. "I didn't want to take on the added risks that come with surgery tied to full sedation and a much longer recovery timeline. I talked with family members, friends and the other medical experts I know, and the consensus was to wait for TAVR."
While waiting for his new heart valve, White focused on improving his overall health with a daily exercise routine that included three-mile hikes in the local mountains and 30-minute swims in a pool. "I looked at it as though I was going to football training camp again," he said.
White received his new valve Sept. 3 during an hour-and-a-half-long procedure in the catheterization laboratory in the Scripps Clinic John R. Anderson V Medical Pavilion, which is on the Scripps La Jolla campus. He was discharged the next day.
Read the article "NFL Great Ed White Gets New TAVR Heart Valve at Scripps."
Related TAVR Content:
TAVR Operator and Hospital Requirements Outlined in 2018 AATS/ACC/SCAI/STS Expert Consensus
VIDEO: Overview of the TAVR Program at Tufts Medical Center — Interview with Andrew Weintraub, M.D.
VIDEO: Use of a Temporary Pacing Lead in TAVR — Interview with Andrew Weintraub, M.D.
 
Reference:
1. Raj R. Makkar, Vinod H. Thourani, Michael J. Mack, et al. Five-Year Outcomes of Transcatheter or Surgical Aortic-Valve Replacement. New England Journal of Medicine. Published online Jan. 29, 2020. DOI: 10.1056/NEJMoa1910555.
2. Mack M.J., Leon M.B., Thourani V.H., et al. Transcatheter Aortic-Valve Replacement with a Balloon-Expandable Valve in Low-Risk Patients. New England Journal of Medicine, March 16, 2019. DOI: 10.1056/NEJMoa1814052
---
If you enjoy this content, please share it with a colleague