Cardiovascular Education
This channel includes videos and articles to help explain various cardiovascluar practices, procedures, and technologies.
This video, provided by Abiomed, demonstrates the Impella percutaneous ventricular assist devices (pVAD). It offers ...
This video, provided by Tryton, demonstrates the implantation of the Tryton Side Branch Stent. It became the first ...
Enterprise imaging system expert Louis Lannum was in charge of Cleveland Clinic's efforts to connect images and other ...
This video, provided by Medtronic, demonstrates the CardioInsight electro-anatomical mapping system. It was cleared by ...
Analytics in the past couple years have moved far beyond the simple dashboards used by many cardiology department ...
This video, provided by Valtech, demonstrates the Cardioband transcatheter mitral annuloplasty system. It allows ...
The Cardioband System (Valtech) has recently been introduced as a potential option for transcatheter repair of the ...
Brijeshwar Maini, M.D., and Brian Bethea, M.D., from Tenet Florida's structural heart program, explain the importance of ...
While guidewires are a key tool used by all interventionalists in the cath lab, most operators do not have a deep ...
This video, provided by Shockwave Medical, demonstrates the Lithoplasty System. It uses ultrasonic waves to treatment ...
This video, provided by Edwards Lifesciences, demonstrates the Intuity Elite surgical aortic valve, which uses a balloon ...
Some have labeled bioresorbable scaffolds (BRS), also known as bioresorbable stents, as the fourth evolution of ...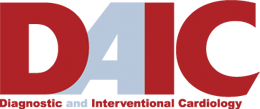 Subscribe Now