Cardiovascular Education
This channel includes videos and articles to help explain various cardiovascluar practices, procedures, and technologies.
Radiation exposure from multidetector computed tomography (CT) has become a pressing public health concern in both lay ...
This video, provided by Crux Biomedical, demonstrates the implantation of the FDA-cleared Crux VCF inferior vena cava ...
Feature | Radial Access | Asim R. Zaidi, M.D., Mladen I. Vidovich, M.D., Adhir R. Shroff, M.D., and Bernadette Speiser, MSN, CCRN
The radial artery approach is exceptionally well-suited for diagnostic angiography and, with a lower incidence of ...
This video, provided by Boston Scientific, shows how to implant the subcutaneous implantable cardioverter defibrillator ...
One of the biggest trends is the creation of hybrid operating rooms (ORs) that bring together the best of both surgical ...
Feature | Radial Access | Lidia Bochenek-Cobb BSN, CCRN and Katherine Durham BSN, CCRN, Jesse Brown VA Medical Center
Transradial catheterization is increasingly becoming the access site of choice for many hospitals throughout the United ...
When a lab is transitioning from transfemoral to transradial cardiac catheterizations, the process can be either ...
Tiny guide wires are designed to navigate vessels to reach a lesion or vessel segment. Once the tip of the ...
The femoral artery approach for cardiac catheterizations has been used as the gold-standard in the United States, but ...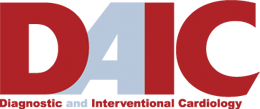 Subscribe Now