October 20, 2022 — Cardiogenic shock—a life threatening condition when a person's heart can't pump enough blood to meet ...
October 17, 2022 — Significant findings from the highly-anticipated EPIC-STEMI study were presented during a late ...
October 6, 2022 – OpSens Inc., a Quebec-based medical device cardiology-focused company, has announced that it has ...
October 5, 2022 —  CinCor Pharma, Inc. (NASDAQ: CINC) today announced that the company will present Phase 2 data from ...
October 4, 2022 — HeartFlow, Inc., the leader in revolutionizing precision heart care, announced that the results of the ...
Here is a recap of what DAIC viewers found most interesting during the month of September:
1. Unloading with Impella ...
The Photo Gallery includes images taken by DAIC's editorial team at the 34th Transcatheter Cardiovascular Therapeutics ( ...
September 28, 2022 —  In the "TCT Innovation" session Prof. Michael Haude, BIOMAG-I Coordinating Clinical Investigator ...
September 27, 2022 —  BIOTRONIK announced the presentation of new full-cohort 2-year BIOSOLVE-IV data. In a poster ...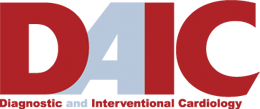 Subscribe Now