Magnetic Resonance Imaging (MRI)
MRI creates images from the resonance created in hydrogen atoms when they are polerized and an electromegntic pulse is used to knock them off axis. This section includes MR analysis software, MRI scanners, gadolinium contrast agents, and related magnetic resonance accessories.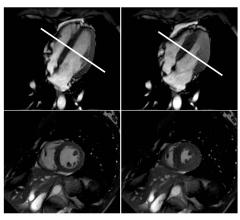 This study looked at the effects of long periods of apnea on the heart. Cardiac MRI showing normal left ventricular function in the standard horizontal long axis (upper two images) and with corresponding short axis (lower two images) in diastole (left) and systole (right), at the mid ventricular section of the heart (white line).
December 1, 2015 — Athletes who engage in the extreme sport of free diving, descending hundreds of feet below the...