Magnetic Resonance Imaging (MRI)
Cardiac MRI creates images from the resonance of hydrogen atoms when they are polarized to face in one direction and then hit with an electromagnetic pulse to knock them off axis. The wobbling of the atoms is what is recorded by computers and used to reconstruct the images. Cardiac MR allows very detailed visualization of the myocardial tissue above the resolution found with cardiac CT. Using different protocol sequences, various contrast type images can be created with MRI to enhance various tissues or to provide physiological data on the function of the heart. This section includes MR analysis software, MRI scanners, gadolinium contrast agents, and related magnetic resonance accessories.
October 7, 2019 – A recent study published in the New England Journal of Medicine supports the use of cardiac magnetic ...
Traditionally, computed tomography (CT) and ultrasound have been the workhorse imaging modalities in the world of ...
August 1, 2019 — The U.S. Food and Drug Administration (FDA) issued a new draft guidance titled Testing and Labeling ...
Cardiac amyloidosis is a highly morbid and underdiagnosed infiltrative cardiomyopathy that is characterized by the ...
July 15, 2019 — The U.S. Food and Drug Administration (FDA) has approved Gadavist injection for use in cardiac magnetic ...
June 19, 2019 — DiA Imaging Analysis announced the presentation of two studies assessing the performance and accuracy of ...
June 7, 2019 — The Amsterdam University Medical Center has won MR Solutions' Image of the Year 2019 award for the best ...
May 17, 2019 ― Miami Cardiac & Vascular Institute announced the implementation of Philips' Ingenia Ambition 1.5T MR, the ...
May 13, 2019 — Imricor announced the signing of a commercial agreement with the Haga Hospital in The Hague, Netherlands ...
April 30, 2019 — A new document compiled by four cardiac imaging professional societies provides a resource to guide ...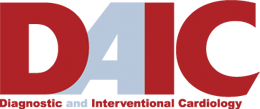 Subscribe Now