July 21, 2023 — Onecrea Medical has announced the success of the first-in-human implants of its Transcatheter Aortic Valve Replacement (TAVR) system for the treatment of aortic stenosis.
While TAVR technology has been around since 2007, Onecrea Medical's team of scientists and engineers worked towards creating a next-generation TAVR. A common complication with the TAVR/ procedures is dislodging of the implant or perivalvular leak (PVL) due to an improper fit of the valve. Onecrea Medical's valve has a unique concave and convex structure that anchors the valve effectively in the aortic annulus. The valve also features differential radial force in different parts, imparting low or high radial forces to the valve depending on the location within the annulus and aorta. In addition, the delivery system has been improved for greater control and accuracy of valve implantation. Crea Aortic valves are rigorously tested for over 200 million fatigue cycles and over 140 days in animal trials. These improvements decrease the risk of PVL and other complications. All the implantations were done by a team of surgeons under the supervision of world-renowned interventional cardiologist Dr. Carlos Calderas.
Patient one was an 82-year-old woman with a history of severe shortness of breath, severe symptomatic aortic stenosis and had undergone a giant abdominal aortic aneurysm (AAA) repair recently.  Dr. Calderas implanted a 26 mm Crea Aortic Valve through the femoral approach successfully and the patient was discharged from the hospital after 3 days with a mean gradient of 8 mmHg and no PVL.  The second patient was an 88-year-old woman, referred to consider TAVR because of severe symptomatic aortic stenosis. She was recently admitted to the emergency room for heart failure requiring mechanical ventilation. She was diagnosed with severe aortic stenosis and shortness of breath. Crea Aortic Valve 26 mm from the femoral approach was implanted using the 18F introducer. Patient 2 was discharged after 5 days with a Mean Gradient of 7 mmHg and with no PVL.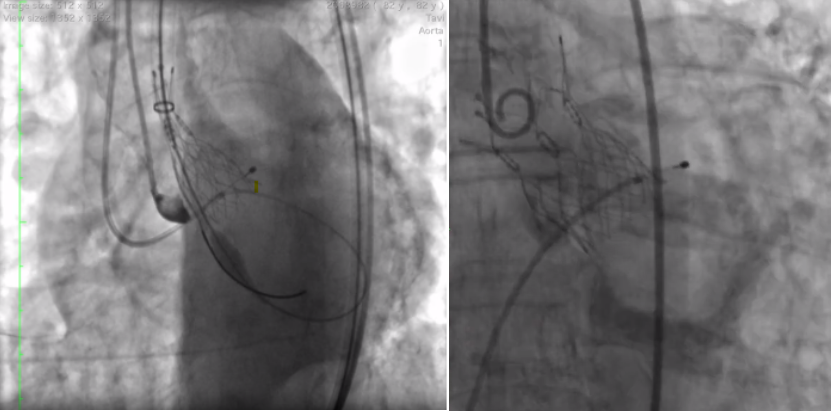 Fluoroscopic images of valve positioning (left) and a fully functioning valve in a patient (right).
Dr. Calderas added, "The design of the Crea Aortic Valve is truly exceptional, revolutionizing the way we approach TAVR procedures. The delivery system was remarkably easy to use, increasing the accuracy of valve placement. This means less time operating on the patient while decreasing the risk of paravalvular leaking and implant dislodging. The valve's innovative engineering ensures optimal hemodynamics and durability, providing patients with a reliable and long-lasting solution."
Onecrea Medical is currently enrolling more patients in a larger clinical study conducted across multiple centers.
For more information: https://onecreamedical.com/
---
If you enjoy this content, please share it with a colleague