COBRA-OS
February 18, 2022 – Front Line Medical Technologies, Inc. today announced the expanded availability and distribution of its COBRA-OS (Control of Bleeding, Resuscitation, Arterial Occlusion System), as U.S. and Canadian hospitals continue to implement the life-saving aortic occlusion device during various surgical and emergency cases.
Previously available in limited quantities, Front Line is now increasing production based on patient success rates and interest from hospitals looking for modern trauma technology solutions.
The COBRA-OS, which is approved by Health Canada and cleared by the FDA, is the first 4 French REBOA (Resuscitative Endovascular Balloon Occlusion of the Aorta) device and the smallest on the market.  The device can provide full, intermittent, or partial occlusion depending on the patient's need, and has a uniquely designed Safety Shoulder Reservoir incorporated into the device to help prevent aortic rupture during inflation.
In addition to trauma, the COBRA-OS has been recently used to treat a pregnant patient to help reduce the bleeding associated with placenta percreta, a condition with a high mortality for mother and child. It has even been used for non-bleeding situations to bring a patient back to life who had cardiac arrest outside the hospital and CPR for 30 minutes before arriving in the emergency department.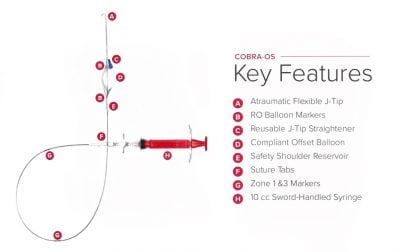 At Victoria Hospital in London, Ontario, Canada, vascular surgeon and COBRA-OS co-creator Dr. Adam Power has successfully utilized the device in traumatic bleeding cases to stabilize patients, providing critical time to get patients to the operating room for definitive care.
"The COBRA-OS is tiny but has a huge impact for patients. When a patient is bleeding to death in front of you, simple solutions are key and the COBRA-OS is the most straightforward REBOA device available," said Power. "When the COBRA-OS is used appropriately, it can be one of the most powerful tools in your hemorrhage control toolbox."
With the availability of the COBRA-OS device in U.S. and Canadian hospitals, Front Line is proud to offer a quicker and simpler hemorrhage control option to medical professionals across several subspecialties and is looking forward to the continued adoption of the COBRA-OS device in a wider range of in and out of hospital settings as the company continues to expand into new fields and works to save more lives.
For more information: https://frontlinemedtech.com
---
If you enjoy this content, please share it with a colleague